The DePaul women looked for synergy late in the game as they cruised past St. Francis in their second and final exhibition game before the start of the season.
"A reason we play these two exhibition games is that they give us a chance to turn the lights on," coach Doug Bruno said.
The Blue Demon women turned the lights on for their team and turned the lights out for St. Francis in a convincing 126-56 victory.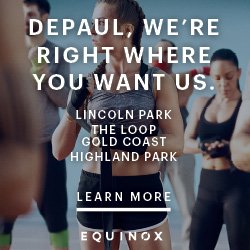 "Sam Quigley, (the head coach of St. Francis), is one of the most special guards and captains I've ever been blessed to coach," head coach Doug Bruno said. "Bringing her team in here takes guts and her team's going to be better for it."
Early in the game senior forward Jacqui Grant broke the game open with back-to-back threes and giving the Blue Demons a 19-10 lead with less than three minutes left in the first quarter.
"I was really impressed with the way Jacqui (Grant) bounced back," Bruno said. "I thought when the game started it was a bit loosey-goosey. She had some hands on basketballs I thought she should've secured.
"I put her back in and when she came back in I think she broke the game open for us."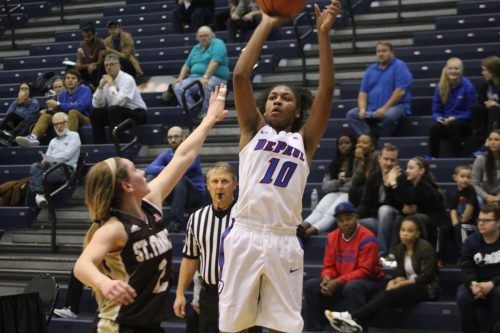 Senior guard Brooke Schulte was also a big part of DePaul's early dominance. She carried over her aggressive play on both ends of the court. She forced the first turnover of the game and buried the basket on the other side of the court.
On defense, Schulte and junior guard Ashton Millender effectively trapped opposing players near half court and Schulte forced two jump balls without taking a foul.
"I think it was just all the work we put in over the summer," said Schulte. "The team all together just becoming assimilated and working hard in the offseason."
At half the Blue Demons led 59-29.
Freshman guard Kelly Campbell received the most playtime in the game logging 25 minutes and she continued to show she could ball. The guard put up a team-leading 19 points and went four of six from outside the three-point line putting her three-point field goal percentage at .75 through both exhibition games.
"Kelly Campbell's a starter in our coaches' minds eye, I think she's earned that," Bruno said. "…She'll come off the bench first. If we ever, unfortunately, have to lose anybody, she could step in and start tomorrow and we either stay equal or get better."
Aside from Campbell, other freshmen like forward Chante Stonewall and guard and forward Claire McMahon looked more comfortable on the court. Stonewall was seven of nine from the field – a big improvement from her three of 13 Tuesday. McMahon had a one-hundred percent shooting percentage and showed off her hands by firing passes down low to a wide-open Stonewall
Bruno also said the starting lineup for the two exhibition games consisting of senior guard Jessica January, junior guard Amarah Coleman, Grant, Schulte and Millender will likely be the starting lineup for the Maggie Dixon Classic next weekend.
The Blue Demons open up their season next weekend versus Appalachian State at 8 p.m.