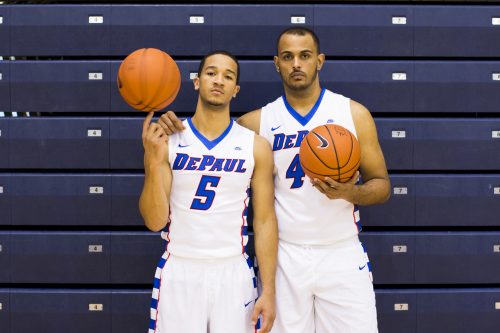 Reigning national champion Villanova is projected to win the conference again, but the throne is always in danger.
Conference records in parentheses, all conference records are Big East unless otherwise noted. Teams listed in order of  preseason coaches' poll.
Villanova Wildcats
29-5 (16-2)
For the third straight year, the No. 4 Villanova Wildcats were picked to win the Big East. The Wildcats return three starters from their national championship squad, notably juniors Josh Hart and Kris Jenkins.
Xavier Musketeers
27-5 (14-4)
No. 7 Xavier is the strongest contender to Villanova's crown. Their backcourt will be tough to beat with junior Trevon Bluiett and sophomore Edmond Sumner.
Creighton Bluejays
18-14 (9-9)
No. 22 Creighton is looking to take a step up from their 7th place finish last season. They are helped by the return of senior guard Maurice Watson Jr., who is joined in the frontcourt by transfer Marcus Foster.
Georgetown Hoyas
15-18 (7-11)
Georgetown had a disappointing season last year after being picked to finish second, but look to bounce back this year with their strength in the backcourt, led by juniors LJ Peak and Isaac Copeland.
Seton Hall Pirates
25-8 (12-6)
The Hall finished last year strong as they won nine of their last 11 in regular season and won the Big East tournament. They can do the same again as they return four starters.
Butler Bulldogs
21-10 (10-8)
The Bulldogs are fresh off an NCAA tournament appearance and will have strength in their size. Junior forward Kelan Martin averaged 15.7 points and 6.8 rebounds per game last year. 
Marquette Golden Eagles
20-13 (8-10)
A young squad last season means consistency for the Golden Eagles this season as they return four starters, including senior center Luke Fischer and sophomore guard Haanif Cheatham.
St. John's Red Storm
8-24 (1-17)
Chris Mullin's first season at St. John's was more or less a train wreck, but the Red Storm have restocked and their young players look to take steps forward this season. They'll still be young, but experienced.
Providence Friars
23-10 (10-8)
The loss of Kris Dunn and Ben Bentil to the NBA is going to hurt for the Friars. This year, it will have to be junior forward Rodney Bullock and guard Jalen Lindsey leading the way for Providence.
DePaul Blue Demons
9-22 (3-15)
The Blue Demons saw a roster overhaul in the offseason and have six new players for this season. The big questions are who replaces forward Myke Henry and can Billy Garrett Jr. rebound from a so-so 2015-16.
DePaul Men's '16-17 Schedule
11/13/16 vs. Robert Morris | 6:00 p.m. CT
Gavitt Tipoff Games
11/17/16 vs. Rutgers | 7:30 p.m. CT
11/20/16 vs. Milwaukee | 12:30 p.m. CT
11/23/16 vs. Missouri State | 7:00 p.m. CT
11/30/16 vs. Drake | 7:30 p.m. CT
12/03/16 at Northwestern | TBD
12/06/16 vs. Lamar | 8:00 p.m. CT
Hoophall Miami Invitational
12/10/16 vs. Temple | 10:30 a.m. CT
12/14/16 vs. UIC | 7:00 p.m. CT
Continental Tire Las Vegas Classic
12/17/16 vs. Chicago State | 1:00 p.m. CT
12/19/16 vs. SE Missouri St. | 8:00 p.m. CT
12/22/16 vs. Wyoming | 7:30 p.m. CT
12/23/16 vs. TBD | TBD
12/28/16 at Villanova | 5:30 p.m. CT
01/01/17 vs. St. John's | 1:00 p.m. CT
01/07/17 at Seton Hall | 11:00 a.m. CT
01/10/17 vs. Providence | 8:00 p.m. CT
01/14/17 at Marquette | 1:00 p.m. CT
01/16/17 at St. John's | 3:30 p.m. CT
01/21/17 at Butler | 1:00 p.m. CT
01/28/17 at Creighton | 1:30 p.m. CT
01/31/17 vs. Georgetown | 8:00 p.m. CT
02/04/17 vs. Marquette | 1:00 p.m. CT
02/08/17 at Xavier | 5:30 p.m. CT
02/11/17 vs. Creighton | 1:00 p.m. CT
02/13/17 vs. Villanova | 8:00 p.m. CT
02/19/17 at Butler | 12:30 p.m. CT
02/22/17 at Georgetown | 6:00 p.m. CT
02/25/17 vs. Seton Hall | 1:00 p.m. CT
02/28/17 at Providence | 7:30 p.m. CT
03/04/17 vs. Xavier | 1:00 p.m. CT