Chicago Comedy Film Festival celebrates 6th year
In 2010, filmmakers Jessica Hardy and DePaul alumnus and ex-DePaulia staff writer Brent Kado of Flowfeel Films were searching for a comedy film festival to submit their work to, but found very few in Chicago and across the country. In response, Hardy started the Chicago Comedy Film Festival in order to shed light on independent comedy films from across the world.
"I studied with the Second City for several years and worked for them for three years, so I had already been in the comedy scene here," Hardy said. "It just made sense that Chicago should have an international film festival here that nobody had done yet. I just decided to do it and see if people would respond, and they did."
From its inception six years ago, the Chicago Comedy Film Festival was an instant success. Hardy didn't want her new festival to just be another small Chicago venue crammed into a small black box theater, so she put a lot of work into making the festival into a legitimate venue that would draw the attention of filmmakers from across the U.S. and on the cusp of breaking into the industry.
"We were really lucky to start off with really good films," Kado said. "People who were really invested and wanted to come promote their stuff, which is a reflection of Jessica and I knowing that there was a market for it. We shot high in year one and we succeeded."
The two knew this film festival was an untapped market and felt other film festivals like Sundance, the Chicago International Film Festival and Cannes held dramas and experimental films in a higher regard than comedies.
"People would constantly ask, 'what are you guys doing' (during) our first year," Kado said. "'The Chicago Comedy Film Festival,' (I'd answer), and they'd say 'oh yeah, I went to that a few years ago.' People thought it was already a thing. It made sense."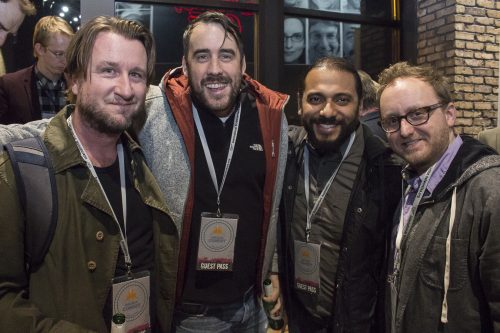 The film festival is now in its sixth year with no signs of stopping. This year, the film festival took place from Thursday, Nov. 10, to Saturday, Nov. 12.
On Thursday, the film festival began by honoring Jane Lynch with their "Lifetime Achievement in Comedy Award" at the Harold Ramis Film School at Second City. Afterward, Chicago filmmakers gathered to screen the Chicago Filmmakers' Shorts Program which featured films of local filmmakers from the city of Chicago.
One of the films screened Thursday, "Comp'd," a short film written by and starring Jack Farrell and Michael Carothers was directed by DePaul professor Lee Madsen. Madsen has been directing films since 2001 when he directed his first short film "Becoming Irish" and directed his first feature length film "Red Zone" in 2003.
Farrell and Carothers wanted Madsen as their director due to his comedic-driven mindset, which they thought fit perfectly with their background of improv comedy at Second City.
"One thing that makes Lee an awesome director for me, as an actor, is that Lee is always like 'let's go until we're all busting up. That's the take we want,'" Farrell said.
"I don't say cut right when the last line is said," Madsen said. "I like to kind of let it linger for a minute and then boom, some magic happens. Mike's itching and I don't say cut and he blurts something out hilarious and then Jack has a response. Action reaction, and it comes alive."
Madsen was very happy to see "Comp'd" get picked for the film festival and was excited to work with and watch the films of other Chicago filmmakers at the event.
"I have an immense appreciation for the natural collaboration that takes place in the Chicago stage, comedy, academic and film communities," Madsen said in his director's statement. "(I'm) thankful for the opportunity to work alongside authentic Chicago artists."
Other stand-out shorts from Thursday included "Wait, I'm a Racist?," "Real Good Drinking" and "Win the Internet," which featured DePaul's quad in one scene. The filmmakers "may or may not have gotten permission from DePaul University".
Friday and Saturday, the venue moved to Roger's Park's New 400 Theater and both short and feature-length films were submitted internationally. Every year, they receive about 500 submissions, and they narrow them down to the best eight feature films and about 30 short films.
The independent films screened Saturday came from many different places. The short film "An Average Story," which was written and directed by Yaniv Segalovich, hailed from Israel, and the feature-length film "Grand Unified Theory" was written and directed by Vancouver filmmaker David Ray, which tells the story of a family as they each go through a tough time in their lives through a scientific lens.
After each screening, any person involved with the production of the film took part in question and answer segments, in which the filmmakers and actors discussed the process they underwent to finish the film.
Another standout of the festival was "And Punching the Clown", a film written by and starring Henry Phillips. After his short film, "Punching the Clown" became a cult success, Phillips set out to tell another story about his first time back in L.A. after the first film when he gets offered a TV show deal.
The Chicago Film Festival also wants to add diversity to what usually is a male-dominated field, so they've given out an award for top female filmmaker every year. This year, the Harold Ramis Film School offered a $500 prize to the winner of that award.
When a film festival has so much success, it's sometimes hard to see where to take it to the next level, but Hardy and Kado want to support their fellow comedy filmmakers. They believe they've played an active role in legitimizing the genre for other, more well-known festivals.
"I'm feeling very positive about next year, and I really want to get more partnerships with Chicago organizations," Hardy said. "I think we have interest from people outside of Chicago ( . . .) and I think there's a lot of good opportunities that come from that."