Jane Lynch returned back to her humble beginnings at Second City this past weekend. Lynch was presented with a Lifetime Achievement in Comedy award at this year's Chicago Comedy Film Festival.
Best known for her devilishly cheerleading coach role on "Glee," the red track-suited favorite was also starring in a short film "Writer Block" which was screened that weekend. Lynch's weekend was busy as she also released her Christmas album, "A Swingin' Little Christmas," the same weekend.
Raised in Dolton, Illinois and an undergrad theater student at Illinois State University, Lynch's comedic work has been more than prominent throughout the city's vibrant comedy scene. She worked for 15 years acting in the Steppenwolf Theatre Company and was one of only two women picked to join Chicago's Second City comedy troupe; Lynch has joined a long list of comedians whose comedy career kick started in Chicago.
The DePaulia had the chance to sit down with Lynch moments before she received her Lifetime Achievement in Comedy award.
How does it feel to be back at Second City? How has it changed over time, espcially concerning the overall acceptance of comedy and improv? 
Jane Lynch: It's a completely different place. There's joy and kindness. It was kind of dark when I was here. It was heavy it's lighter and joyful, it feels like a happier and kinder place.
A lot of funny things happened when I was here. I think the whole place has lightened and of course expanded. I don't even know where we are (laughs) it's like a maze.
A lot of people take improv now. I think a lot of people that come here want to just get on stage and do it but there aren't really a lot places for them to go to. There's more people than there are stages.
Learning improv is the greatest skill in the world for anybody in life especially for actors. The ability to pull stuff basically out of your ass in a moment is terrific training for any kind of acting. It's also a team sport, you can't be selfish, you have to stay open and be listening. It's almost like catching a wave. It's a very zen give or take kind of thing.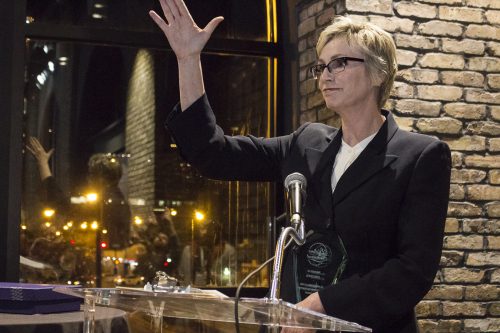 Now also with an improv and a comedy career being socially acceptable women in comedy has also grown. Starting off in a time where it was a male driven profession, can you comment on women in comedy today? 
JL: While I was here, I didn't know it was male dominated. I didn't feel that way. It wasn't until retrospect, looking back, I'd say "wow that's true".
Back then there were more guys and that was the focus; it was culturally too in this institution.
The guys were held up more and were made into princes in being treated differently but I didn't realize that until I left and worked other places.
There's now room for women in comedy. Ensemble movies, I can think back to movies like "Anchorman" and there weren't a lot of great women parts in that, but as those guys started doing more movies they started putting more women in them.
That's the greatest thing in the world being a part of films like "Talladega Nights," "40-year-old Virgin," "Party Down," "Role Models."
In your short film you're a songwriter who is stuck and finds inspiration from the most unique things. Can you connect someone or something that helps you while you're stuck? 
JL: My good friend Jennifer, who I live with, and we've been friends forever she's one of the most genuine optimistic people. I'm not a depressed person, I tend toward happiness, but she's really good if she sees me struggling with something she would frame something so beautifully that I would go "Yeah you're right there's no problem" (Laughs).
The Christmas season is around the corner and with that you've got us covered with a Christmas album. Can you share how that all came to be? 
JL: Kate Klannery and I are really good friends, you know the drunk Meredith from "The Office," for a couple of decades now. We started singing a cabaret show and found a five-piece band and brought in my friend Tim Davis who was the vocal arranger in "Glee" in and we have a blast together.
We've been touring together for about two and a half years and during that time we said to ourselves "why not do a Christmas album."
One day before a show, we all went into my dressing room and we went online to search the public domain Christmas songs and picked 10. (Laughs) We go on sale on iTunes this weekend called "A Swingin' Little Christmas".