DePaul women trounced 91-46 by Connecticut
The Blue Demons (5-1)  were handed their first loss 91-46 in their toughest game of the season so far against number 2 ranked University of Connecticut (6-0).
Connecticut got going early in the first first and outpaced DePaul by scoring 14 of their first 19 point of the fast break. This is a change of pace for the Blue Demons, who usually have other teams struggling to keep up with their fast-paced play style.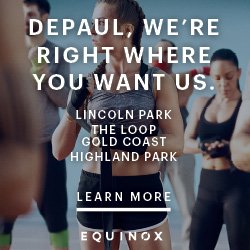 In the first half, UConn junior guard Kia Nurse scored 24 points and only missed one buzzer beater shot at the end of the half. She finished the game with a career-high 33 points.

While the Huskies were dominating in the offensive zone, DePaul was struggling. Senior guard Jessica January hit DePaul's first field goal of the night with 4:07 left in the first. That, combined with senior forward Jacqui Grant's three-pointer later in the quarter and senior guard Brooke Schulte's free throw were DePaul's only six points after one.
DePaul also failed to score from deep. They sunk only 7 three-pointers and were 18 percent from behind the line. This is only half of the 14 threes DePaul sinks on average over the course of this season so far.
In the second quarter, DePaul found a bit of life, but at half the score was 53-19, Connecticut still holding a staggering lead.
Despite their lackluster second quarter, the Huskies got going again in the third quarter and shut DePaul out completely. At the end of the game, Connecticut held the entire DePaul bench aside from freshman guard Kelly Campbell to under 10 points.
DePaul will face number 1 ranked Notre Dame next Saturday Dec. 10 but will first will play Prarie View A&M next Monday.