In the emotionally overwhelming "Manchester by the Sea," Casey Affleck's haunting performance forces him to undertake his apprehensive teenage nephew after his father succumbs to everlasting heart failure.
After the 2011 release of "Margaret," Kenneth Lonergan and Amazon Studio's "Manchester by the Sea" (an actual town in Massachusetts that is known for its scenic beaches and vista points) encompasses, yet again, factors that resemble moments of true life that purposefully deal with great change. Lonergan's knack for narrative structure hinders the past and present of each and every role of his rooted characterizations, leaving that wiggle room for his plot to weave in and out of flashbacks with ease. It's now 16 years after Lonergan made his Sundance premiere, with his debut feature film "You Can Count on Me" merely snagging two Oscar nominations.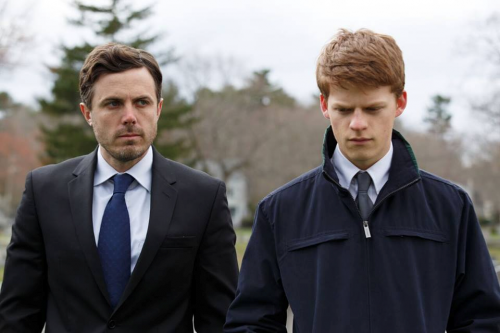 Lee Chandler (Casey Affleck) is an aloof janitor/handyman residing in a Boston one-room-fits-all apartment. Not much interferes with Lee's work other than mundane conversations from all walks of life in a New England winter and his aggressive fists after a few pints of beer at the bar. As he holds onto something deep from within his past, the desolate and dreary first act clearly identifies Lee's forlorn status quo. His persistence is drastically maintained when his older brother Joe (Kyle Chandler) dies of a heart attack, and upon receiving the news, shovels one last load of snow over his shoulder and surrenders to Manchester-by-the-Sea, Massachusetts to deal with the "What's next?"
As Lee surveys Joe's dead body, it's certain that there are not many alternative relatives to deal with arrangements for a funeral (an absent Chandler sibling resides in Minnesota, parents are both deceased). Manchester-by-the-Sea seems almost too familiar for Lee as he gloomily stands on the bench of his high-school nephew Patrick's (Lucas Hedges) hockey practice. Patrick glides over – seemingly a never happy encounter with his said uncle – Lee whispers the harsh news to his nephew, causing a ripple effect of understanding upon the teammates. "Is that Lee Chandler?" the players ponder. Surely, Lee has been around this neck of the woods far too long in his past.
Lonergan's painfully real script meshes past with present fluently in a way that that pinpoints the defining moments of family history. The first half of the 135-minute runtime just barely grazes Lee's past. As Lonergan hints with the audience, the upcoming scenes are coordinated to express Lee's undeniable history. While he and Patrick formulate a distant bond – the majority of this time is spent driving Patrick to his after school activities and his not one, but two girlfriends – its reasonable that their future is not to be taken without immense thought and neither is their past. Gradually and subtly, the plot flashes back to the happier times, where Lee's wife Randi (Michele Williams) and their kids routinely live.
Affleck's performance is the backbone to "Manchester by the Sea," securing over three-quarters of the screen time. Playing a once cheerful, jittery father – now revisiting his past by meandering around Manchester-by-the-Sea like it's worthless – Lee's character arc's in a sublime, passive aggressive momentum that does not stop until the credits. Eventually the old Lee catches up to the new Lee and never once does Affleck or Lonergan fail to accompany those major points in the film. The film speaks on loss, grief and the definitive moments that alter ones' way of living and coping with such. Lonergan sets up these conflicts uniquely, not playing on a mystery but more so as contextual insight on the Chandler family.
The subsequent "Manchester by the Sea" proves Kenneth Lonergan's storytelling techniques. The film provides a realistic attempt of aimless meaning, which flourishes into something of great depth, and as Casey Affleck lives in an ambience of turmoil, it's his performance (and the rest of the cast) that excels the beauty of this drama.