Hollywood award shows turn political with acceptance speeches
The 2017 Screen Actors Guild awards (SAGs) kicked off last weekend with politics center stage, as award winner after award winner used their acceptance speechES as an opportunity to criticize President Donald Trump's administration.  While some speeches were certainly more broad than others, the primary denunciation of the night was regarding President Trump's immigration order — which temporarily bans travel from seven predominantly Muslim nations.
Igniting the trend from the start, the night's first winner Julia Louis-Dreyfus stated during her speech how she was the daughter of an immigrant who fled persecution in Nazi-occupied France.
"My father fled religious persecution in Nazi-occupied France," Louis-Dreyfus said, while accepting her best actress in a comedy award for"Veep."
"I'm an American patriot. And I love this country, and because I love this country, I am horrified by its blemishes, and this immigrant ban is a blemish, and it is un-American."
While there was little doubt that the actors and actresses of Hollywood would use the night and spotlight to denounce President Trump's immigration order – that was implemented the very same day – in a night full of upsets and surprise winners, the overshadowed focus was purely politics over prizes.
From Louis-Dreyfus forward, it became apparent that Hollywood had a lot to say.
In one of the most rousing speeches of the night — and the most surprising to turn political — David Harbour, a cast member of the Netflix series "Stranger Things," stood defiantly adrenalized on stage as he accepted the show's award for best television drama.
"It's a call to arms from our fellow craftsmen and women to go deeper and, through our art, to battle against fear, self-centeredness and exclusivity of our predominantly narcissistic culture and through our craft to cultivate a more empathetic and understanding society by revealing intimate truths that serve as a forceful reminder to folks that, when they feel broken and afraid and tired, they are not alone," Harbour said amidst a thunderous applause from the audience.
"We will get past the lies, we will hunt monsters," Harbour continued. "And when we are lost amid the hypocrisy and casual violence, we will punch some people in the face when they seek to destroy the weak and the disenfranchised and the marginalized."
In a calmer and more personal acceptance speech, Mahershala Ali, who won best supporting film actor for "Moonlight," touched upon his relationship with his mother after he converted to Islam 17 years ago.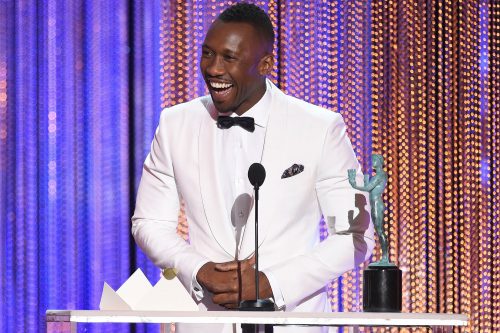 "You know, when we kind of get caught up in the minutiae, the details that make us all different, I think there's two ways of seeing that. There's an opportunity to see the texture of that person, the characteristics that make them unique. And then there's an opportunity to go to war about it, and to say that that person is different than me, and I don't like you, so let's battle," Ali said, holding back tears in his eyes. "My mother is an ordained minister. I'm a Muslim. She didn't do back flips when I called her to tell her I converted 17 years ago.
"But I tell you now, we put things to the side, and I'm able to see her, she's able to see me — we love each other, the love has grown, and that stuff is minutiae. It's not that important."
Without any mention of his name, with every speech and every award, Donald J. Trump was the biggest star not in the room.
The president of the U.S. chose not to retaliate against the speeches via Twitter, as he did with Meryl Streep's lifetime achievement award speech at the Golden Globes.  During her speech Streep called for the protection of journalists and end of disrespect and violence, before citing a specific incident of Trump mocking a disabled reporter back in 2015 during his campaign for presidency.
"It was that moment when the person asking to sit in the most respected seat in our country imitated a disabled reporter," Streep said. "Someone he outranked in privilege, power and the capacity to fight back."
Streep earned three tweets from then President-elect Trump that night in response to the speech, where he called her "one of the most overrated actresses in Hollywood."
An alternative fact if I ever heard one.
But from Streep to the SAG awards, Hollywood has been met with criticism of their political speeches as conservative media outlets condemned the Hollywood "elites" for using their platform politically.
Conservative political commentator  Tomi Lahren tweeted in response to Streep's speech, "These Hollywood elites wouldn't know average, everyday hard-working Americans if we bit them in the ass."
While Meghan McCain, daughter of Sen. John McCain (R-Ariz.), tweeted out, "This Meryl Streep speech is why Trump won."
Though in a day and age where the host of the television reality show "The Apprentice" is now President of the United States, I think it's safe to Hollywood getting political is fair game.
Do actors know the life of the average American? Certainly not, and they've never claimed to, cause I don't believe any of these SAG and Golden Globe winners are looking to run for office.
You're not forced to agree with the likes of Hollywood, as people aren't with Trump.  Turn your television off in response to a political speech at the Golden Globes, SAGs or Academy Awards, but do not tell people to do the same in regards to Trump.
One are stars of TV shows and movies simply commenting on the political atmostphere, the other is a star of TV shows and movies…and is president.
So whether Trump likes it or not, the policies and actions of his administration are going to raise the level of public debate in this country,
From President Ronald Regan to Arnold Schwarzenegger, politics have always been in Hollywood, and if award show speeches are the worst thing to happen to Trump in the next four years, then let that be his legacy.