Son of Robert F. Kennedy joins Illinois governor's race
Putting to bed months of speculation, Democratic businessman Chris Kennedy, the son of the late Sen. Robert F. Kennedy, announced last week his candidacy for governor of Illinois.
Kennedy enters what's expected to be a crowded Democratic primary field as the party seeks to find a candidate to take on embattled Republican Gov. Bruce Rauner, who said he will run for re-election.
"We have a tough task ahead: taking on a governor who has put Illinois in the worst shape it's been since I moved here thirty years ago. I feel called to serve at this moment because I know we can do better," Kennedy said in a statement.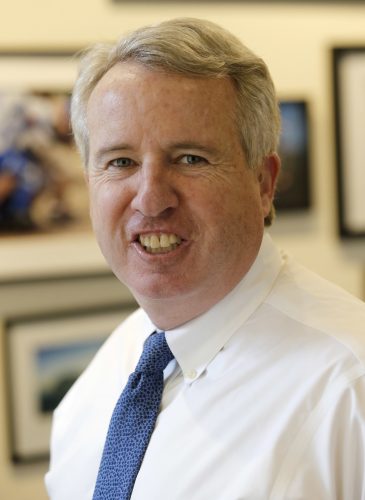 The businessman came out swinging in several interviews, lambasting Rauner as a "heartless" leader while repeatedly criticizing him for the state's continued lack of a budget.
"Compromise is not surrender (…) If we can put stubbornness aside, we can act on a shared vision for making Illinois a place where everyone can succeed," Kennedy said.
Kennedy, the former CEO of the Merchandise Mart and former president of the University of Illinois board of trustees, has long considered running for public office, but never acted on it until now, perhaps taking advantage of a relatively weak bench for state Democrats considering a run.
With U.S. Sen. Dick Durbin passing on the race and former First Lady Michelle Obama considered a pipe dream, no candidate appears strong enough to clear the field. The only other Democrat in the race thus far is Chicago Ald. Ameya Pawar. Others seriously considering bids are billionaire J.B. Pritzker, U.S. Rep. Cheri Bustos, and State Sens. Daniel Biss and Andy Manar.
"The Democratic field coming up should be really exciting and represent different factions of the party as well as geographically," said Jack McNeil, a DePaul student and president of the College Democrats of Illinois.
Kennedy is expected to be able to compete financially with Rauner, a billionaire who has already contributed $50 million to his campaign account. The race is expected to be among the most expensive and contentious of the 2018 midterm elections.
Rauner, a businessman with no prior experience in government, was elected in 2014 amid a wave of discontent over the handling of the state's skyrocketing pension obligations and a structural budget deficit that grows by the day.
Vowing to "shake up Springfield, and bring back Illinois," Rauner has played hardball with the Democrat-held legislature. He has butted heads most notably with House Speaker Michael Madigan, resulting in a budget stalemate that has left bills unpaid and put the lives of the state's most vulnerable in the balance.
Though unpopular, Rauner has successfully made the even more unpopular Madigan into a foil. Upon last week's announcement, Rauner tweeted out that Kennedy was "just another Madigan crony."
Though tying legislative Democrats to Madigan proved effective in the last election, DePaul professor Nick Kachiroubas believes it will be more difficult with a candidate like Kennedy.
"Even though he's being touted as being tied to Madigan, he doesn't have the Madigan name," Kachiroubas said. "He has a different name and it's a well-known name, so he can kind of benefit from associations with the Democratic Party, but also from his own personal affiliations as well."
While Madigan is considered the greatest weakness for the Democrats, McNeil believes the party's candidate can be effective if their messaging focuses on Rauner's record, such as the lack of a budget and the problems that has led to.
"You can blame Madigan all you want, but two years, no budget, hasn't happened in history," McNeil said.
And, with the president's party typically suffering losses during midterms elections, Rauner may run into trouble given Illinois' blue leanings.
"I think 2018 is going to be a tough year for Republicans, at least if things continue the way they have, at least in the last few weeks," Kachiroubas said. "So that makes it even more of an uphill battle for a Republican governor."
The Cook Political Report currently shows the race as "lean Republican." But, Kennedy's entrance shakes up the race and could make it one of the most closely-watched in the country should be win the primary. The primary takes place March 20, 2018.