A. Gabriel Esteban named new DePaul president
With a new president comes a potentially new identity for DePaul. The nation's largest Catholic university announced the first lay president in the school's 119-year history Feb. 16.
Members of the DePaul community welcomed new president A. Gabriel Esteban Thursday morning in an array of events aimed at letting students, faculty, staff and others meet the man who will take over for Rev. Dennis Holtschneider, C. M.
The board of trustees voted unanimously for Esteban to be the new president. There was a feeling that he, though not firmly connected to the Vincentian mission, will be able to advance DePaul's mission and values while he is president. Esteban, who is currently the president of Seton Hall, will begin his tenure here July 1.
"It is truly a privilege to serve as the university's first lay leader," Esteban said. "I look forward to continuing to advance DePaul's reputation and mission."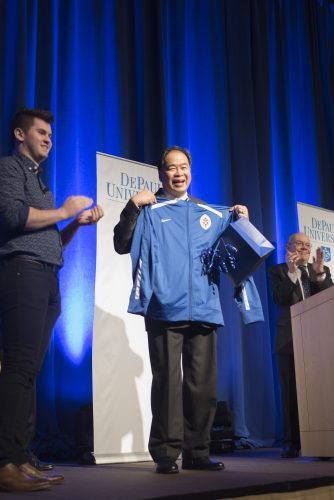 During his first remarks, Esteban spoke of renewing DePaul's mission and leadership. He will be in charge of a new strategic plan, which means the future of DePaul will be (partly) his to reshape. At Seton Hall, Esteban led the the University's strategic planning and campus master plan initiatives while also reshaping programs for undergraduate and graduate students.
Coming from Seton Hall, a peer institution that DePaul plays in basketball games,  means that he may already be attuned to some of the main parts of DePaul's identity, like its presence in the basketball tournament. Running a university with as many students as DePaul has may be one of the greater differences, since Seton has a total enrollment of around 10,000 students according to their website.
As a lay president, many things may be different under Esteban. Since he isn't a priest, he will not live with the Vincentians as Holtschneider does.
Though Esteban is not a Vincentian, Rev. Bob Lucas, C.M. said that he was not worried about the lack of a collar.
"I thought he made a good first impression," Lucas said. "Coming from Seton Hall as president shows he has experience in a Catholic institution. Having a lay person who will be imbued with the Vincentian spirit is a good thing. It doesn't bother me in the least."
His salary, and how he uses it, may also be different from Holtschneider and the Vincentian presidents who preceded him.
Though DePaul would not disclose Esteban's salary, a form 990 from Seton Hall showed he made around $700,000 in reportable compensation and other compensation from the university and other related organizations. Holtschneider made almost $900,000 in 2014, a form 990 from that year shows, from reportable income from DePaul and estimated other compensation from DePaul or organizations related to it.
DePaul said that Esteban's new salary was "established to be reasonable and competitive with the salary and benefits for similar positions at peer institutions."
For the most part the morning was focused on welcoming Esteban and getting to know his relation to the mission and values, but four students, carrying signs, silently protested first on chairs, then by the stage, .
The signs asked Esteban — and others in attendance — to uphold Vincentian values, to address racism, xenophobia and Islamophobia, protect undocumented students and to address sexual assault and violence on campus. How he will address these issues was not stated.
Esteban may continue to face questions about his connection to the mission, but those who voted for him do not see a problem with his background. They cite his time at Seton as an example of what he may be capable of.
"He has clearly studied our mission and is very comfortable with it," William Bennett, chair of the board of trustees, said. "I would say that while he may not be Vincentian, the mission he was pursuing at Seton Hall was quite similar to the mission that we have here at DePaul. The number one question the board asked when trying to find a new president was 'how do we assure the mission' and he fit the bill."