CPS students get shot to see 'Hamilton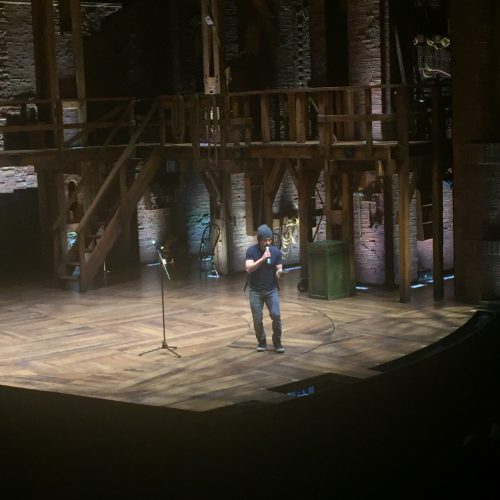 Elizabeth Rojas, 16, has never liked history class. It wasn't until learning about the award-winning play, "Hamilton" at the end of her sophomore year that she began to show interest in America's past.
"History was one of the classes I despised the most because I wasn't really good at reading," Rojas said. "But when I started reading "Hamilton" I became really interested. It's nice to know about the actual lives of the famous people we learn about" Rojas is now considering a major in history once she enters college.
Rojas, along with students from 20 Chicago Public Schools, arrived in busloads outside of The PrivateBank Theatre to watch student performances, participate in a Q-and-A with cast and watch a matinee performance of "Hamilton" last week. The day-long field trip was a part of the Hamilton Education Program.
The program, which began in 2015 for New York City public school students, has since expanded to Chicago in 2017. The performance marked the third of 10 student matinee performances.
Prior to seeing the show, students first did a series of assignments completed in their history courses. Contemporary American History and Civics teacher at ASPIRA Charter School Early College HS Cameron Shane said incorporating elements from "Hamilton" into his daily curriculum was not difficult to do.
"Right as the program was coming up my civics course was beginning and it fit right in because we talked about the founding fathers and Alexander Hamilton" Shane said. "Fitting that in was really, really easy."
Shane said the Hamilton Education program was a week-long series of assignments for students. Students spent weeks putting together performances and rehearsing plays, songs and poems.
"Incorporating art is something I already like to do but it was easier because the resources were given to us and they were so well done," Shane said. "The performances that everyone put together were really cool."
Cynthia Moreno, 16, and Jesus Martinez, 17, were both excited to hear they were among the twelve performances selected in the student showcase. Each school elected one performance to be showcased on the "Hamilton" stage.
"I've never really been into history," Moreno said. "When I was younger I was l thought history was so boring but this year I've gotten really interested in it and I just want to learn more."
Moreno said she was a visual learner and has enjoyed learning about history through "Hamilton" because it humanizes the historical figures she has learned about.
"With the performances it's helped me learn more easily," Moreno said. "I feel like songs and plays help me more than reading or looking something up in the internet." Both students said they were introduced to the play by their teachers.
Martinez said that he was excited to go to one of the schools that been selected to watch the performance. "Not many have the opportunity to come to this show and learn more about history and I feel like I need to take advantage of it and share my knowledge," Martinez said.
Alex Carrion, 16, was another one of the student performers and said he was selected to sing his song "Dear James" by his teacher.
"We had to choose from a scene or a song and we had to create it relating to "Hamilton" and perform in front of the class," Carrion said.
Carrion who hopes to pursue a career in animation or the arts, not only loved the opportunity to perform on the "Hamilton" stage but be able to see the award-winning play as well.
"I feel like this is a great privilege," Carrion said. "More schools should be able to do this. Ideally, tickets wouldn't be this high but I'm just happy to be here."
Some tickets to "Hamilton" have sold for over 500 dollars, according to Ticketmaster.
The program has been made possible through various funders like The Gilder Lehrman Institute of American History and The Rockefeller Foundation. Chicago funders include the Pritzker foundation and Pritzker Traubert Family Foundation. Students pay 10 dollars for a matinee ticket.
After the student performances, a Q-and-A was held with the "Hamilton" cast including Miguel Cervantes (Alexander Hamilton), Jonathan Kirkland (George Washington), and members of the ensemble.
The cast spoke of their experiences breaking into musical theater, what they wish they would have known as high schoolers and what it's like to be actors of color.
"In the theater world there isn't a lot of work for people that look like me," Kirkland said. "We have to build our own path and the biggest challenge of it is understanding that at the end of the day you have to be yourself…While the odds may be against me, that's irrelevant."
Cervantes gave advice to the students and said that in order to be successful, one must be able to put the work in and not give up.  "Opportunity comes whenever it comes," Cervantes said. "It doesn't come when you're ready or when you think it's coming, but when that opportunity comes even if you don't think it's your opportunity, you have to think it could be because the door opens and you better be able to walk through it."
For Rojas, the school trip to "Hamilton" was the first theatrical play she had seen live and cannot wait to see more.
"I didn't know it was going to be this big of a show," Rojas said. "I walked in and was just shocked. I'm just amazed at how many people were there."