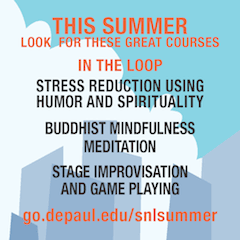 The Chicago food truck scene is a mixture of culture, food, communication and community. They can provide a quick snack or sweet treat on any given day, as well as cater events and bring awareness to their brick-and-mortar stores. 
"The food truck craze really took off about three or four years ago in Chicago," said Tim Coonan, founder and owner of Big Shoulders Coffee. The coffee brand has two building locations and provides coffee in some of DePaul's cafes.
"The DePaul community around the downtown campus and the Lincoln Park campus have been really wonderful. It's been a great relationship and partnership," Coonan said. "We were well-received in the Brownstone's Cafe (on the Lincoln Park campus) and downtown in DePaul's food service cafe area. Students seem to be familiar with the brand already which is pretty nice."
Another brand DePaul students and faculty are familiar with and love to buy from is Stan's Donuts and Coffee. They have their own food truck called Stan's Van, which is operated by their social media and marketing events coordinator, Jon Becker.
"People at DePaul always seem extra excited to see the Stan's Van, which is always fun," Becker said."There's one student who's randomly brought me homemade pie a couple of times when I've parked by the Loop campus, which is always extremely awesome, even as a guy who's surrounded by sweets all the time!"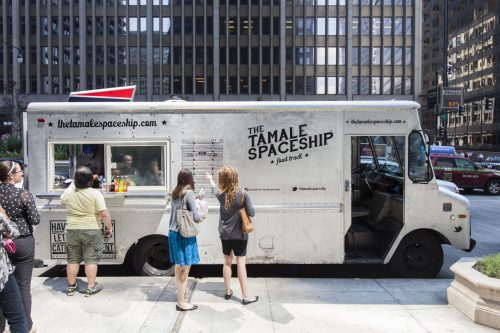 Sweet treats seem to be a running theme with several of the food trucks and food carts around the city. Most start selling their products early to catch the morning crowd like Danka Marinkovic, who is the owner of Melissa's Palacinke Crepes food cart. As the first licensed food cart to legally operate in the city of Chicago, Marinkovic beat out hundreds of applicants last year after city hall legalized mobile food vendors in 2015.
"I have children so I get them ready for school then I head to the kitchen," Marinkovic said. "There we prepare fresh crepes, package and label, then deliver to the Crepe Cart.  If we have an event, since we do an on-site, fresh, made-to-order crepe station, I stay longer and prepare crepe batter and ingredients."
Marinkovic spoke of the freedom she has with a food cart versus a food truck, as well as the struggles of being the first licensed food cart.
"We have the freedom to move around, unlike food trucks that can only be parked in certain spots for 2 hours max," Marinkovic said. "Our major drawback is that many people have never even heard of crepes, let alone tasted one. We also see a lot of customers but not everyone buys.  People are still  unsure about food carts in Chicago because they don't see many of them, except for the illegal carts which are not regulated.  We are highly regulated, inspected and have to follow many rules. In the beginning we looked at high traffic areas, but now we know where we are appreciated. Elementary and university students are our best customers, and we still experiment with different areas especially if we get a call asking us if we ever go to that specific area."
Choosing a specific area in the city to sell from a food truck is no easy task. Becker explains how the City's rules on where and for how long food trucks can park makes staying on the right side of the law while still making money exceedingly difficult.
"I tend to get downtown a little later than other trucks, which are usually parked by 5 a.m.," Becker said. "I try to reserve one of the few spots the city currently allows trucks to park. If a legal space with good foot traffic is available as I drive by, I park right away."
Marinkovic spoke on choosing spots around DePaul's campuses."We haven't tested Lincoln Park yet however we have often been by the Loop campus, which is also near Columbia and John Marshall Law School," Marinkovic said. "Students seem to really love crepes and we don't blame them because we aren't even sick of them yet."
Melissa Palacinke's food cart sells many different kinds of crepes, but choosing which kind to sell was a process of trial and error.
Marinkovic started out with ten different varieties and noticed after donating a lot of food to the homeless that the banana nutella crepes were their number one best seller by a landslide, with cinnamon sugar coming in as a close second.
Becker slings donuts out of Stan's Van's bright pink truck from and sees about 50-150 customers on any given morning on their way to work. He spreads "donut-based joy" with some of Stan's most popular donuts.
"I rotate between the most popular flavors out of the 50 or so we have every day in our stores," Becker explained. "I almost always have our top sellers, the Glazed Donut, Glazed Old Fashioned, Apple Fritter and Lemon Pistachio donuts on board, along with a couple of chocolate flavors, of course!"
The mobile food vendors spoke of the community they have created, which Marinkovic said often entails them feeding, bartering and exchanging food with one another.
"I had one of the best sandwiches of my life the other day from the Cajun Connoisseur truck," Becker said. "I'm a fan of Corner Farmacy and Happy Lobster's stuff and the guys from Bop Bar have become good pals of mine even if I haven't had a chance to sample their food yet. One of the best parts about driving a food truck has been the sense of community among truck operators — even other donut trucks!"
Other food trucks are a huge hit with students, including Harold's Chicken Shack food truck for third year student Michael Lynch.
"I've been going to the Harold's truck that's on LaSalle for about the past year," Lynch said. "I had an internship nearby and it's my favorite lunch spot. My soul feels blessed when I eat there. Six wings and mild sauce with lemon pepper – a truly legendary meal."
You can have some legendary meals of your own by seeing what food trucks are located near you at any given time on www.chicagofoodtruckfinder.com.