Journalists Lester Holt, Ben Welsh honored by university
Thursday was a day of festivities and nostalgia as DePaul's Center for Journalism Integrity & Excellence hosted NBC Nightly News anchor Lester Holt and data journalist for the Los Angeles Times Ben Welsh April 20 to honor the two former Chicago journalists with the center's first journalist of the year and alumnus of the year award.
The day began with a talk for students and the DePaul communications community. The morning's interview was steered by Carol Marin thanks to questions crafted by students from the center's advanced reporting classes.
In the afternoon, members of the DePaul community rubbed elbows with members of the Chicago media like Publisher and Editor-in-Chief of the Chicago Sun-Times Jim Kirk and Pam Zekman, a member of CBS Chicago's investigative team, as Holt and Welsh were honored over lunch at the Union League Club.
The discussion during the morning session touched on their early careers as well as journalism in the current political climate. Holt and Welsh took the opportunity to reflect on their careers and the evolving field of journalism before receiving their awards.
Don Moseley, Marin's longtime producer and co-founder of the center, said that he, Marin and other planners knew they wanted to have a big event at the end of the school year as a culmination of the school year. In the fall, the center brought in Martha Minow, the dean of Harvard Law School who taught President Barack Obama. For winter quarter, the center hosted Clarence Page, a syndicated columnist for the Chicago Tribune.
Hosting Holt and Welsh felt like a natural next step.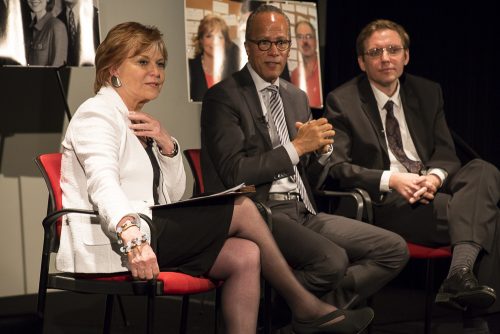 "The selection process was really simple because Holt and Welsh were always our first choices," Moseley said. "Welsh's body of work is extraordinary and he's someone students can relate to and look up to, and Holt's body of work is just tremendous (…) We wanted to start it off with a big bang."
For Welsh, who graduated in 2004, the opportunity to come back to his alma mater over a decade later and see the two journalists who helped him get into the field and speak to students was one he couldn't pass up.
"It's an honor to be recognized by two journalists who are two big role models in my early career," Welsh said. "I wouldn't be in journalism if I hadn't got the internship (with Marin and Don Moseley). I was a pretty aimless undergraduate and I wasn't doing much, I didn't know where I was going really. I accidentally stumbled into the internship and saw the purpose and how it enriched their lives and said 'maybe this is something I can do.'"
Welsh went on to say that it's "rewarding and exciting" to see Marin and Moseley's program expand and become a bigger program within the journalism department.
Holt, who formerly worked at WBBM Newsradio in Chicago for 14 years and has been weekday anchor of Nightly News since 2015, has known Marin for years and felt being honored by her and the center was high praise. He hopes students who attended the talk learn how much care and thought goes into being a journalist.
"We're in a period of time now where the press is getting knocked around, and that's okay," Holt said. "I think it's a good time that people are paying attention to us and understand that we do bring care to what we do (…) we try to be transparent and I see sometimes that is lost, perhaps, but we're in a good period that people are paying attention to that now."
Michael Fleischman, a junior communications and media major, said it was a great way to learn something bigger outside of class.
"In a broader sense this is part of what's so impressive about being a student at DePaul," Fleischman said. "I've had a couple of these opportunities to go to these small gatherings with notable people and hear their thoughts in this kind of setting."
For Moseley, the opportunity to bring in an alumnus and a nightly news anchor provided students and the DePaul community a helpful learning moment.
"I hope students can look at (Holt and Welsh) and follow their tracks," Moseley said. "These are both shining examples for students. The really critical component here is that this is great for DePaul and the center, but it also had to be great for the students. So we really hope (students) take away the idea that they can do this too."