Vince Staples, A Tribe Called Quest and more: highlights from days 1 and 2 of Pitchfork Music Festival
Pitchfork opened its gates and welcomed crowds of people for its 12th year Friday at Union Park. Over the dozen years, Pitchfork has catered to their regulars by offering reasonable prices – compared to other bigger festivals around the Chicago land area like Lollapalooza or Riot Fest – all while keeping a consistent experience, offering a comfortable vibe for attendees to enjoy.
The festival fits quite nicely into the layout of Union Park. Displaying the performances on three different stages, the grounds make it easy to bounce from one act to the next in a quick manor, that is, all while dodging incredibly long lines for 312 Goose Island beer. Pitchfork is alive for the weekend, offering a wide array of activities for its goers including record and art shopping, literary fairs with publishers and authors, and most importantly, a full three days of performances encompassing many different styles for its roughly 19,000 daily attendees.
Friday, July 14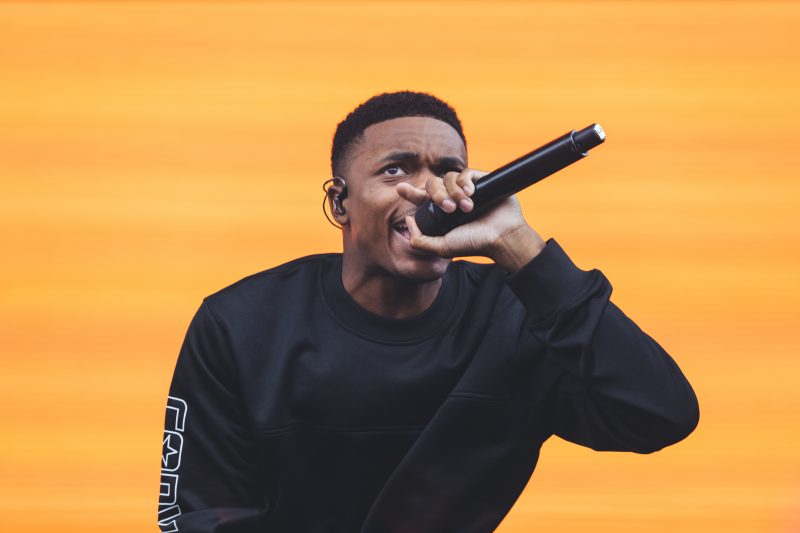 Vince Staples
Opening up the weekend, Vince Staples secured the biggest stage at Pitchfork, the Green Stage. Coming off of his recent album "Big Fish Theory," Staples performed "Ascension" quite early on in his set. This Gorillaz collaboration raised the crowd to the next level, but it ultimately didn't get much higher after that. The rapper from Long Beach, California needed additives for his set to utilize the time and space of the Green Stage, especially recently after the success of his album.
Groups often sat in circles on the outskirts of the Green Stage, making it sort of maze-like while transferring from stage to stage or while making a pit stop at a porta potty. Nearing 5:30pm, the struggle to enter Pitchfork reached its utter most difficult, a line wrapping around two corners of the festival grounds averaging a 90 minute wait – with little to no information about that wait – as attendees arrived for the rest of the hyped Friday evening. Many listened to Vince Staples on the sidewalk, reminiscing about the other side of the fence.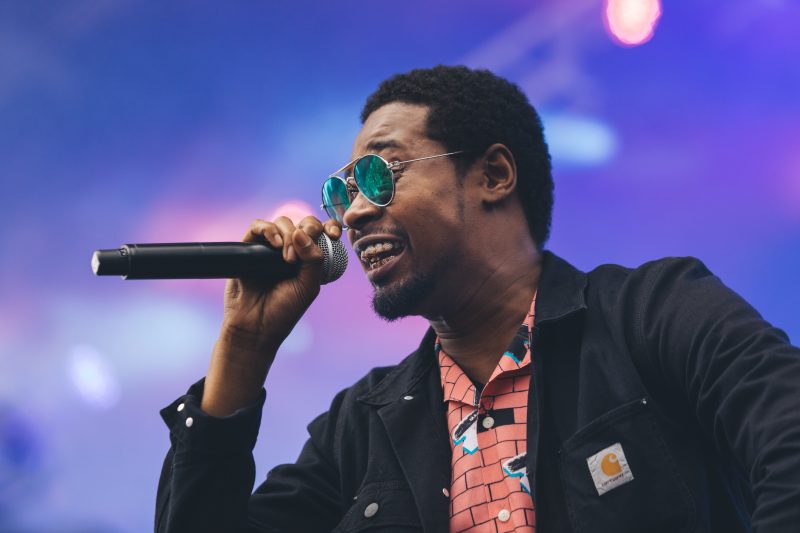 Danny Brown
Following Vince Staples on the Green Stage is Danny Brown, the Detroit-based 36-year-old heightened the energy, and the charisma that Danny Brown inhabits is absurd, greatly adding to his appeal and his ability to instigate the Pitchfork crowd. Often, Brown recognizes the party-like setting, and his constant pauses enable the crowd to finish his rapidly flowing, vulgar rhythmic lyrics. It often seems though, especially during "Die Like A Rockstar," that during these breaks the audience doesn't even know the lyrics to finish them. Brown has come a long way since 2012, where he performed on the small stage at Pitchfork and still incorporates his thrusting tendencies that we see during every driving beat.
After taking a beating in Danny Brown's crowd, many looked for refreshments and some downtime before Friday night's headliner. Slowly, the crowd starting meandering around the Green Stage for one last performance of the night. And it'll be a big one.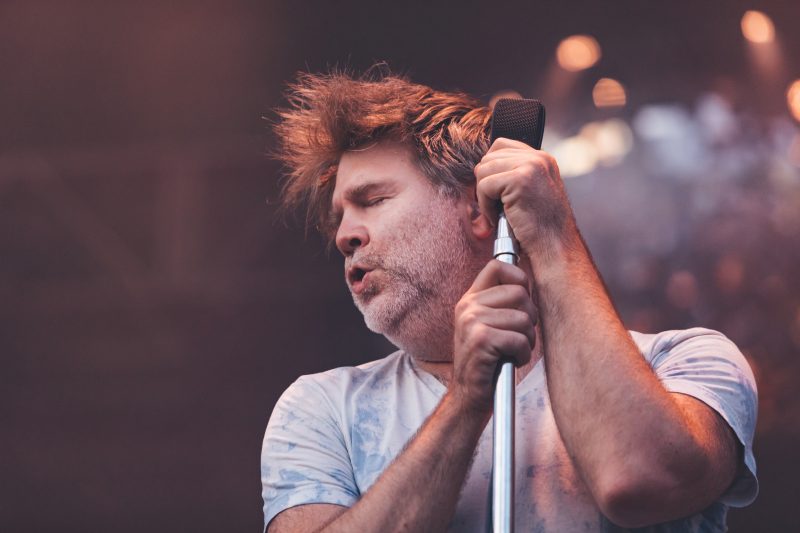 LCD Soundsystem
The first headliner of Pitchfork welcomed LCD Soundsystem after a recent five-year hiatus that began in 2011. Initially, the band stated they were through with it, but here they are. The electronic rock, alternative dance group loudly welcomed the biggest crowd of the night, stretching to the perimeter of the festival grounds. Jokingly, lead singer James Murphy teases with the crowd about the band mates' injuries stating, "That's the middle-aged spirit" after referencing two bad backs and an injured knee. LCD surely knows how to drive the energy throughout the show, even throughout a couple of new tracks, "Call the Police" and "American Dream," the performance rages on, drawing the audience closer and closer. Many cyclists and goers often look back, stuck in hesitation regarding beating the traffic and calling an Uber or continuing to stay put. It's quite early to make a bold statement like this, but LCD has the outright lead for my favorite performance at Pitchfork. Friday ended under a clear, cool sky with the first day ending on a beautifully positive note.
Saturday rolled around and welcomed another gorgeous day, with enormous lines, and a full day of performances. Although Pitchfork did accommodate for the excruciatingly long general entrance line from the previous day buy adding a second entrance for the weekend. A Pitchfork representative stated that entrance lines were due to a newly adopted security protocol that was different from years past. As everyone settles back into their groove throughout the afternoon, Pitchfork continued to show their everlasting easy-going attempt for a memorable day at Union Park.
Saturday, July 15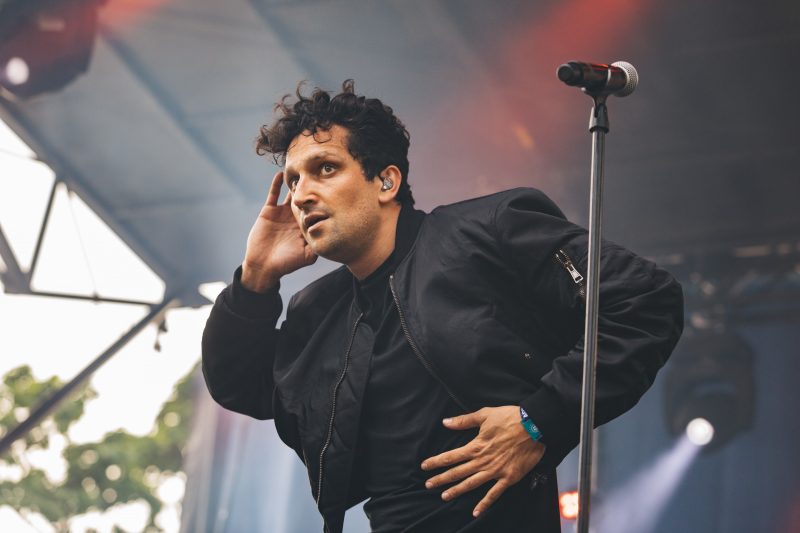 Francis and the Lights
Off the beaten path a bit is the Blue Stage, Pitchfork's smaller, more intimate stage. Francis and the Lights is a combination of Francis Farewell Starlite and, well, his lights on stage and the computer pixels being portrayed behind him. Originating from Oakland, Francis and the Lights has collaborated with Kanye West, Chance the Rapper and Bon Iver and his slick dance moves kept the audience going throughout his 45 minute set. Not to mention his off-stage interaction with nature, grabbing branches and swinging from trees. A nostalgic feel to the 80's came to flourish during his performances of "May I Have This Dance" and "It's Alright to Cry" while he flairs his suave dancing skills to the crowd. Francis Starlite is a performer that has more energy and dancing skills than any act that preceded him on that stage.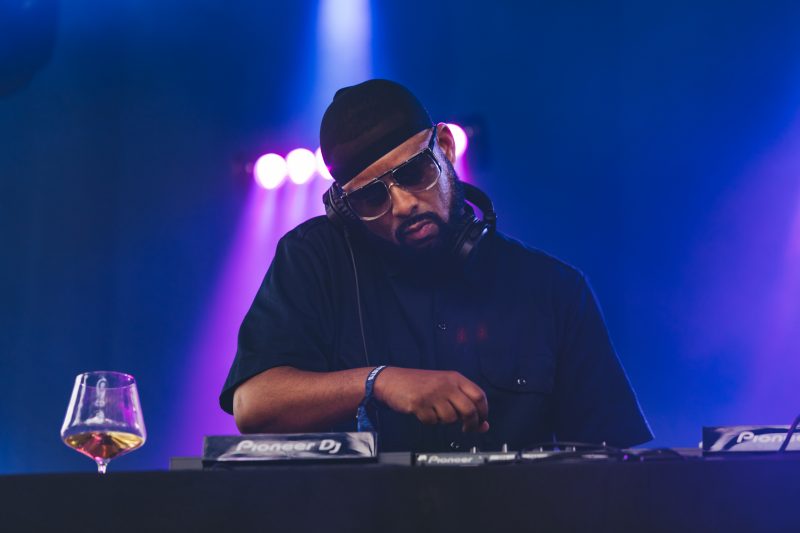 MADLIB
Shortly following at the Blue Stage, the crowd (plus tons more) remained in their places for the next act. The laidback, rare occurrence on stage is MADLIB. A prolific hip-hop artist, MADLIB's on-stage presence is an efficient one, constantly creating beats, spinning and mixing. The secluded stage was packed with a generally younger crowd, perhaps the fullest the Blue Stage achieved for quite some time. The California native's calm, refreshing style proves that a microphone isn't all that necessary in reaching your crowd. Another fitting set on the Blue Stage, MADLIB was able to achieve tempo with sounds and quickness that is quite unique within his genre of music. The heavier drops throughout the set made MADLIB distinguishable from the majority of the acts at Pitchfork this year.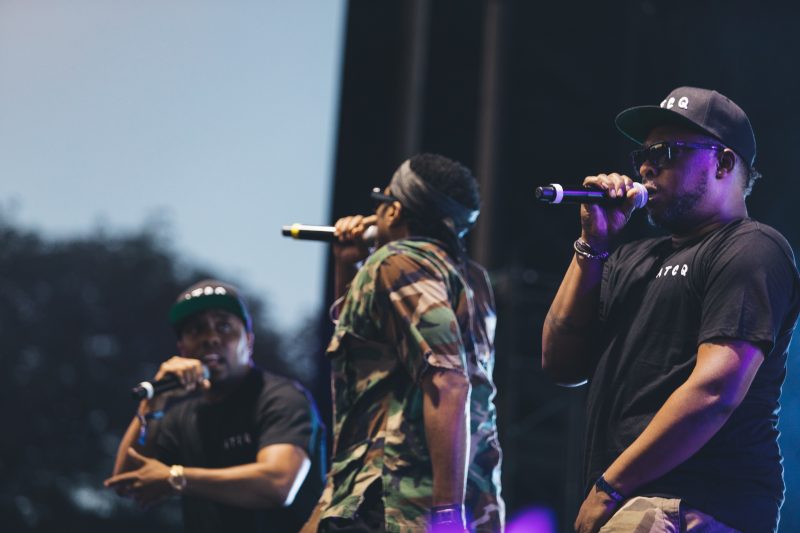 A Tribe Called Quest
To end Saturday, another headliner wraps up the Green Stage with a near perfect set. Being on stage with a purpose, A Tribe Called Quest intertwined rap and hip-hop beats with what they are calling a farewell tour. In meaning, their cofounding member Phife Dawg passed away last year, igniting a show with immense power and adrenaline. Q-Tip, Jarobi and Consequence make up the lead three energetic, vocalized performers who dive in and out of each other's lyrics. Stating Chicago as their "second home" in honor of rappers like Kanye West and GLC, A Tribe Called Quest had Pitchfork swaying from side to side in unison while performing for their first time since remembering their latest partner. With a crowd just as big as the night before, Pitchfork ends the second day on another strong end act that has us eagerly anticipating Sunday of Pitchfork 2017.