It is the beginning of August. As Chicagoans, this weekend is engrained in everyone's mind not only as a time of chaos — even a burden for some non-goers — but rather an assiduous few days citywide. Welcome to Lollapalooza weekend.
Grant Park's spacious layout along with Lollapalooza's terrific staff cohesively joined to offer generally a lineless first day. The 4-day festival kicked off for its weekend for its 26th annual festival in Chicago.
Up-to-date information provided on Twitter and on the easy-to-use Lolla app quickly began in the early afternoon notifying the near 90,000 festival attendees about inclement weather approaching. It didn't take long for the first raindrops to fall in Grant Park, but sooner rather than later the sky cleared for the most part and the day continued. It wasn't until the headliners' sets that the notifications buzzed once more. Calling it quits, Lollapalooza's Thursday and the festival's opening day ended in an evacuation around 9:10 p.m.
Lorde, Muse, Porter Robinson and Lil Uzi Vert were among the four acts that had to vacate during sets. As the rain poured, the Lollapalooza crowd dispersed among the streets heading for any nearby exit. The process developed in an orderly fashion, surprisingly, as mobs of soggy basketball jerseys and ponchos pondered taking an Uber or the CTA.
Although Lollapalooza did end in an evacuation, the festival still featured some great weather and music throughout the day.
Migos
Tentatively starting at 5 p.m., an enormous crowd gathered at the Bud Light Stage. Unfortunately, that crowd would have to wait roughly 45 minutes for the American hip-hop trio Migos to step into the sunlight. Migos and their crew had plane delays and did not begin their set until around 5:40 p.m. During this time, many goers left impatiently with regards to catching another act in the meantime. As hoards of people began meandering around to fill their now open schedules, Migos eventually stepped into the spotlight and let out a roaring bass signal, acting as a recoup to get back all of the lost stragglers. Now everyone turns around and sprints back into the Bud Light Stage area trying to catch whatever time Migo's has left in their set.
Forming in 2009, the Georgia based rap group consists of Quavo, Offset and Takeoff. Being so late, one would think they'd powerfully jump into the minimal time they have left (only scheduled until 6 p.m.), but instead, the trio relied on shorter beat sequences and a lot of interaction with the crowd to chant "Migos" and other things like "Momma." Quite frankly, the time that they were on stage did not own up too much, lasting for only about 25 minutes before being cut off. Given that a crowd that large remained staring at a blank stage, Migos surely needed to deliver on a higher level for the inconvenience.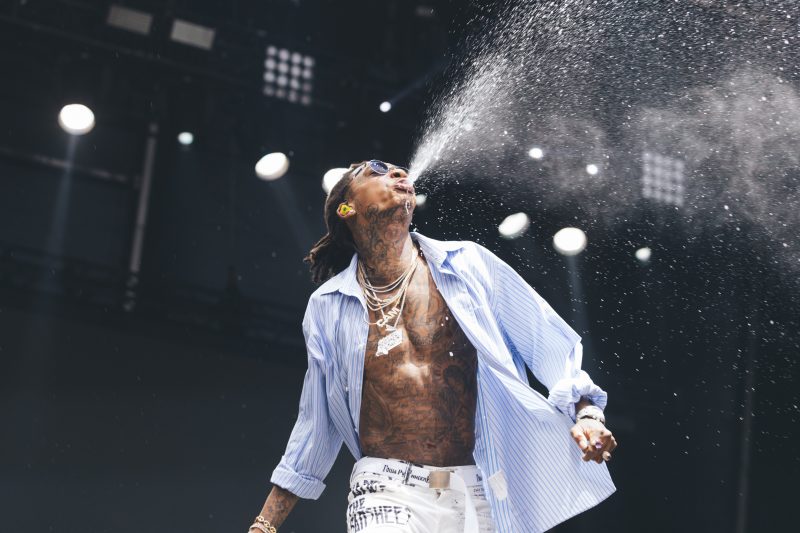 Wiz Khalifa
Shortly following Migos on the Bud Light stage came Wiz Khalifa. Not nearly as large of a crowd that preceded Wiz (probably because the crowd for Migos did so much waiting), but the 7 p.m. slot was a perfect fitting for Wiz Khalifa on the busy Thursday. His performance is full of pop-melodies with a fluent mix of chilled-out older stuff of his like "See You Again" and "Young, Wild and Free." His persona on stage is one that is established and clean. Nearing the end of his set, Wiz Khalifa paused his performance to bring everyone together to imply that the most important thing is to have a smile of your face. That's the one thing you can control and no one can take that away from you.
Cage the Elephant
Amidst a day of unplanned short sets, Cage the Elephant is the outlier. Everything that could have gone right for the group from Kentucky absolutely did. The energetic rock band did not waste a single minute, as lead singer Matthew Shultz illuminated on stage in a sparkly purple dress with fishnet stockings. This dress was a staple of their 6:30 p.m. time slot on the Grant Park Stage, as the dress began to slowly escape off of Shultz's body throughout their set.
Cage the Elephant has always been known for their extremely high-energy performances. It was obvious that that would continue at Lollapalooza under some cloudy skies and light rain. After an excruciatingly fun performance of "In One Ear," Shultz equalizes the crowd to inform that there is "one race and one love." As he struts around stage in his dress he stops to say, "Let's celebrate love." The first riff begins for "Trouble." As the set continues, the crowd screams the lyrics to Cage's favorites "Telescope," "Cigarette Daydreams" and "Shake Me Down." Eventually, the dress slowly came off as Shultz walks and crawls on top of the crowd directing himself toward the camera and lighting tent which he climbs to the top and extends himself above his packed stage holding a formed heart with his hands over his chest.
Porter Robinson
Feeling out the sudden storm clouds quickly shifting over Grand Park, it was planned to do some bouncing around during Lollapalooza's headliners. This started with Porter Robinson at the Perry's stage. Before Thursday's weather evacuation, Porter Robinson was on par for a big set, drawing a deep crowd before the heavy rain. Opening up with "Sad Machine," Robinson's wide-screened visuals reflected through the monsoon rain glimmering up the younger Perry's crowd. The rain was quite fitting for the style of Robinson's set, many not being phased by it whatsoever. Not too long after, the festival couldn't hold of the rain any longer and it was called off. Porter Robinson played for about 30 minutes before being evacuated.