As the race for the Cook County's next 13th District Commissioner heats up, DePaul sophomore Bushra Amiwala has been quietly adding fuel to the fire of her campaign.
Amiwala, 19, has been steadily acquiring volunteers and supporters since the announcement of her candidacy in March. With more than 1,500 likes on her Facebook page and 20 volunteers who have thrown their support behind her, she still hasn't even officially begun her campaign.
On Sept. 5, Amiwala's campaign began collecting the signatures necessary to secure a spot on the ballot come election time. Only 500 signatures are required, but the campaign is planning to collect 1,500 in the anticipation that her opponent, incumbent Larry Suffredin will contest every one of their signatures in a move to keep her name off the ballot.
Running for office is just the latest endeavor Amiwala has taken on. In addition to being a full-time student at DePaul, she is a debate judge and coach for three 13th District high schools, the Vice President of DePaul DECA and an after-school teacher at several Chicago Public Schools.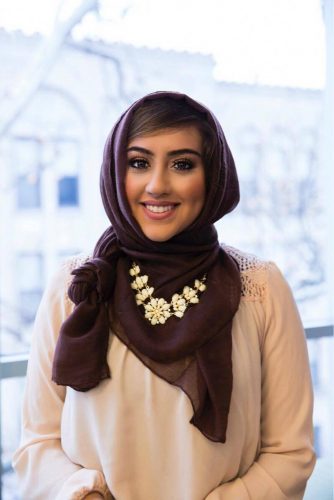 The 13th District Commissioner represents about 300,000 residents of Rogers Park, Evanston and Skokie, among other northern communities. Though DePaul's campus sits in Cook County's 10th district, she hopes her school will play an integral role in her campaign, saying "everything I say and do will affect DePaul's students" if elected.
In spite of her campaign doing well, she's still coming to grips with the nastier sides of running a campaign. As a Muslim who is running for elected office, her religion has made her the target of bigoted speech and aggressive stereotypes.
"I have gotten a handful of messages that are like, 'Are you going to implement Sharia law?' I was actually expecting a lot more of those kinds of messages going into the campaign, so that's good," she laughed. "But I've also got the other side of that with people saying 'Hey, you're a Muslim woman you should cover your arms, you have too much skin showing.' I really didn't expect people from my own community to come out and say 'you're not the perfect token Muslim because your hair is showing.'"
The key to any successful political campaign is having the money to get the candidate's name out there. She has been getting most of her publicity free from articles written about her campaign, and she knows well the value of saving a buck when every dollar matters.
"If you want to win public office, you definitely need money," Amiwala said. "Fundraising has been going a lot better than I thought it would be. The lucky part is I haven't had to spend much money just yet. Every penny I have received is being saved to send out a mailer about a month before the election."
But being frugal comes with its own cost. Amiwala had to pay for all the campaign's stickers and buttons out of her own pocket. None of her volunteers, including her campaign manager and social media manager, receive payment for their work.
A lack of compensation doesn't bother Amiwala's dedicated team. Volunteer Brendan Power, 25, felt like working on her campaign was the perfect outlet for his frustrations with the government since the election of Donald Trump.
"I was upset with the way things shook up with the presidential election. I started researching who my county commissioner is and that's when I learned about Bushra's candidacy," the Skokie resident said. "The more I learned about her, the more I realized she really aligns with my vision for what government should look like. We both share a frustration with the 'business-as-usual' way of running things at the county level."
Even though the Cook County Clerk will not officially recognize the campaign until Amiwala acquires a minimum of 500 petition signatures, she isn't shying away from any contentious issues early in the race. Amiwala is an outspoken critic of Cook County board president Toni Preckwinkle's so-called "soda tax," which taxes beverages at one penny-per-ounce. The soda tax is estimated to bring the county $200 million in much-needed revenue in 2018, according to the Chicago Tribune, but Amiwala says it only effects the county's poorer residents, and the tax failed at its goal of creating revenue to avoid layoffs of county workers.
"The idea behind the soda tax was that it was either create the tax, or fire 1,100 county employees to help balance the budget," Amiwala said. "But those people were still let go when a judge put a temporary stop on the tax. In recent interviews, Preckwinkle herself hasn't mentioned the fact that now that the soda tax is in, those people still aren't getting their jobs back."
She disagrees not only with how the tax has failed its purpose of retaining workers, but also its thinly veiled attempt at increasing revenue under the guise of being "for the children."  She finds it to be "manipulative."
Amiwala doesn't want to create any new taxes or hike existing rates, but rather re-examine the way the county and state distribute and handle tax revenue and by taking "proactive steps to prevent the number of grant errors and funding errors that have cost the county millions of dollars."
Among her other policy priorities would be to increase awareness of social programs the county has to offer, such as CountyCare, a Medicaid-managed health care plan that provides free health insurance to the residents of Cook County.
"About 47 percent of the county budget goes to CountyCare," Amiwala said. "The information and the resources are out there, but you don't have anyone holding town halls to show people the programs the county has to offer."
Above all, she wants her campaign to inspire other young people to get involved in politics and run for office too. As young people, however, she says the standards are set much higher than they are for older candidates.
"You have to demand respect. But you have to demand it respectfully."