Senator Dick Durbin proposes bill to lower textbook prices
Illinois senator Dick Durbin held a press conference call on Tuesday, Sept. 27 with two of his fellow senators Al Franken, D-MN, and Angus King, I-ME, to reintroduce the Affordable College Textbook Act.
The proposed act aims to create alternatives to the rising prices of college textbooks in order to remove at least one obstacle from attending a higher education facility.
"Textbook costs are one of the most overlooked barriers to college affordability and access," Durbin said.
The price of textbooks has risen 88 percent between 2006 and 2016, compared to a 63 percent increase of college tuition and fees, according to the Bureau of Labor Statistics Consumer Price Index.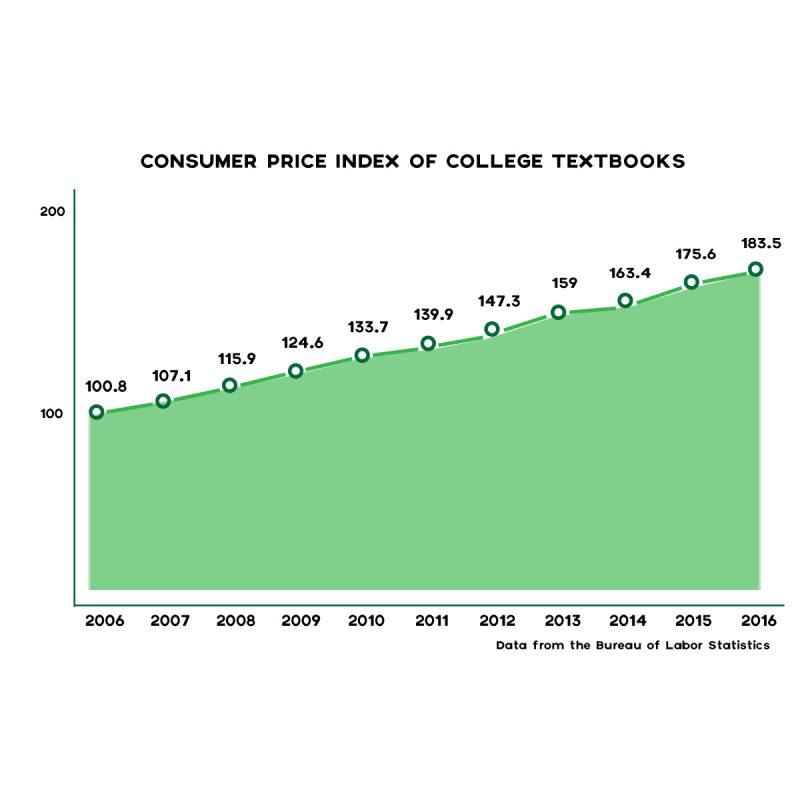 In order to achieve affordability, the proposed bill will grant pilot programs in colleges and universities across the country to help "students, faculty and academic communities to develop resources… that otherwise might not be available," King said.
Sophomore Eliyah Rios spends roughly $200 to $300 on textbooks each quarter and says it's too much. For one of his classes, he chose not to buy the $190 textbook and saw his grade suffer.
"I didn't do as well in the class without it," Rios said. "And I couldn't find (the textbook) anywhere used for a cheaper price." If DePaul had an open textbook instead, Rios said he would have used it.
One goal of the act requires institutes that receive funding to report how much money students will save to determine its effectiveness. The Government Accountability Office will supposedly be required to report to Congress any change in the price trends of college textbooks.
Originally introduced in October 2015, the bill was referred to the Committee on Health, Education, Labor and Pensions on the same day where it has remained untouched. A member of the committee, Franken said the Affordable College Textbook Act has not yet been addressed because the same committee has been preoccupied with health care lately.
"We did some great bipartisan hearings on shoring up the (Affordable Care Act) and I think we'll be resuming the negotiations," Franken said.
The two year delay can be attributed to the slow workings of the senate, Durbin said.
"The Senate moves exceedingly slow and we've been waiting on the reauthorization of the Higher Education Act," Durbin said.
Signed in 1965 by Lyndon B. Johnson, the Higher Education Act (HEA) has since been rewritten eight times. Another revision of the act was extended from 2013 to 2016, which Congress is currently working on.
By attaching the Affordable Textbook Act to the HEA, Durbin and King agreed it is likely to have a better chance at getting through to the senate.
"It's difficult to get an individual bill like this to the floor of the U.S. senate," King said. "You have to connect it to another major bill whose train is already leaving the station."
A 2015 Brigham Young study as well as a 2017 Achieving the Dream study found using open educational resources can help students complete their courses, get better grades and also take more credits.
Marissa Malta graduated from DePaul in spring 2016 with a double major in Economics and Arabic. She spent anywhere between $70 to $200 on textbooks each quarter during her four years at DePaul, saying that the price fluctuation usually depended on whether or not she was taking math classes.
"I felt like I always needed the books for my classes even if I didn't touch the book during the quarter," Malta said.
If her classes at DePaul had utilized more open textbooks, Malta said she "would have read (her textbooks) more."
Perceivable opposition to the bill include textbook publishers, which will receive pressure to lower their prices to be competitive with universities that offer open educational resources, Franken said.
The price of creating and producing college textbooks the bill aims to defer from college students will instead be paid through grants funded by tax dollars.
Senator Durbin is also part of three-member team headed by Sen. Elizabeth Warren, D-MA, introducing the Bill to Reform Higher Education Accreditation and Strengthen Accountability for Students and Taxpayers. The bill "would allow students who are facing student debt to consolidate debts and lower the interest rates," Durbin said. The bill has been unsuccessful so far when brought before the senate.