A former West Side Chicago gang member who struggled with drug addiction now dedicates her life to serving her community and helping to mediate violence on inner city streets.
On Aug. 9, 2011, Angalia Bianca walked out of prison for the last time after serving a total of 12 years. She then spent seven months in the Safe Haven program where she immediately immersed herself in volunteer work.
"I made a promise to God that if he took the taste of the streets and heroin out of my mouth that I would help people until the day I die (…) I just started volunteering to keep my promise while I was there," Bianca said.
Bianca now works at CeaseFire as a violence interrupter and data specialist where she and her colleagues often risk their lives to stop violence.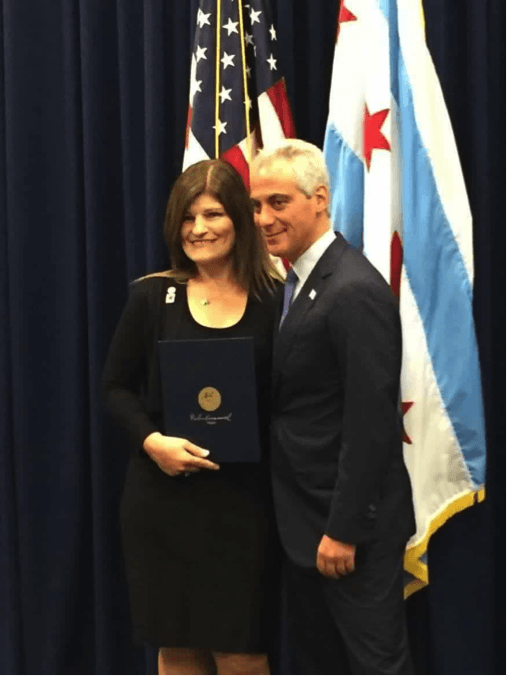 After an eight-hour day in the office, Bianca said she is technically free to go home, but instead she continues her volunteer work.
"I go into the streets because I know the streets and I have to continue feeding my need to save lives," Bianca said. "I work a lot and I'm OK with it. I love my job."
Her work isn't limited to Chicago Bianca has travelled to Nova Scotia and Abu Dhabi to speak about the spread of violence and to train people on conflict mediation.
Andre Thomas, a coworker and friend, said he has learned about his own experiences through Bianca.
"I learned from her that this problem doesn't just affect African-Americans, or black and brown, it affects other people too," Thomas said.
CeaseFire colleague Jerusha Hodge admires Bianca's humility.
"She never once acted like she was better than anyone else," Hodge said.
Hodge said she has seen some people let recovery get to their head and develop an arrogance when working with those who are still struggling, but with Bianca it's different.
"She always acts as if she is still recovering," Hodge said.
While there are many moments Bianca has risked her life to mediate violence, the one that stands out occurred when she wasn't on the clock.
After witnessing a shooting while driving through the streets of Chicago, Bianca approached the 15-year-old victim. The shooters fled, and she kept him alert and helped saved his life until an ambulance arrived.
Mayor Rahm Emanuel then honored the courageous act with a Resolution for Bravery Award, but for Bianca, that wasn't the point.
"It's not really about the awards, it's about saving lives for me," Bianca said.
Aside from volunteering and her career, Bianca is also an author. She is currently working on a memoir of her life.
"It's a true life, brutally honest journey. I'm excited because I know it will help a lot of people," Bianca said.
Bianca plans to donate a portion of her books' proceeds to prisons in hopes of inspiring those who struggled with harmful lifestyles.
As for the future, Bianca said she'll never stop. "
"I love being in the streets," Bianca said. "I love volunteering, I love helping others and I love being involved."