Protesters to Tyson "Stop poisoning our drinking water"
Hang on for a minute...we're trying to find some more stories you might like.
A small group of protestors from the environmental activism group Mighty Earth gathered for a protest outside of Tyson Foods' corporate headquarters in the South Loop on Wednesday, Oct. 11.
Mighty Earth's "Clean it up, Tyson!" campaign is aimed at trying to get Tyson, the world's second largest processor of poultry, beef and pork, to commit to reducing the water pollution that stems from their massive national meat processing operation.
"We want Tyson to agree to only source their products only from farms that commit to sustainable and responsible agricultural practices," said Celeste Nahas, an organizer for the campaign.
The protest was the result of a report commissioned by Mighty Earth that details the scope of Tyson and other major food processors' dirty practices.
Tyson dumped 104 million pounds of pollutants directly into American waterways between 2010-14, according to the EPA's Toxic Release Inventory. These pollutants, Mighty Earth says, find its way into watersheds all over the Midwest and eventually empty into the Gulf of Mexico.
The pollution doesn't necessarily come from the livestock Tyson raises, but rather from the crops grown to feed the livestock. Nearly 40 percent of all U.S. grain production goes towards livestock feed, according to the U.S. Department of Agriculture.
"Tyson produces one out of every five pounds of meat in the U.S.," Nahas said. "They source from corn and soy farms that allow excess fertilizer runoff to wash off these industrial farms and into our water in Illinois and elsewhere."
The main chemical runoff "Clean it up, Tyson!" is focusing on is nitrogen, a key component of many fertilizers which can be dangerous if it seeps in to drinking water.
Tyson has promised to make changes to decrease the amount of pollutants they are releaseing, but Mighty Earth doesn't think they are keeping their word.
Tony Ends, the co-owner and operator of Scotch Hill Farm in Brodhead, Wisconsin, spoke to his personal struggles with nitrate pollution in an emotional speech at the protest.
"Our town's water tests helped me understand why my wife and several of our children had frequent unexplained headaches, a result of high nitrate content," Ends said. "I understood why a number of our ewes and does had miscarriages every spring, another symptom of nitrate poisoning."
A test of the water in Ends' town found nitrate levels of 200 parts per million – 20 times higher than the threshold the EPA considers dangerous.
"All this nitrate pollution came from millions of gallons of liquid manure next door," Ends said. "It all happens within two miles of our farm." 
Nitrogen also causes algae blooms, which consume all the oxygen in the water and suffocate fish species. All of the toxic runoff in cascading down Midwestern watersheds into the Gulf of Mexico has created a "dead zone," where aquatic species are smothered.
Shruthi Kumar, a senior at DePaul who interned at Mighty Earth, said the "Clean it up, Tyson!" campaign afforded him the opportunity to hold one of the biggest polluters accountable.
"As an environmental science student at DePaul, it is easy to just sit in the classroom and study issues like the dead zone and fertilizer pollution in our water supply," Kumar said. "It's time for corporations to start protecting our waterways, not polluting them."
About the Writer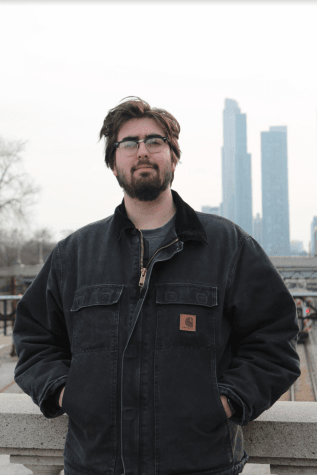 Benjamin Conboy, Editor in Chief
Benjamin Conboy is the editor-in-chief of The DePaulia for the 2018-19 school year. When he's not writing or reading about Chicago politics, he's hanging...