[accordions]
[accordion title="Patton Oswalt: Annihilation" load="show"]
Just last week, Patton Oswalt's special "Annihilation" was released on Netflix. It was last year that his wife, the 46-year-old crime writer Michelle McNamara, died suddenly.
Oswalt begins the first half of his hour long special energizing the crowd, riffing on Trump, recounting a bar fight that he witnessed outside of a metal venue and triggering a publicist sitting in the front row. It is then that he transitions into what it's like to be a widower and a single dad. This marks a memorable time in Oswalt's career and in stand-up in general. He's a professional on stage, it doesn't matter what the material may be – or how morally upsetting it can be – he's a defining comedian on stage and it surely comes off that way. "Annihilation" was taped back in June at the Chicago Athenaeum Theatre. The second half of the set rarely even hints at jokes, it's merely a process of what he went through, is going through and what he's going to go through. He want's no more strength wishes, the worst of his "healing journey" is over. The worst day, telling his daughter the abrupt news about her mother, is over. Oswalt sets out to emotionally detail the trials and tribulations of loss and life.
"Annihilation" hit Netflix on Oct. 17 and is streaming now. Even with the dark material, Oswalt is a pro and he will definitely make you laugh. [/accordion][accordion title="Hasan Minhaj: Homecoming King" load="show"]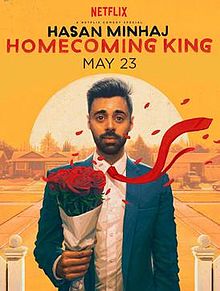 Released on Netflix in late May, Hasan Minhaj's stand-up special "Homecoming King" details the grasp of constraining to his immigrant parents and the country he calls home.
The special on Netflix has become extremely popular for the 32-year-old California native. Minhaj's routine chronicles his upbringing with his immigrant partents and follows him through a fateful prom experience and up to his audition for The Daily Show. Sure, Minhaj's special has all the belly laughs that you'll be looking for, but he can't help but to let his sincerity slip through when he hits on heavy subjects. Minhaj's casual style stands in front of a colorful screen that displays pictures and graphics to aid his show, but it never once feels like a TED Talk. The routine was developed from his 2015 Off-Broadway play of the same name. "Homecoming King" drops in the middle of a Neflix frenzy of stand-up specials. Just last year, the streaming service released 26 stand-up specials with some payoffs going to the comedians of upwards of $50 million, so you may need to cycle through some of the big-shots before finding Minhaj in your queue.
"Homecoming King" clocks in just over an hour giving the viewers tears from both laughter and sadness as he comments on his family, the first-generation immigrant experience and his inevitable prom night. [/accordion]
[/accordions]