When people order a pizza, they don't often think about what that pizza's position on First Amendment rights might be.
But that's all changed this week after Papa John's CEO John Schnatter (aka 'Papa John') ripped the NFL over their poor handling of the kneeling protests, blaming it on the delivery service's decline in sales.
"We are certainly disappointed that the NFL's leadership did not resolve the ongoing situation to the satisfaction of all parties," Schnatter said on a conference call with investors. "This should have been nipped in the bud a year ago. (…) This controversy is polarizing the customer and polarizing the country."
Since then, other pizza delivery companies like Pizza Hut and Domino's have come out and said their sales haven't taken such a hit.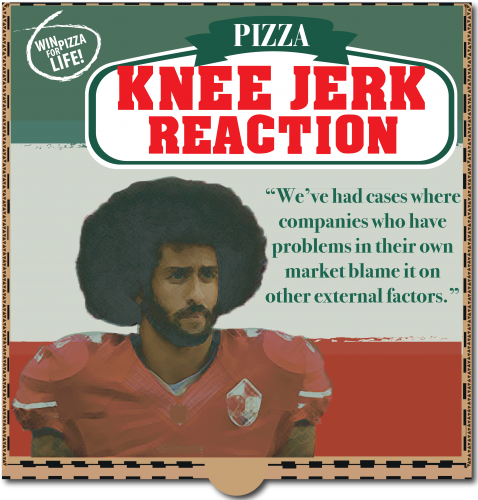 Papa John's share price has dropped by 19 percent since the beginning of the NFL season in September, compared to Domino's 4 percent drop over the same period.
The important thing to remember is that while Papa John's is the official pizza delivery sponsor of the NFL, both Domino's and Pizza Hut also advertise during their games. If a decrease in viewership over the protests were responsible for slow sales, it would have effected both of them as well.
There also has not been a significant viewership decrease to back up Schnatter's claims. NFL games have been averaging a viewership of 14.8 million viewers per game, compared to 15.6 million at this time last year.
Schnatter's criticism of the NFL has raised the question of whether or not businesses should be involving themselves in polarizing national issues.
It's not unusual for public companies to blame their own problems on external societal factors. Daryl Koehn, Wicklander Chair in Professional Ethics at DePaul, said that we've seen this before. 
"We've had cases where companies who have problems in their own market blame it on other external factors," Koehn said. "We saw companies blame (poor revenue) on things like the Y2K bug. A lot of companies will blame things on geopolitical events."
As for Papa John's, Koehn said that this whole issue could have been avoided had they followed several basic keys to managing a business.
"First, they have to know their partners," Koehn said. "They should have known the NFL and its leadership. (Schnatter) could have partnered with the NBA or a soccer league. When they chose the NFL, that was their choice alone."
"The second thing is that they have a fiduciary duty to their stakeholders to diversify their marketing," Koehn continued. "If Papa John's put all their eggs in one basket, the basket being the NFL, then that was not a good idea."
Essentially, even if the kneeling protests were causing a decline in Papa John's sales, then it would be their fault for putting so much energy into advertising during NFL games.
This is not the first time that big pizza has forayed into the political realm. Tom Monaghan, the original owner of Domino's, faced criticism from the National Organization for Women because of his vocal opposition Medicaid-funded abortion. The group organized a boycott of Domino's in 1989.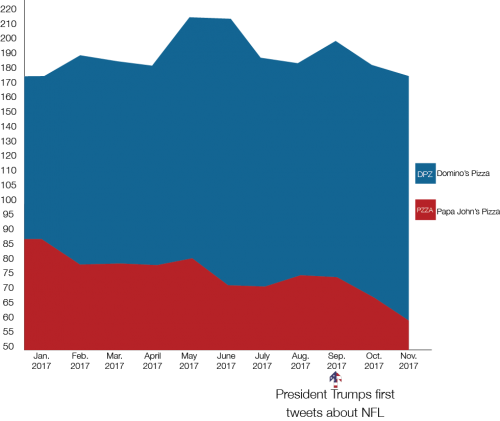 Freshman Amy Carrol said that Papa John's should have been more careful about what they were saying because it is a publicly traded company.
"If they want to take a side on a particular issue, they should make sure the side they're taking is the same one that their shareholders," Carrol said, who is studying finance. "Shareholders own a portion of their brand, so they should all be on the same page."
Some students were torn over how they should react to Schnatter's claims. Alicia Sinclair said it would be hard for her to stop ordering from Papa John's just because of what Schnatter said.
"From what I understand, (Schnatter) just blamed the NFL for the handling of the kneeling," Sinclair said. "He didn't say that he thinks that the players shouldn't be allowed to kneel or anything like that.
"Plus (DePaul students) get that discount," Sinclair joked.
Sinclair is referring to the fact that Papa John's gives a 30 percent discount to DePaul students with a special coupon code, so DePaul students tend to order Papa John's more than other pizza delivery chains.
Papa John's has made no mention that they might discontinue their relationship with the NFL.