Nation and World Briefs: January, 8 2018
Content written by the Associated Press | Compiled by Carina Smith
Record low temperatures and massive storms hit the Northeast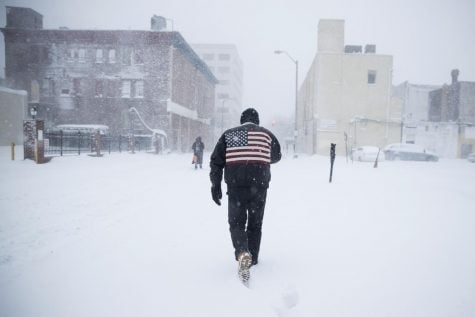 A massive winter storm roared into the East Coast on Thursday, dumping as much as 17 inches of snow in some areas and unleashing hurricane-force winds and historic flooding that closed schools and offices and halted transportation from the Carolinas to Maine.
Forecasters expected the storm to be followed immediately by a blast of face-stinging cold that could break records in more than two dozen cities and bring wind chills as low as minus 40 degrees this weekend.
Blizzard warnings and states of emergency were in wide effect, and wind gusts hit more than 70 mph (113 kph) in places. In parts of New England, snow fell as fast as 3 inches per hour.
Four people were killed in North and South Carolina after their vehicles ran off snow-covered roads, authorities said. Another fatality was reported near Philadelphia when a car could not stop at the bottom of a steep, snow-covered hill and slammed into a commuter train. A passenger in the vehicle was killed. No one on the train was hurt.
More than 100,000 homes and businesses lost power at some point Thursday. While many outages were restored by the day's end, officials from the mid-Atlantic to New England warned that those numbers might climb again as strong wind gusts and frigid temperatures continue through Saturday.
In New England, the powerful winds brought coastal flooding that reached historic levels in areas. The frigid waters overwhelmed fishing piers, streets and restaurants, and stranded people in homes and cars, prompting dozens of evacuations and
The National Weather Service said record low temperatures were set for 28 major cities across the northeast by dawn Sunday, Jan. 7.
---
North and South Korea agree to meet for first time in two years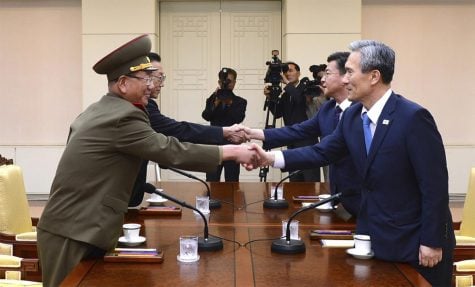 The rival Koreas will sit down for their first formal talks in more than two years next week to find ways to cooperate on the Winter Olympics in the South and to improve their abysmal ties, Seoul officials said Friday. While a positive sign after last year's threats of nuclear war, the Koreas have a long history of failing to move past their deep animosity.
The announcement came hours after the United States said it will delay annual military exercises with South Korea until after the Winter Olympics in Pyeongchang, South Korea, next month. The exercises infuriate North Korea, which claims they are an invasion rehearsal, although South Korea and the United States have repeatedly said they are defensive in nature.
On Friday morning, North Korea sent a message saying it would accept South Korea's offer to meet at the border village of Panmunjom next Tuesday to discuss Olympic cooperation and how to improve overall ties, according to South Korea's Unification Ministry, which handles North Korean matters. Panmunjom is where a North Korean soldier dashed across the border into the South in November. He is recovering after being shot five times by his former comrades.
Unification Ministry spokesman Baik Tae-hyun said he expects the two Koreas will use a recently restored cross-border communication channel to try to determine who will head their respective delegations next week.
Any dialogue between the Koreas is seen as a positive step. But critics say the North's abrupt push to improve ties may be a tactic to divide Seoul and Washington and weaken international pressure and sanctions on Pyeongyang.
In his New Year's address Monday, North Korean leader Kim Jong Un said he was willing to send a delegation to the Winter Olympics but he also said he has a "nuclear button" on his desk to fire atomic weapons at the United States. President Donald Trump quickly responded that he had a bigger and more powerful "nuclear button" of his own.
The Trump government on Thursday said its springtime military drills with South Korea will be held from March 8-18 following the Feb. 9-25 Olympic Games. Defense Secretary Jim Mattis insisted the delay was a practical necessity to accommodate the Olympics, not a political gesture.
The White House said Trump approved the postponement in consultation with South Korean President Moon Jae-in, who said he suggested the drills' delay to the United States.
Moon, a liberal, has been pushing to improve strained ties and restore stalled cooperation projects with North Korea since his inauguration in May, though he joined U.S.-led international efforts to apply more pressure and sanctions on the North.
Moon's government wants North Korea to take part in the Winter Olympics. But North Korea is not strong in winter sports and none of its athletes have been qualified to compete in the Games. It needs to acquire additional quotas by the International Olympic Committee to come to South Korea. Baik said North Korea is expected to hold talks with IOC officials next week.
---
Stolen jewels from Venice include diamond earrings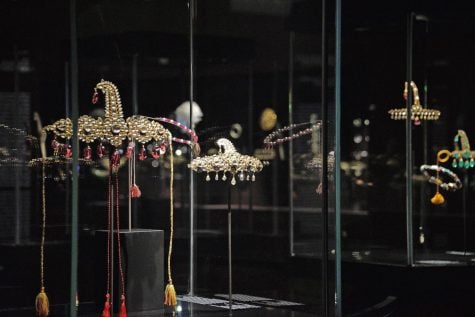 One was a delicate, tasseled pendant, featuring a flawless 10-carat diamond surrounded by a ring of rubies and diamonds. The other was simpler but no less gorgeous: two pear-shaped 30.2-carat diamond earrings surrounded by smaller, irregular-cut diamonds suspended like starbursts.
The Al Thani Collection on Friday revealed details of the precious jewels stolen Wednesday from a Venetian palace exhibit in a brazen theft that sorely embarrassed Italian security officials. A manhunt has been launched for the thieves, who calmly pocketed the gems and mixed in with the crowd to make their getaway.
The collection, assembled by Qatar's Sheikh Hamad bin Abdullah Al Thani, hasn't revealed the value of the stolen pieces. But news reports have estimated they are worth a few million euros.
Al Thani said the two pieces were designed by Bhagat Jewelers, the exclusive Mumbai jeweler, in 2011 and 2014. Bhagat jewels, known for the unique craftsmanship, quality gems and one-of-a-kind designs by Viren Bhagat, can fetch into the seven figures.
Surveillance footage of the theft Wednesday at the Doge's Palace in Venice show one of the thieves calmly opening the showcase window, as if he had a key, putting the jewels in his pocket and sauntering off while another stands nearby watching.
Police say the alarm was triggered a minute later, giving the thieves time to escape. That makes them think the job was done by professionals who knew what they were doing and what they wanted. A gold necklace in the same display case was reportedly left untouched.
The Venice exhibit, located in the famed Palazzo Ducale on the edge of St. Mark's Square, was the latest stop in an exhibit "Treasures of the Mughals and the Maharajas" that has brought the collection to Paris' Grand Palais, London's Victoria and Albert Museum, New York's Metropolitan and the Miho Museum near Kyoto, Japan.