2018 Resolutions
How DePaul students rang in the new year.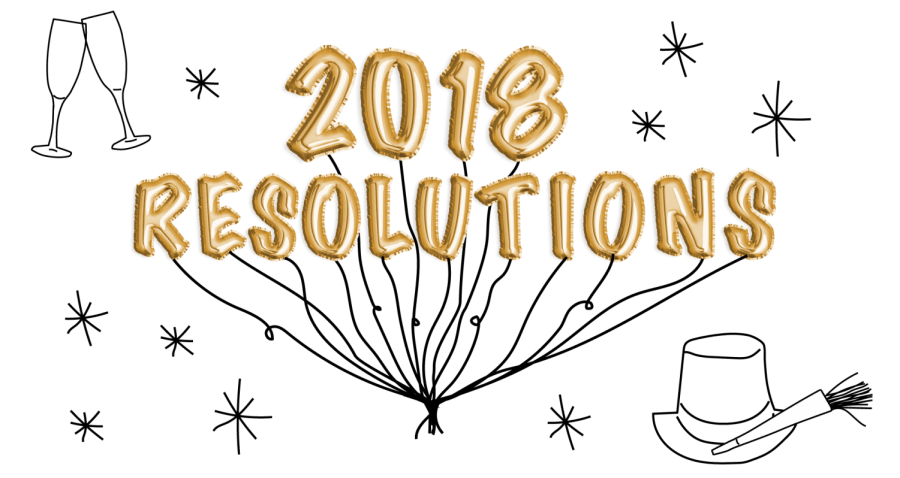 The last five seconds of every Dec. 31 leading into Jan. 1 starts the same for millions of people around the world: with families and friends counting down and synchronizing their voices with the second hand on the clock ticking to an enthusiastic "happy new year!" The following days are spent discussing New Year's resolutions and intentions to make the next 365 days better than the last.
The start of a new year marks a specific time for people all over the world to reflect on the past and set goals moving forward whether they intend on keeping those goals or not.
Senior Aubree Smith is resolving to find enjoyment in life's simpler things in 2018. After a rejuvenating trip to Hawaii over the winter break, she noticed that her mentality on vacation centered around being excited about daily minutia making her happier and wanting to maintain that mentality throughout the year.
"When you're on vacation, you're like 'oh my god, I'm going to the lobby,' and it's not that big of a deal, but you love the lobby and you love the people in the lobby because you're happy," Smith said. "Instead of thinking about all of the things I have to do in a negative way, think about them in a positive way, so that it's like 'oh my god, I live in Chicago and I get to go downtown every day to go work in a cool office.'"
Many New Year's resolutions are rooted in taking stock of your own actions and outlooks, how they influence the way you live your life and how you can improve yourself moving forward. For senior Evette Escobar, accepting the good with the bad and being realistic about her situations is a main focus for her in 2018.
"I'm just trying to get my sh*t together, but also realizing that my sh*t doesn't have to be together at the same time, so finding that balance," Escobar said.
These resolutions tend to manifest themselves also as lifestyle changes that require a conscious effort to maintain for an extended amount of time. One of the most challenging parts of setting these goals is finding the drive to start and follow through with them for the whole year.
"I'm already exhausted and still trying to get in the rhythm of things," Escobar said. "But I think once I get a set routine and figure out classes and my work schedule and how it's going to be during the quarter, I think that will help me motivate myself."
Keeping yourself motivated can be difficult, but having a support system can help for keeping resolutions on track. Escobar's girlfriend is the source of her motivation for the new year.
"We were talking about how we were so tired, but in the end we always figure it out. She motivates me and keeps me going," Escobar said.
Other resolutions are more concrete in their goal. Inspired by growing up watching musicals from the '30s and '40s, senior RT Hardiman's New Year's resolution is to learn how to tap dance. "I don't exercise, so that's going to be a huge step up because I know dance is a lot of work," Hardiman said.
His 2017 goal to learn how to do a backflip did not happen, but he approaches his resolutions with a grain of salt. "I get why [New Year's resolutions] mean something to other people," Hardiman said. "It's like a new beginning, but for me it's just another day."
Sophomore Lauren Kaplan also has more measurable resolutions including getting herself to do more improv performances and make sure to spend time with her friends at least once a week. Her 2017 New Year's resolution was to work on improv more, which she was successful in doing since she enrolled in classes at iO.
"I am continuously making goals throughout the year," Kaplan said. "I think it's good for people to have goals, but if they're just doing at the new year I think it's unrealistic to expect it to happen because goals and resolutions can change."