Blue Demons battle Friars in FS1 all-access game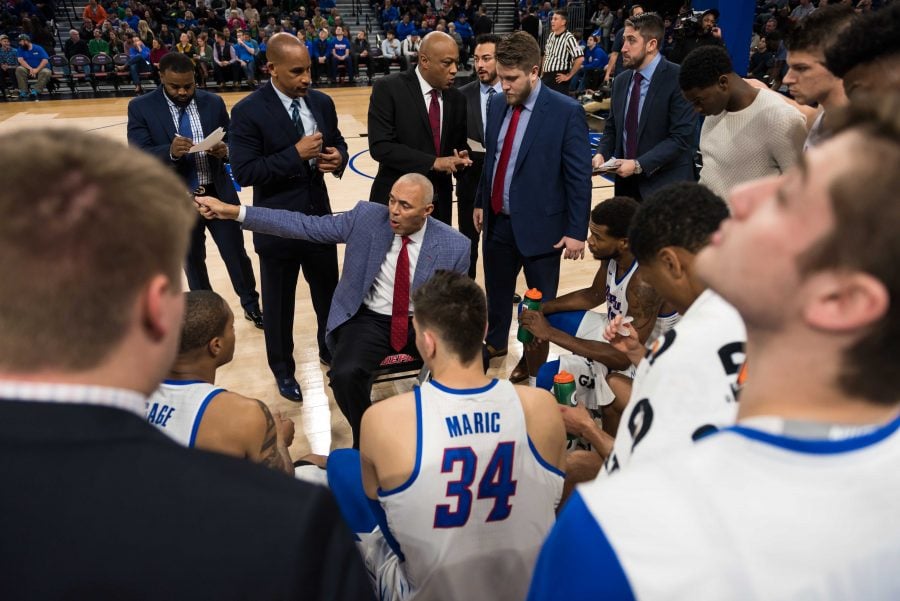 Somebody is excited about the DePaul Blue Demons (8-8; 1-3 Big East) all-access matchup against the Providence Friars (11-6; 2-2 Big East) at 7:30 p.m. on Friday at Wintrust Arena.
DePaul and Providence meet for the 39th time, with the Friars holding a decisive 28-10 advantage in the all-time series. After beating the St. John's Red Storm 91-74 last Saturday, the Blue Demons have a chance to win their second Big East contest in five tries which would match their conference win total for the entirety of the conference slate last season. Vegas has the Friars as two-point favorites on Friday night.
A new face could burst onto the scene for the Blue Demons on Friday. After enrolling at DePaul at the quarter break, New Zealand-born point guard Flynn Cameron arrived in Lincoln Park on Wednesday night according to a source close to the team. No word on whether he'll play on Friday night though.
If Flynn doesn't play, junior Eli Cain (who reached 1,000 points for his career in the game against St. John's) and freshman Justin Roberts will continue to shoulder the point guard responsibilities. DePaul junior Max Strus continues to garner attention from NBA talent evaluators with his consistent scoring (he has averaged 18.8 points per game this season and 23.5 points in Big East Conference play) and has been the engine of the Blue Demons offense throughout the season.
Since returning from a knee injury on Dec. 21, graduate senior center Marin Maric has quietly been one of the Blue Demon's most effective players averaging 17.2 points on 60.5 percent from the field and corralling 7.6 rebounds per game. He continues to lead the Blue Demons in player efficiency rating (minimum 100 minutes of playing time this season).
Senior Rodney Bullock leads the Friars in scoring at 16.9 points per game, while two other Friars average in double-digits in scoring (Alpha Diallo and Kyron Cartwright). The Friars come into the game having beat the then No. 5/4 Xavier Musketeers 81-72 on Saturday which ended a two-game losing streak.
The Friars don't wow in many statistical categories. They slot in at eighth in the Big East in scoring offense, scoring defense, rebounding margin, and assists per game. They do shoot the ball well from behind the 3-point line (38.1 percent which is fourth-best in the Big East) which could be problematic for a Blue Demon defense that is last in the conference in opponent 3-point field goal percentage (opponents shoot 37.5 percent from 3-point range against the Blue Demons which is also 301st in the country).
The game tonight is all-access, meaning both Leitao and Providence head coach Ed Cooley will wear mics for the entirety of the contest. As mentioned, the telecast on FS1 will have zero commercial interruptions.
Tomorrow night, if for some reason you can't make the game @WintrustArena, you MUST catch our game on @fs1. The game will be all-access with no commercial breaks. This is the first time in history that this will be done for an @NCAA men's basketball game. Tune in at 7:30pm CT!

— David Leitao (@CoachDLeitao) January 11, 2018
Regardless of special circumstances surrounding the telecast, this game is another test for DePaul on a Big East schedule that provides the Blue Demons with no breaks.