Cryptocurrency is changing the financial world
If you haven't been paying attention to cryptocurrencies, now is the time to start. Digital currencies are becoming more popular and causing a stir across America.
Bitcoin was the first cryptocurrency to emerge in America in 2010 and has become the most popular. Other currencies have followed suit, but they have not flourished with the same success. With cryptocurrency, investors can use their physical dollar bills to receive digital coins. Despite cryptocurrency's popularity on the rise, the system's fluctuating growth and difficulty retrieving information makes it a risky investment in the eyes of the government and financial businesses.
The government is fearful of cryptocurrency for two main reasons: the possibility of money laundering and the threat to America's banks and currency system.
United States regulators are worried the system will promote illicit activities and money laundering. The system is decentralized, not controlled by one party and all of the information is encrypted. These conditions make it difficult to track transactions and the people behind them.
The main draw for cryptocurrency users is the fact that the system is decentralized. The digital currency has introduced a complete change in how people can conduct business and make transactions. People who were not able to do business with banks found a way with the digital currency. Users rely on peer-to-peer networks for the system to work. They enjoy using a system not controlled by the government, banks or third parties.
American banks are heavily regulated and monitored by the government. They follow strict laws when it comes to money laundering. Noncompliance can be devastating financially for banks. Because of this, banks are wary of jumping on the digital currency train. Cryptocurrencies bypass anti-money laundering regulations.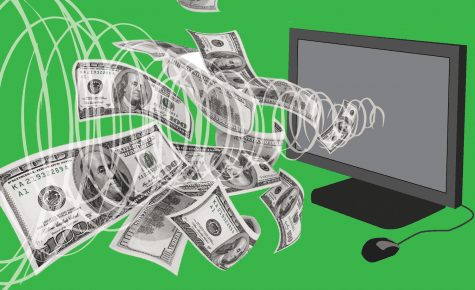 On Jan. 3, the Wall Street Journal reported that Bank of America Merrill Lynch decided to ban clients from taking part in the Bitcoin Investment Trust by Grayscale Investments. In a memo sent to financial advisers, Merrill Lynch explains that Bitcoin is "too much of a risk" for investors. Financial advisers were not allowed to pitch the offer to any clients, offer investments or makes trades for clients. The decision comes after Bitcoin's value decreased since the start of the new year.
U.S. regulators are informing users about the risks that come with using virtual currency. The U.S. Securities and Exchange Commission (SEC) posted guidelines on their website for those interested in investing to think about. Some points include investors asking what their money will be used for and what to watch for in case of fraud. The guidelines also state that there are limited recovery options if investors do become victims of fraud.
In December 2017, SEC's Chairman Jay Clayton said in a press conference that there will be more law enforcement against internet coin sponsors if they continued to ignore security laws. This comes after the SEC froze an asset of a repeat violator from the company PlexCorps.
Even with knowing the risks, investors aren't deterred from wanting to dabble in the digital currency world. "It's high-risk kind of thing," said Erick Ovalle, Illinois State University graduate. He started on BitCoin about two months ago after watching videos on it. But he recognizes it's a risk. "Once you put the money in, you have to think of it as gone and you're not getting it back."
There are some businesses that have started to embrace the move to digital currency as well. Microsoft, Subway and Expedia are some places accepting Bitcoin as a valid form of payment.
"The entire industry is just growing really fast," Erik Vorhees, ShapeShift CEO, said in an interview with CoinDesk. "I think it proves the point that I've been arguing a long time that cryptocurrencies are not exclusive. They don't grow by just competing with each other. The entire industry is growing by competing with traditional finance."
View Comments (2)