Rev. Jesse Jackson, DePaul community honor the legacy of Martin Luther King Jr.
The 21st annual prayer breakfast was held Tuesday. Jan. 16, with Reverend Jesse Jackson highlighting the event
DePaul hosted activist, politician and local organizer, Reverend Jesse Jackson on Tuesday, Jan. 16 with a prayer breakfast in honor of Rev. Dr. Martin Luther King Jr. Day
As part of the President's Signature Series, the 21st annual breakfast was organized by the Office of Institutional Diversity and Equity (OIDE) in conjunction with Student Government Association (SGA) and Rainbow PUSH Coalition, Rev. Jackson's nonprofit focusing on multi-issue, progressive social change.
April will mark the 50th anniversary of Rev. Dr. Martin Luther King Jr.'s death, his historical work during the civil rights movement continues to be recognized by the country as a federal holiday. Since 2016, DePaul has honored the holiday by officially closing the university.
Michael Lynch, president of SGA, opened the event, making remarks about King's life and legacy of quality and civil rights. He took a moment to acknowledge the activism and leadership of Coretta Scott King, who took the reins on the civil rights movement after his assassination in 1968, saying, "Women are not just the present and the future, and it is on all if us to make sure that the history books puts them in the storybooks as well."
Kendall Sprinkle, senior and member of Black Student Union spoke to the audience about how the legacy of King aligns with DePaul's Vincentian mission.
"On paper, we're here today because part of the mission of this university is to pursue the preservation, enrichment and transmission of knowledge and culture across a broad space of academic disciplines," Sprinkle said.  "In actuality, we are here because there is always more to be done in the name of civil rights."
James Welden Johnson's "Lift Every Voice and Sing," known as the black national anthem, was sung by Sandra Bowen, followed by a prayer by university minister and president of the diversity council Pastor Keith Baltimore.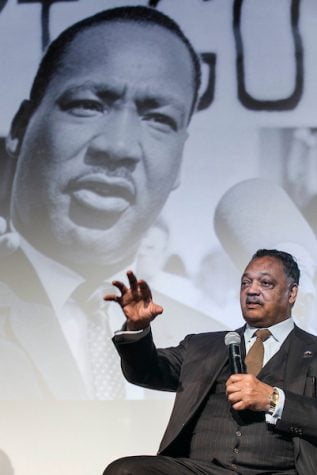 Before breakfast was served, Darryl Arrington, the assistant vice president for the Center for Access and Attainment (CAA), asked the 425 attendees to remember the legacy of Dr. King, while also reflecting on what can be continued to be done in the fight for peace, justice and equality.
"Our current political environment reminds us that we have never made it to the Promised Land," said Arrington.  "Although we've made some progress, there are many miles to go on our journey."
After breakfast was served, Dr. Valerie Johnson gave a warm welcome to the moderator and professor of education Dr. Horace Hall. She introduced the morning's featured guest, Rev. Jesse Jackson, Sr. Having spent four years working with him at the Rainbow PUSH Coalition, Rev. Jackson's nonprofit, She expressed her devotion to his work by saying, "We are in the presence of a living legend. Rev. Jesse Jackson is truly a giant… He has informed my teaching and my politics."
In regards to the country's current political climate, Dr. Hall began the conversation  by discussing President Trump's inflammatory comments in which he allegedly regards Haiti, El Salvador and the continent of Africa as "s**thole countries."
"For some of us that don't remember the 60s, [the] civil rights movement, the poor people's campaign, who weren't born yet this might be some of the most crucial, critical times that you have ever witnessed," said Dr. Hall.
He questioned Jackson on his thoughts regarding the current political climate and how Dr. King would address the country.
As a response, Rev. Jackson stated, "Trump-ism is not new" and further the discussion on the unemployment rates in various sections of Illinois.
"Northside with DePaul, Northwestern and Cubs park, all these institutions up here [northside] unemployment is less than two percent …The south and west sides have lost 55,000 manufacturing jobs," Rev. Jackson said. "Unemployment above 20 percent, poverty above 40 percent and those up against the combination of jobs out, drugs, guns, and violence up, that's the structure of Trump-ism."
In response to how to resist current tensions surrounding political debates on immigration amongst younger generations, Jackson suggested the formation of coalitions.
"
The refugees, Muslims, and the DACA [recipients] must form a coalition. You can't just do it by yourself. They're trying to make this a white superior nationalist country and we want to make it a globally inclusive country.
The conversation continued by touching on topics ranging from capitalism and race relations to education and economics with questions and prompts from members of the audience who were interested in Jackson's responses.  
One of the prompts came from DePaul College Prep junior student Dominic Adu regarding reparations, a topic his class had discussed while reading the memoir "Black Boy" by author Richard Wright.
Jackson responded by not only touching on the effort of black Americans that helped build and shape America but also explaining that the economic disadvantages caused by over 157 years of enslavement without wages cannot be repaid by today in respect alone.  
He also acknowledged the government's inability to cover that debt today by engaging the crowd in a chant, saying, "America will never be able to pay in money for our work without wages, but they owe it."
The event as a whole left many in attendance inspired and eager to continue honoring King's strides toward equality and civil rights.  
Public relations and advertising major Victoria Williams said the event helped to bring awareness to everything students, faculty and staff can do in order to improve race relations, diversity and inclusion.  "It was a motivator for us to do better and see how we can grow as a community," she said.
Dr. Elizabeth Ortiz, vice president of OIDE was excited about the event's success, and that it reminded us that the fight toward equality is far from over and that we need to work together in order to achieve this goal.  
"I think we not only have to believe in ourselves but support others," Ortiz said.  "One of Reverend Jackson's messages was that we are of the world.  We live in the world, we are of the world and our neighbor's problem is our problem and we can no longer to defer to someone else or another time," she explained.  "The time is now."