Senior midfielder Ben drafted by Chicago Red Stars
On Wednesday, she was a senior DePaul Blue Demon student athlete with doubts about whether her soccer career would continue. By Thursday, she was a professional athlete.
The Chicago Red Stars of the 10-team National Women's Soccer League selected Blue Demon midfielder Alexa Ben with the 37th overall pick in the 2018 draft on Thursday. The Schaumburg, Illinois resident claims she didn't scream when she heard her name called; instead, she let her friends do all the screaming for her.
"It was kind of surreal," Ben said. "Watching the draft this morning, I was with a couple of my close friends that I had played with, and it was getting down to the wire and, I was like 'I don't know guys, I don't know.' When they called my name, I was the only one out of my friend group who didn't scream. My mouth just dropped, and I was like 'wow my dream is actually becoming a reality.'"
Lucy Edwards, Ben's close friend and fellow Blue Demon midfielder, hosted a small gathering of friends and teammates to watch the draft. She said everyone was getting nervous as the draft started winding down.
"We knew her best chance was to go to the Red Stars, so when their last pick came, we were all just dead quiet," Edwards said. "When they announced her name, I honestly felt like I got drafted."
Ben had an illustrious career at DePaul after arriving in Lincoln Park in 2014 as a four-star recruit in high school. She finished her DePaul career fourth in program history in goals (27), second in assists (22) and third in points (76) while racking up the Big East Freshman of the Year award in 2014, Big East Midfielder of the Year award in 2016, as well as first-team All-Conference accolades in 2015, 2016, and 2017.
"I forgot how many awards she won, but I know it was a lot," Edwards said. "With all the recognition she got last year, I just knew she was going to get drafted."
Despite all this collegiate success, the Red Stars made Ben sweat it out through the draft process, picking her 37th in a 40-pick draft.
"Going into the draft, I was kind of 50-50 (on my odds of getting drafted)," Ben said. "I played under (Red Stars head coach) Rory Dames before in my youth years. He's a wonderful coach I really like his coaching style, and I think he's just a really smart coach. There were points where he hinted toward (drafting me), but honestly I was really 50-50 and (thought that) it could go either way."
Blue Demon women's soccer head coach Erin Chastain was around to witness all 76 of Ben's career points as well as her laundry list of academic and athletic awards and accolades she earned during her time at DePaul. Chastain felt that Ben's body of work in college made her deserving of a chance to compete at the next level.
"I am very proud of Alexa," Chastain said. "She's very deserving of this opportunity. Her soccer IQ, technical ability and mentality give her a wonderful chance to compete at this level."
Ben thanked Chastain, associate head coach Michele O'Brien and assistant coaches Sarah Stanczyk and Sian Bagshawe for giving her an opportunity to play at the Division I level and groomi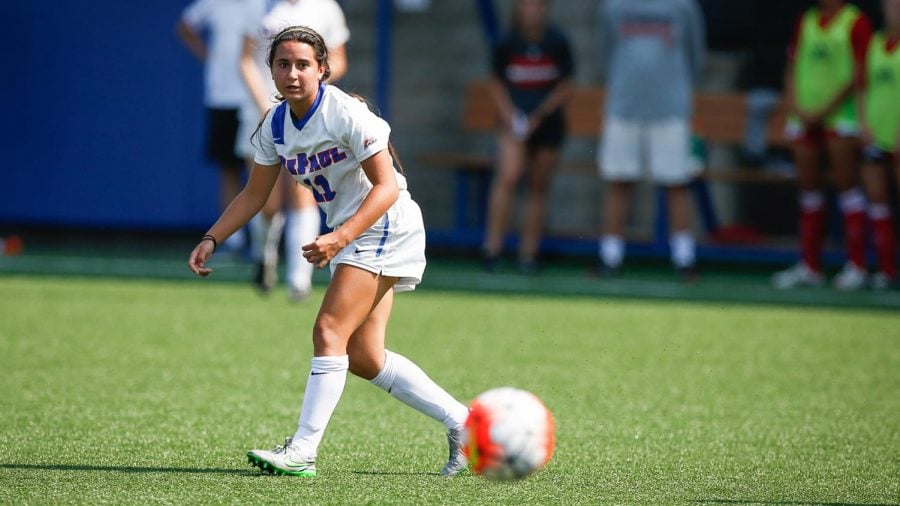 g her soccer skills to a professional level. She also credited her teammates and family for their constant support.
Ben joined Julianne Sitch and Sarah Gorden as the three Blue Demon women's soccer athletes to hear their names on draft day. Gorden and Ben were teammates in 2014 and 2015. They helped lead the Blue Demons to Big East regular-season and tournament titles in 2014 and an NCAA tournament bid that same year.
"Knowing Sarah and knowing some of the other girls on the team will lighten the mood up a little," Ben said. "We actually talked a little last week, and she texted me today. She's a wonderful human being, and I'm really happy to be on the field with her and having friendship off the field with her because I didn't get to see her often. Now I'm going to get to see her everyday. She brings a spark in my life that truly goes unmatched."
Edwards says Gorden and Ben's adoption into the professional ranks shows how well Chastain develops players at DePaul and how committed she is in the future of her athletes.
With the 2018 NWSL schedule set to kick off in the not so distant month of March, Ben will begin preseason practices with the Red Stars as she continues to pursue her double major in public relations and advertising. It'll be a busy spring, but she has tempered her expectations in her first professional season and will just focus on improvement and learning.
"I just want to get better and get used to the dynamic and style that they play with," Ben said. "Just overall getting to know the league better my first year. I don't really expect to start— I expect to come in and get to know how they work and play together and hopefully make an impact in training. Hopefully my hard work will get me a spot on the team, and maybe into some games. Overall, I think the first year will be more of a learning process."
Teams in the NWSL can have up to 20 available players under contract on their roster at any given time. The Red Stars drafted six college players this year, so cuts will have to be made between now and the start of the season.
"(The Red Stars are getting) one of the most competitive people I know," Edwards said. "You can totally tell that (Ben) just loves the game."
The Red Stars finished the 2017 season  in fourth place in the NWSL standings last season with an 11-7-6 record, according to the NWSL's website.