Three DePaul sports teams faced tough competition against Loyola University Chicago this month.
DePaul women's soccer lost a close 0-1 match to Loyola at Wish Field on Sept. 10 off of an 85th-minute goal by the Ramblers' Taylor Harrison.
Wish Field saw another close match when DePaul men's soccer dropped their match to Loyola 4-2 after a red card was issued to DePaul forward Marek Gonda in the 33rd minute, forcing DePaul to play with 10 players instead of 11 while they had a 2-1 lead.
On Friday, DePaul cross-country competed in the Sean Earl Loyola Lakefront Invitational at the Sydney R. Marovitz Golf Course. The women's team finished 16th while Loyola's women's team finished 15th in the Tom Cooney Championship 6K.
Despite falling short in this year's "Battle of Chicago," the rivalry remains important to DePaul and Loyola students.
The Phoenix, Loyola's weekly newspaper, covered the rivalry this month. Griffin Krueger, the sports editor, told DePaulia they circle DePaul games on Loyola's calendar.
"You could tell that the players were more amped up," Krueger said of the men's soccer match. "I saw a lot more emotion from the coaching staff in that game than I've seen all season."
Graduate midfielder Michael Anderson, who played his third match against Loyola last week, said the players try not to treat the game differently.
"We come into [Loyola games] with the same mentality we try to every game, but there's always that little extra added to it," Anderson said.
Men's soccer head coach Mark Plotkin, who is a DePaul soccer alumnus, was involved in the rivalry for decades and embraces the challenge.
"There's a rivalry there for sure," Plotkin said. "It can always get testy, but those games are fun."
As the rivalry prepares to enter its winter sports phase, the basketball portion of the rivalry seems to be up for grabs. 
According to DePaul athletics' tracking, DePaul men's basketball has faced off against Loyola's team 56 times, winning 38 of the matches. Their first meeting was during the 1922-23 season, their most recent meeting in 2012.
Although history seems to favor DePaul in the rivalry, since their last match, Loyola has 201 total wins to DePaul's 122. However, Loyola recently slipped from their usual position, going 10-21 last season.
DePaul women's basketball faced Loyola for the first time in 1976, since winning 43 of their total 54 matchups. Besides a stretch from 1984 to 1986, the women's team has never lost more than one game in a row to Loyola.
Loyola's record last season of 6-22 was disappointing for their women's basketball program, but they look to gain traction in their second year in the Atlantic 10 conference. DePaul women's basketball hosts Loyola in an anticipated matchup Sunday, Nov. 26.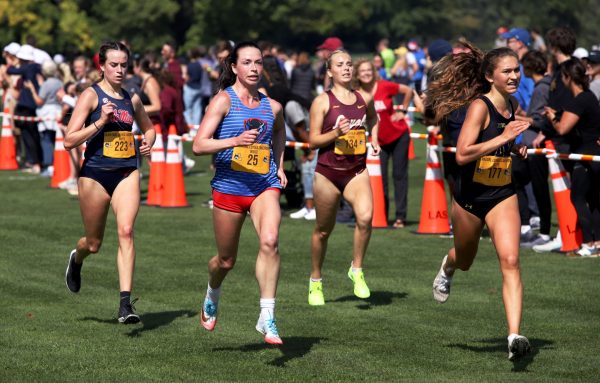 "Of all the city schools, that's the one that we want to beat the most," Krueger said. "We're two north side, Catholic institutions … the similarities between the two schools really drive the rivalry."