Blue Demon hurdler rewriting records
In the NCAA, a women's regulation hurdle stands at 33 inches.  Five of them appear in the 60 meter dash, each staggered 8.5 meters apart on a polyurethane surface.  The race usually lasts under 10 seconds.
But one measurement is incalculable: what is required for a hurdler to succeed.
Whatever that requirement may be, DePaul junior Alexia Brooks has it – and then some.
Earlier this month, the health science major etched her name into the DePaul record books.  She ran an 8.51 in the women's 60 meter hurdles back on Jan 13.  It's the fastest time a Blue Demon has ever run in that event.
Or at least, it was, until Brooks broke her own record one week later on Jan. 20.  The Evanston, Illinois native finished with a time of 8.49 seconds.
"It means a lot to me," Brooks said. "I've worked extremely hard, and the work is paying off."
This humble sprint hurdler has come a long way in the last two years. As a freshman, she finished the 60 meter hurdles with a time of 9.45 seconds.  Her historic mark of 8.49 is a considerable leap forward.  Milliseconds can separate the best from the rest in track and field.
"Honestly, it's been a true pleasure just seeing how much she's blossomed since her freshman year," Stephanie Townsend said, an assistant coach at DePaul. "The biggest thing that I've noticed is the mind set change.  Having that aggressiveness from the start, putting yourself in the race from the beginning— that has made all the difference."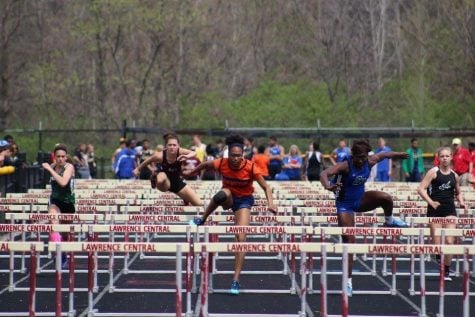 The eldest of three girls, Brooks' parents both ran collegiate track at Louisiana State University.  Her own career began when she was a sophomore in high school.  But back then, competing in college was the last thing on her mind.
"My coach was trying to find out what I was going to be good in," Brooks said. "So one day, she's like, 'OK, Lexi, we're going to try you in the hurdles' and I was like, 'The hurdles? No.'"
"She was hesitant at first," Tameeka McFarlane said, Brooks' hurdles coach at Evanston Township High School. "But she was a natural almost instantly."
McFarlane said she became more comfortable in her junior year.  It was that season when Brooks quickly dropped her time, became a conference champion in the 100 meter hurdles and never lost a single indoor race.  All of this occurred while she was a member of the National Honors Society. McFarlane spoke highly of her former pupil, not only as an athlete, but as a person too.
"(Brooks) was always an 'A' student, very kind, and dedicated to track and school," McFarlane said , who set records of her own at Evanston Township High.
And it's not hard to see why.  In a sport where individual achievements reign supreme, Brooks doesn't seem too interested in the limelight.  She'd rather be cheering on her teammates, binge-watching Netflix or spending time with the ones she loves.
"I have no idea what I'd do without my support system," Brooks said. "They are my rocks.  My mom and my dad are my best friends.  I tell them everything.  They're right here," pointing toward her heart.
Even amidst her current success at DePaul, Brooks' demeanor serves as an example of how to carry oneself.  Just ask those around her.
"She was also recently named a captain on the team," Townsend said, "So again, it's just another layer to how much she's grown."
Speaking of growth, Townsend is looking ahead to the next stage of Brooks' career.  The 2017-18 season is still in its infancy.  Yet she has already broken two school records in the span of a single week.  What could possibly be next?
"(Brooks) is someone that I can see going to nationals," Townsend said, "First the regional meets and then to nationals.  But you just have to stay into it, stay disciplined, stay committed, stay healthy— there's a lot that goes into it."
When asked about any potential goals that she had for the junior, Townsend smiled.
"Time wise, I have times in my head," Townsend said. "But I won't share them with her."
Judging by Brooks' track record (both literally and figuratively), she probably won't have to.