Cirque DePaul: Airfit workout comes to Chicago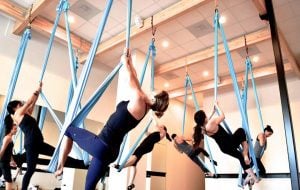 There's a new, casual approach to working out — or hanging out. This suspension- training program, which started in 2010 (during an economical crisis), is slowly making its name in Chicago. Founder Shama Patel, striving to revolutionize fitness, left her professional attorney job to introduce a new workout, based in Chicago and known as Airfit.
This acrobatic-based workout (similar to what trapeze artists do) combines ballet barre, yoga and Pilates on aerial silk hammocks that suspend from the ceiling. These silken hammocks are able to hold literally a ton (1000 lbs). This is P90X's version of graceful posing in a nutshell. But, after about an hour of this bungee-contortion, expect to feel extremely stretched out and zen. After about six months (give or take), expect awesome abs, upper and lower body strength.
A group of DePaul University students had the chance to experience Airfit firsthand on Saturday, May 17, taught by former circus performer Ryan Castillo.
Castillo, suffering from gymnastics injuries, turned to Airfit as a new outlet to working out.
"(Airfit) is a steep learning curve and is often polarizing — the poses are intense, but it's rewarding in the long run," Castillo said. He has been teaching Airfit for two years now.Castillo began the class with a yoga-inspired stretch – and that was the easy part. From there, he taught around 15 different poses ranging from pigeon pose to dancers' pose and more.
AIR instructor Nicole Galuski took her first aerial fitness class four years ago after suffering from a knee injury.
"It was a great way to ease back into exercising without putting direct pressure on my knee," Galuski said. "I love all the different benefits from working with the aerial silks. Sometimes it helps me get into certain poses that are normally difficult, and sometimes it makes a certain exercise more intense, forcing me to use muscles that I am not used to using."
Galuski has been teaching for two years and incorporates yoga, cardio and barre exercises into her classes. She danced her whole life and completed a dance minor in college. Along with this, she studied Pilates and completed her 200-hour yoga teacher training in Thailand.
The aerial silks, versatile as they are, are great for these many poses as well as converting into a hammock and taking a post- workout nap. Galuski's favorite pose is the "cocoon," which involves wrapping oneself inside the fabric with the entire body supported by the silk (resembling a butterfly coming out of a cocoon).
This resting pose incorporates leg stretches and abdominal work.
"It's cool being inside the fabric, floating above the ground," Galuski said.
According to Castillo, Airfit sought out instructors with different backgrounds, so no two Airfit instructors teach the class quite the same.
Castillo bases his classes in a still-pose approach, which allows students to build core and upper body strength. Other instructors, such as Galuski, make their Airfit class more cardio-based.
Airfit is flexible and comes in many forms — however, the combination of these fitness courses allows for a completely unique way of fitness.
Castillo recommends that you have somewhat of a background in yoga, Pilates or gymnastics before attending an Airfit class. It's no beginner level course, but it is excellent for athletes with injuries or someone who has been practicing yoga for a few months.
"It's rehabilitative in some senses," Castillo said. "However, it is very intense – and some people like the edge and intensity."
Airfit, located in Lincoln Park at 2217 N. Clybourn, offers a complimentary first class to all newcomers. This is especially suitable for college students who sit at their desks all day. Galuski and Castillo's favorite part about these exercise regimens are being able to hang upside down, kind of like Spider Man.
"This elongates your spine and helps release any pressure on your back," Galuski said.
If you love to "hang out," why not try Airfit? The first class is free, so there is nothing to lose and everything to gain.
View Comments (1)