Nation & World Briefs: March 12, 2018
'Pharma Bro' appears in court, cries and apologizes for fraud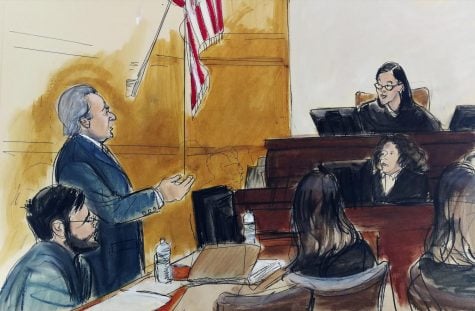 "Pharma Bro" Martin Shkreli cried in court Friday as he apologized for defrauding investors while being sentenced by a federal judge before being sentenced to seven years for fraud.
Shkreli, his cocky persona nowhere to be found, cried as he told U.S. District Judge Kiyo Matsumoto he made many mistakes and apologized to investors. He was convicted of securities fraud last year for defrauding investors in two failed hedge funds.
He said he is the only person to blame — not the media, not the government, nor his business partners — and that he hopes to make amends and learn from his mistakes.
"I'm not the same person I was. I know right from wrong. I know what it means to tell the truth and what it means to lie," he said.
Attorney Benjamin Brafman argued for Matsumoto to sentence the former pharmaceutical company CEO known for trolling critics on the internet to 18 months in prison.
Assistant U.S. Attorney Jacquelyn Kasulis argued that he deserves 15 years in prison not because he is "the most hated man in America," but because he is a criminal convicted of serious fraud.
Matsumoto ruled earlier this week that Shkreli would have to forfeit more than $7.3 million in a brokerage account and personal assets including his one-of-a-kind Wu-Tang Clan album that he boasted he bought for $2 million. The judge said the property would not be seized until Shkreli had a chance to appeal.
Shkreli became notorious for raising the price of a lifesaving drug by 5,000 percent and trolling critics on the internet with his snarky "Pharma Bro" persona.
Even after his arrest in 2015, Shkreli went against his lawyers' advice to lay low by taunting authorities in Facebook posts.
---
Trump announces plan to meet with Kim Jong Un in May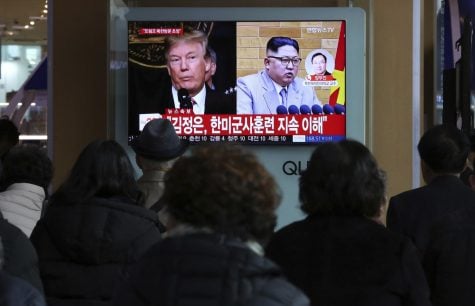 North Korea's Kim Jong Un and President Donald Trump plan to meet in May for nuclear disarmament talks, a whiplash development that would put two leaders who've repeatedly insulted, threatened and dismissed each other in the same room, possibly in the North Korean capital of Pyongyang.
It would have been an unthinkable suggestion just a few months ago, when the insults were at their peak — Trump was a "senile dotard" and Kim was "Little Rocket Man" — and the North was snapping off regular weapons tests in a dogged march toward its goal of a viable nuclear arsenal that can threaten the U.S. mainland.
Liberal South Korean President Moon Jae-in, who some believe has maneuvered the two leaders to this position, reflected the hope and relief many here feel about the planned summit when he declared Friday that it will be a "historical milestone" that will put the denuclearization of the Korean Peninsula "really on track."
North Korea, after all, has made a habit of reaching out, after raising fears during previous crises, with offers of dialogue meant to win aid and concessions. Some speculate that the North is trying to peel Washington away from its ally Seoul, weaken crippling sanctions and buy time for nuclear development. It has also, from the U.S. point of view, repeatedly cheated on past nuclear deals.
Trump's hastily reached decision to accept the meeting sent White House staff scrambling.
Earlier Thursday, South Korean national security director Chung Eui-yong had briefed Trump and other top U.S. officials about a rare meeting with Kim in the North Korean capital.
Trump then made a surprise visit to the White House press briefing room to alert reporters of an upcoming "major statement" on North Korea by South Korea.
At a quickly called appearance on a White House driveway, Chung told reporters that Kim had "expressed his eagerness to meet President Trump as soon as possible" and that "President Trump appreciated the briefing and said he would meet Kim Jong Un by May to achieve permanent denuclearization."
U.S. Secretary of State Rex Tillerson said in Djibouti on Friday that the decision to meet with Kim was made by Trump himself and resulted from a sharp change in the North Korean leader's stance.
"What changed was his posture in a fairly dramatic way. It was a surprise to us that he was so forward-leaning," Tillerson said. He said it would take "some weeks" before the timing of the talks is worked out.
North Korea appeared to confirm the summit plans. A senior North Korean diplomat at the United Nations in New York, Pak Song Il, told The Washington Post in an email that the invitation was the result of Kim's "broad minded and resolute decision" to contribute to the peace and security of the Korean Peninsula.
Talks between Washington and Pyongyang have previously been overseen by lower-level experts, and have often bogged down, even when so-called "breakthroughs" have come, in the pesky details, such as allowing outsiders in to inspect North Korea's nuclear compliance, for instance.
The announcement Friday followed weeks of softening ties between the Koreas, orchestrated by the South Korean leader, Moon, and culminating in a visit by Kim Jong Un's sister to the South to observe the Olympics in Pyeongchang and then Chung's trip to meet with Kim in Pyongyang.
---
Slovakia in chaos following journalist death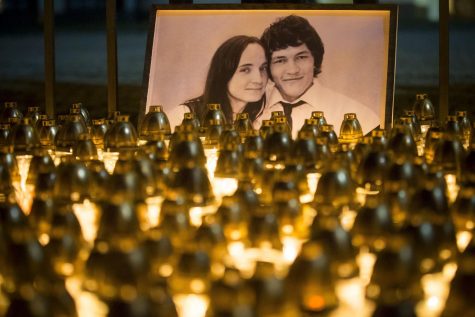 Slovakia has quickly turned from what seemed to be a stable European Union country into chaos, in the wake of the unprecedented slayings of an investigative journalist and his fiancee.
In a speech last month, President Andrej Kiska talked about his country as "successful, proud and self-confident." On March 4, however, he said Slovakia faces a "serious political crisis" triggered by the shooting deaths of Jan Kuciak and Martina Kusnirova. Police said Kuciak's killing was likely linked to his work.
The political storm has been intensifying daily since their bodies were found Feb. 25.
Amid heated exchanges between the ruling coalition and the opposition and conspiracy theories spread by Prime Minister Robert Fico, a growing number of people have started to turn against the Fico government, threatening its very existence.
For his last unfinished story, Kuciak, 27, reported on the influence of the Italian mafia in Slovakia and its possible ties to people close to Fico. That was followed by news that Slovak authorities had been informed by their Italian counterparts about a powerful Italian crime syndicate operating in Slovakia. Seven members of the group are suspects in the killings. They were detained last week and later released.
When tens of thousands marched across the country and in cities around the world last week to honor Kuciak, many called on government ministers to resign.
Fico fired back, accusing the president of destabilizing the country with help from Hungarian-American billionaire George Soros whom Kiska privately met with in New York in September.
Soros dismissed Fico's suggestion he might have anything to do with the president's proposals and the anti-government protests.
A junior party in the ruling coalition has called for the resignation of Interior Minister Robert Kalinak as a condition to remain in the government. Thousands already demanded Kalinak's resignation last year after he was linked to earlier corruption scandals. Meanwhile, the opposition has requested a parliamentary no-confidence vote on the government.