The U.S. pulls out of Iran Deal
President Donald Trump campaigned on withdrawing from the Joint Comprehensive Plan of Action, and on Tuesday May 8, ahead of the May 12 deadline, he did what many in Washington expected: he announced America would no longer be abiding by the terms of the JCPOA – also known as the Iran nuclear deal.
The deal was put in place by the Obama administration and other world powers including Russia, China, Germany, Britain and France in 2015 in an effort to strengthen diplomatic ties with Iran, the world's second most populous Middle Eastern nation and the Organization of the Petroleum Exporting Countries' (OPEC) third-largest oil exporter. Experts, including senior members of the U.S. and Israeli intelligence communities, said the JCPOA was working because it provided more access than ever before for the International Atomic Energy Agency (IAEA) to subject Iran's nuclear facilities to continuous monitoring and inspections. In exchange, the signatories of the deal agreed to lift sanctions that had crippled the Iranian economy for years.
"Iran was abiding by the agreement and had stopped working on developing nuclear weapons. The agreement was working," said Cecile Shea, a former U.S. diplomat and current senior fellow at the Chicago Council on Global Affairs.
During the 28 months America was engaged in the deal with Iran, the Vienna-based IAEA issued 10 reports, each of which asserted that Iran was in compliance with the terms of the JCPOA.
Among other things, Iran was forced to drastically reduce its enriched uranium stockpile and the number of centrifuges across its two main nuclear facilities at Natanz and Fordo. All of Iran's uranium had to be low-enriched at 3.67 percent or under – nowhere near the 90 percent that classifies enriched uranium as weapons-grade. At the Arak facility further to the west, Iran had to redesign its sole heavy-water reactor so that it could no longer produce weapons-grade plutonium.
At his confirmation hearing in late April, current secretary of state and former head of the CIA Mike Pompeo even responded to a question from Sen. Tom Udall, D-N.M., about Iran being "in full compliance with JCPOA." Pompeo responded: "Senator, with the information I've been provided, I've seen no evidence that they are not in compliance today."
So why did the Trump administration ditch it?
"The real criticism of the agreement – and why many thought it was a 'bad deal' – is that it did nothing to stop Iran's support for Hezbollah, Hamas, the Assad regime or the Houthi's (rebels) in Yemen, issues that are seen as antithetical to American interests in the region," said Scott Hibbard, a political science professor at DePaul who specializes in American foreign policy and the Middle East.
He says that regional allies, such as Israeli Prime Minister Benjamin Netanyahu and newly minted U.S. National Security Adviser John Bolton, are opposed to any legitimization of the Iranian regime. Instead, they favor regime change.
Additionally, a long-held myth repeatedly cited by Trump in his criticisms of the JCPOA was that several billion dollars were supposedly paid by the Obama administration in exchange for five American prisoners in 2016. In fact, that money had always been Iran's, payment for military hardware that went undelivered before the 1979 Iranian Revolution.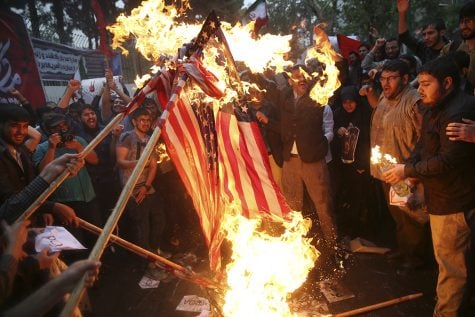 Trump has long railed against Iran as the world's "leading state sponsor of terrorism," a claim also reiterated in the state department's most recent counter-terrorism report. Criticisms of the country include its support for Shiite militant groups across the Middle East, from Hamas in Gaza to Hezbollah in Lebanon and Iraq. The U.N. also claims that Iran supplies Houthi rebels in war-ravaged Yemen, where a three-year long war with Saudi Arabia has resulted in widespread famine and "the world's worst humanitarian crisis," according to U.N. Secretary-General Antonio Guterres.
And then there's Israel, a key U.S. ally that has been courted heavily by the Trump administration – including with the opening of the new U.S. Embassy to Israel in the contested holy city of Jerusalem on Monday – which is currently engaged in an escalating series of confrontations with Iran in Syria. Since 2011, Israel has carried out over 100 airstrikes in the region, and on Thursday, Israel targeted nearly all of Iran's military installations in Syria in response to Iranian rocket attacks aimed at the occupied Golan Heights region on the Israeli-Syrian border.
"Whether or not cooler heads will prevail and keep this covert war from escalating remains to be seen, but the brinkmanship that is unfolding is worrying," Hibbard said.
Amid all the conflict, Iranian reformist President Hassan Rouhani, who was celebrated within his own country for the nuclear deal in 2015, may be losing influence to conservative hardliners. While diplomacy brought the lifting of sanctions, helping to increase Iran's trade with the Western world and increasing its GDP growth from the -1.8 percent it was before the implementation of the JCPOA in 2015, Iran's economy still struggles.
"Some disillusionment has set in over the past two years, as Iranians have not been seeing as much economic benefit as many of them had hoped and expected," said Paul Pillar, a 28-year veteran of the CIA and current fellow in the Center for Security Studies at Georgetown University.
Inflation is around 10 percent, unemployment is just above that, and the Iranian rial has weakened to 70,000 against the dollar on the black market, compared to the official rate of 42,000. For the average Iranian, everyday purchases like meat, rice and taxi fares are increasingly expensive; protests over the poor economic conditions erupted in late December and January of last year.
"In practical terms, the sanctions haven't really been lifted. It's a fallacy there's a free flow of capital. Especially in investment and financial sectors, everything has been on hold," said Kaveh Ehsani, an assistant professor of International Studies at DePaul who is currently writing a book about Iran's oil production.
All of this provides an opening for hardline clerics and authoritarian voices in the Islamic Republic, such as members of the judiciary and the Islamic Revolutionary Guard Corps, to argue for increased military action in the face of failed diplomacy.
"Some Iranian hardliners have always opposed the agreement, mostly out of a general fear of what an opening up of Iran to the West would do to their political position," Pillar said. "Trump's move this week strengthens the hardliners, who are happy he did what he did."
Still, other European signatories to the deal have expressed interest in staying within its terms or working Iran. But the U.S. Treasury has warned its allies against doing business with Iran, saying companies have three to six months to wind down any deals in the country.
"If (the) JCPOA completely falls apart, Iran will simply sell its crude (oil) to China and Russia and import goods and services from countries other than the U.S.," said Shea.
Ultimately, Ehsani says America's withdrawal from the JCPOA is part of a broader philosophy that has guided post-9/11 U.S. foreign policy, one that has favored military intervention and support for "undemocratic, authoritarian regimes" over sustained diplomacy.
"It's a fallacy to think that if you come up with only military solutions instead of supporting genuine democratic popular movements in the region … that the issues the U.S. has very much been a part of, can remain isolated and insular to the region," he said.