DePaul men's soccer lose a heartbreaker in 2OT to Flames 2-1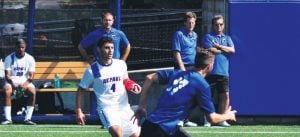 The Blue Demons (3-3-1) faced a tough challenge as they loss their battle against their cross-town rivals the University of Illinois at Chicago (UIC) Flames (4-2-1) 2-1 in double overtime.
The Flame's Jorge Alvarez scored UIC's only two goals, but his most important one came in the 13th minute of double overtime from an assist by the Flame's goalie Andrew Putna. Putna sent a nice long pass from the other end of the field to Alvarez who sent it in over the DePaul's Mack Robinson's left shoulder.
"A punt from the goalkeeper, that we let bounce, and they were able to get on the end of it. So, it's just one of those things that you can't let the ball bounce and we did and they did well to score," Coach Craig Blazer said.
The game was close all game but the second half was dictated by the Flame's goal by Alvarez in the 55th minute. Alvarez was coming up with the ball on the left side of midfield on a breakaway and Robinson came up to challenge him, but Alvarez shot quickly and caught the goalie over his left shoulder.
DePaul's only goal came from a beautiful assist by Alessandro Thomas to Art Garza in the 41th minute. Thomas received a kick from down field and it bounced off his chest, which Thomas then sent it to Garza, and Garza was able to catch the goalie on the lower right.
"We came out and played well, we scored the first goal, so all of that is a credit to our guys. We've done that a lot this year," Coach Blazer said.
A lot of credit goes to the Flames who had 13 shots in the second half to the Blue Demon's two. Their last game came at a tough loss to Creighton where UIC's Jose Fuentes scored the only Flames goal in the 75th minute. Creighton's defense stifled UIC as the Flames only took five shots in that contest. However, in this game it seemed UIC came with a little chip on their shoulder and played more aggressive.
The Flames also took two shots to the Blue Demon's one in the first overtime and their only shot in the second overtime was enough to seal the game, which DePaul took none.
There was a scary moment for DePaul's Koray Yesilli as he and UIC's Jesus Torres collided which caused Yesilli to crawl off to the sidelines. Yesilli limped off, with the help of one of the trainers, in agony as he left the game and was replaced by Philipp Koenigstein.
Although DePaul is coming off a great overtime win against Drake where Jalen Harvey's hat trick lead the team back from a 2-0 deficit in the 58th minute, Harvey struggled against the Flames. Harvey is usually known for his heroics but in this game he didn't have the magic and only had two total shots.
"We still got to clean up a couple of things up but overall we're disappointed with the loss. I thought we deserved better but we'll keep an even keel and we'll come back on Wednesday," Coach Blazer said.
The Blue Demon's next game is at Northwestern (3-1-2) Wednesday, Sept. 24, at 7 p.m