CTA do's and don'ts: Etiquette when riding the 'L'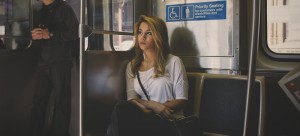 As a school that has a lot of commuters and multiple campuses, DePaul University students are advised to quickly learn the 'L.' Students generally ride the train during the busiest parts of the day, so it's good to know some etiquette that will help make the ride smoother.
When the train pulls in and it's packed to the doors and the platform is just as packed, the question arises as to how everyone could possibly fit comfortably.
Halie Krause, a senior, says when the train is busy; people need to allow other people to get off the train. She recalls a time when she missed her stop because she was stuck in the center of the train and no one would move for her. She ended up having to get off at the next stop and take the train back.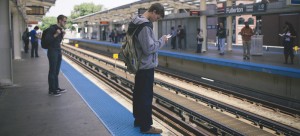 "If you are right by the door, you need to get off to let people off," Krause said.
To go along with stepping off the train to let other people off, when you are waiting for the train don't crowd the doors, allow people to get off the train first. Mia DalSanto, a sophomore, says this is important especially in the winter.
"I know it's cold, but it's just a couple of extra seconds," DalSanto said.
When allowing people to get on, move deeper into the train so they don't have to maneuver around anyone standing in the doorway.
Krause said people with backpacks should take them off and hold them in front of them when the train is tightly packed, which is a good tip for any student riding during rush hour. 
If you manage to grab a seat and have a bag, keep it in your lap or at your feet to make room for other people to sit. But even if you get a seat, it doesn't mean you should keep it.
"If you see an elderly person, get up for them," Krause said. "I think it's so rude if people don't."
DalSanto said if someone looks like they need a seat, you should give it to them. Krause even said she doesn't like to sit on the "L". She would rather "leave the seats open for people who need them."
But how do you know when to and when not to give up your seat? There's always a question of offending someone especially with age. But Lindsay Goldstein, a senior, doesn't think giving up your seat is about age.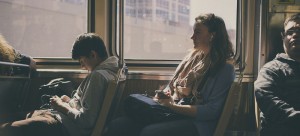 She said she has offered her seat to women, men, children and the elderly; age isn't a factor. Goldstein said as a surviving cancer patient, she was always grateful whenever someone gave their seat up for her. 
"I feel like some people will be like 'I'm a man, you're a woman, I don't need a seat," Goldstein said, but she still offers to anyone who might need it.
However, when there are no seats and you have to stand, it's good to know what to expect.
Max Viglione, a freshman, warns "grab onto something."
Keeping your balance when you have nothing to hold onto comes with practice. As does learning the stops and which ones you need.
"It's just one of those things you need to practice," Krause said. She suggests just getting on one day and traveling up and down the stops, learning their names and what important landmarks are at each one as well as which ones you might use the most.
DalSanto said "there's no big learning curve" when it comes to the train, but figuring out stops is the hardest thing to get.
Virginia Cox, a senior, said that when she first was learning the train stops, her boyfriend would say they were going somewhere and then make her figure out how to get there.
"It was awful," Cox said. "But now I know it."
It might take some time learning the stops and where to get on and off, but learning the Ventra machines isn't something DePaul students need to worry about.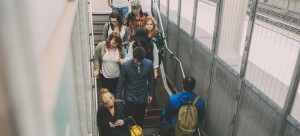 Viglione and DalSanto both agree that the Ventra passes are the easiest part about the train because DePaul students are supplied with them.
Because the stations are normally just as busy, showing good etiquette before getting on the train is important, too.
"Don't stand in front of the turnstiles looking for your Ventra," DalSanto said. "Have it ready or stand more to the side."
Once getting past the turnstiles, when going down the stairs make sure to stay to one side. Similar to that, when taking the escalator stand to the right, so people can walk up the left side if they are in a rush.
Another aspect of good train etiquette is being safe and taking whatever precautions necessary. DalSanto said be aware of your surroundings.
Krause said when she rides the train she only wears one headphone so she can hear what's going on. While she only listens with one headphone, some people play their music loud enough for everyone to hear.
Goldstein said when she lived in New York, people used to perform on the trains, which was something she didn't like.
"If other people can hear your music, it's too loud," Goldstein said. "If everyone can hear your conversation, it's way too loud." 
There are even signs on the train to keep your music down, whether for courtesy or safety, it's good to keep it down and to yourself.
Other signs Krause has noticed is the one that reads "if in danger move to another car…" so she always checks around her.
It might be intimidating at first and you might mess up a few times by getting off at the wrong stops or getting on the train going in the wrong direction, but with some safety tips, etiquette, and practice one can become a regular.
"Just dive right in," DalSanto said.
Do's:
1. Give up your seat to others
This includes the elderly, expectant mothers, young children, or those with illness or disability. When in doubt, stand up.
2. Move back
Moving farther into the train frees up space so that more passengers may board.
3. Allow people to exit first
It is common sense. With more people off the train, more can fit on comfortably.
4. Learn the stops
For those new to the city, the 'L' can be intimidating. Read the maps and travel to new places to gain confidence.
Don'ts:
1. Play your music
No one wants to hear the funky beats coming from your boombox.  Use headphones.
2. Spread out over two seats
The 'L' is not a place to lounge and stretch out. Leave room for someone to sit beside you.
3. Stand on both sides of the escalator
One side is for escalator riders and the other is for climbers. Leave room for those in a hurry.
4. Make a scene
The CTA is notoriously unreliable and frustrating, but you are not the only one who has to deal with it.
View Comments (1)