Living off campus in Chicago can mean contending with faulty heaters, carbon monoxide leaks and bad landlords
Living off campus in Chicago signals a new phase of adulthood for many students. That idyllic Lakeview four-bedroom, five-roommate unit with "vintage charm" now has your name to add to the lease. It's as if nothing can go wrong — that is, until something does, serving you, the tenant, with a stark reminder that living off campus can come at a cost.
Some DePaul students live in apartments with on-and-off heating, torn-down fences, carbon monoxide leaks and electrical fires, managed by landlords who do not respond quickly or thoroughly.
This breakdown in communication can lead to hazardous violations of city ordinances and tenant rights.
Twenty-year-old DePaul student Emma Scott had been living in a Lakeview garden unit apartment for a few months with her two roommates when their neighbor reported seeing a man peeking into their property after a storm in October had blown down their fence.
"I reached out to my landlord and they said the fence wasn't on their property line, so I reached out to my neighbors to ask them to fix it," Scott said. "After receiving proof from my neighbors that the fence was in fact on my landlord's property line, I reached out to the alderman to get help."
Cagan Management Group, the property group that owns Scott's building, also maintains rentals and condos in Indiana, Louisiana and Florida. They have been involved in at least 33 lawsuits within Cook County in the last 20 years, three of which they initiated, according to circuit court records.
Scott's building fence is supposed to be maintained according to the Residential Landlord Tenant Ordinance, or RLTO, which outlines the conditions tenants can expect to be kept up by landlords in Chicago's municipal code. The RLTO does not apply if the building has less than six units and the owner or landlord lives in it.
"Complaints regarding units related to RLTO are handled in within 24 hours typically," Cagan Management Group representative Monica Kristaly said.
During long Chicago winters, a pressing and frequent concern for tenants is inconsistent heating. After this year's polar vortex, with temperatures plunging to 23 below zero, one DePaul student talked about past problems with heat.
"I had to sleep with a hat on and wake up with a cold nose," DePaul student Jenni Holtz said.
The heat would intermittently go out in Holtz's former Lincoln Park apartment from November to January last winter. "I would turn the oven on to stay warm," Holtz said. "Some nights I would crash at a friend's place. I also got sick a lot."
The city's Department of Buildings enforces the Chicago Building Code, which dictates city expectations for buildings and property. From Sept. 15 to June 15, the Chicago Heat Ordinance requires the indoor temperature be at least 68 degrees from 8:30 a.m. to 10:30 p.m if residents cannot control their own heat within the apartment. Overnight, it must be at least 66 degrees.
Holtz's roommates simultaneously sent text messages to their landlord about the issue, she said.
"Our landlord would make it appear to be our fault, though we couldn't control our heating because it was central heating," Holtz said. "If she was home, she would come down; if she wasn't home, she wouldn't respond. It was never fixed immediately."
The Chicago Heat Ordinance states that landlords can be fined for every day apartment heating drops below the outlined threshold. Holtz said they all knew the heating outages were illegal, but would have done more if they knew they could have taken legal action.
"If I knew she could be fined every single day the heat was out, I would have recorded it," Holtz said.
Landlords can face up to $500 per day, per violation, regardless of the reason for insufficient heating.
For DePaul alumnus Niko Ewert, there is such a thing as too much heat — something he and his roommates learned the hard way in November 2017. 
"Upstairs there was a ventilation fan in the shower and for some reason one of our upstairs roommates forgot to turn it off and that started a fire," Ewert said. " I thought it was a fluke. I went upstairs, and me and my other roommates saw that smoke was coming from the walls."
According to Ewert, the blaze progressed through the unit's walls, destroying the ceiling and drywall of their bathroom on the main floor in the process.
"If nobody was there, our house would have been gone," Ewert said.
The house survived the fire, but Ewert and his roommates' relationship with their landlord would never fully be repaired. Ewert said he reached out via email to their management group, LaSalle Associates, to try to resolve the situation after the fire.
"The actual people we encountered were nice, but when it came to the email correspondence, it was pretty harsh and always defensive," Ewert said.
The group offered them an apartment to stay in while repairs were made. Due to the lack of furniture and utilities, however, they declined. Instead, they settled for a $500 deduction in the next month's rent. 
One DePaul sophomore, who asked not to be identified because of an ongoing legal case, had less luck getting financial reimbursement from LaSalle Associates when her Lakeview apartment was emitting dangerous levels of carbon monoxide in February.
When she and her roommates walked in one night to prepare to host a party, gas detector alarms blared throughout the building. They evacuated and called the gas company and the fire department, according to Chicago Fire Department records. Firefighters detected dangerous levels of carbon monoxide in the air and advised the roommates to turn off their furnace and open windows to expel it, according to Office of Emergency Management and Communications records. The inspector from Peoples Gas dispatched by the fire department arrived at 1 a.m. and immediately identified their furnace as broken and leaking, according to the DePaul student.
She emailed LaSalle Associates to inform them of the needed repair.
"They were like, 'okay, we'll send someone to look at it,' even though we had told them and sent the Peoples Gas report that said the furnace was broken and we needed a new one," she said. "They wasted time by not ordering the parts or doing anything to fix it."
The occupants stayed with friends that night because of the lack of heat. The next morning, one of the roommates went to the hospital to be treated for carbon monoxide poisoning.
"She asked them [LaSalle] to pay the hospital bill, and they were refusing," the sophomore said.
A property representative came by late the next afternoon to confirm the report and give them space heaters, but said the furnace could not be fixed until Monday. When asked to pay the difference on the roommates' electric bill caused by multiple space heaters, they refused. The repair was completed and paid for by Tuesday, but the DePaul student is still trying to figure out the receipts.
"I emailed them to try to like at least get them to get them to pay for the things they should in this situation, and they're still like beating around the bush and really trying to evade any sort of responsibility," she said.
LaSalle Associates has been involved in at least 23 Cook County lawsuits since 1994, including 18 the company started, usually based on claims that tenants vacated units before their leases ended or stopped paying rent. Tenants have brought complaints and lawsuits against them for short eviction turnaround time, sewage leaks, mold and failure to maintain a unit's windows, according to circuit court documents.
LaSalle Associates did not respond to The DePaulia's requests for comment.
Ewert and the DePaul sophomore both said that they mainly communicated through email with LaSalle Associates, which operates out of a Lakeview office on Southport and has no website. Neither resident had a set landlord or point of contact.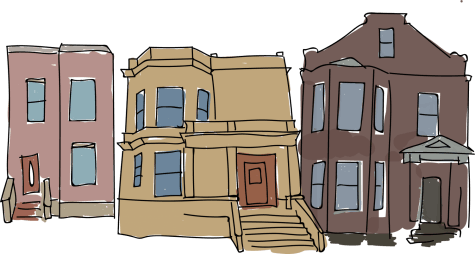 Students in similar situations may have the support of the RLTO behind them, but can have a hard time getting landlords to take them seriously. However, tenants rights groups, law firms and other resources can help them take steps to get fair treatment.
Michael Robin is an organizer with the Autonomous Tenants Union. The Albany Park group mostly works with immigrants and working class residents in the neighborhood who are dealing with evictions, problematic living conditions or both.
"We're a collective that works together to defend our right to dignified housing and build tenant power," Robin said.
ATU hosts assembly meetings where they talk to residents with problems, work on campaigns and build skills, according to Robin. They can refer people to resources, help them organize to pressure their landlords or connect people to other organizing groups in other neighborhoods.
Tenants having landlord problems can report violations to the city through Chicago's online or phone 311 system, Robin said.
Then they can call their alderman's office with the service request (SR) number to try to get their case tracked and possibly order inspections, according to a spokesperson from the office of the 43rd Ward alderman, Michele Smith.
A representative from 44th Ward Alderman Tom Tunney's office went to Cagan Management Group after Scott called them and told Cagan to fix her fence, according to Scott.
"They even began to fine them until it was fixed," Scott said.
If this process does not work and tenants feel more action should be taken, Robin recommends what ATU calls the sword and the shield: taking direct action though protest and gathering, and getting legal protection.
Call-in campaigns where a tenant creates a script and crowdsources people to call their landlord can be an effective protest method, Robin said.
"They'll be bombarded with phone calls just blocking up their lines and not allowing them to go about business as usual," Robin said.
Robin noted social media campaigns can also provide pressure because they can "ruin a Google search."
If students are looking for legal support but cannot afford it, pro-bono law firms Lawyers Committee for Better Housing (LCBH) and Community Activism Law Alliance (CALA) and Uptown People's Law Center work on tenant condition situations, according to Robin.
DePaul students can also reach out to Croak Student Legal Services, who have gathered resources surrounding tenant rights issues and offer students free services.
They refer students to their website, where they provide next steps, such as how to end a lease or take a landlord to court. The website also provides a "Tenant Survival 101" and an "Off-Campus Housing Guide" document about the rights students have as tenants.
Off-campus students have good reason to know their legal rights. According to the National Low Income Housing Association, the average price of a two-bedroom apartment in the zip codes around campus was $1770 per month in 2018.
Like taxes, insurance and other adult responsibilities, students often do not learn how to deal with landlord and housing issues until they experience them. Students' tenant rights may slip through the cracks, but resources in Chicago can help them be regained.