2 Navy recruits dead after training at Lake County bootcamp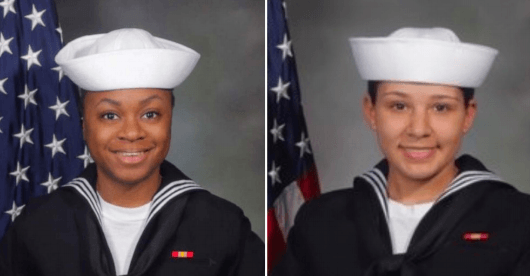 The U.S. Navy is grappling with a variety of internal problems of late, ranging from ex-SEAL commander Eddie Gallagher's arrest for war crimes to two 2017 ship collisions that resulted in the deaths of 17 sailors — crashes deemed "avoidable" by the Navy itself.
Now, the Navy is facing issues at the recruit level following the deaths of two aspiring Seamen at the Recruit Training Center Great Lakes, about an hour north of the city outside of Lake Forest. The two recruits, Kelsey Nobles, 18, and Kierra Evans, 20, both died during physical fitness tests — and both were mere weeks away from graduation.
"The Navy is conducting an investigation into Seaman Recruit Nobles's death, as it does for all sailors who pass away on active duty," said Lt. Joseph Pfaff, Public Affairs Officer for RTC Great Lakes. "The investigation into this tragedy will absolutely include investigation into linkages between this and Seaman Recruit Evan's death in February."  
According to Pfaff, these tests comprise the standard physical fitness evaluation given to all recruits prior to their graduation, as well as to all sailors periodically throughout their careers.
Quade Compton, a former Marine Corps Sergeant, attended the three-month Marine Corps boot camp from July to September 2013. He describes the military's physical training as grueling but but essential.
"I was in the best shape of my life coming out of boot camp," he said. "All we did was prepare."
Compton also notes that there may be oversights in the recruit intake process that contribute to deaths like these.
"I do know that there's a lot of pre-existing medical conditions that recruits may have that aren't brought up to anyone during boot camp because they want to keep going and they want to progress and graduate," he said.  "So those medical conditions could flare up and it could cause issues. I know that that is definitely something that happens."
Compton said he felt that the military took care of him and his fellow Marines while he was on active duty.
"As far as the treatment by the drill instructors within boot camp, I don't think there's anything detrimental to anybody's health to where people are dying," he said. "I don't think that's something common."
A 2004 study published in the Annals of Internal Medicine examined all sudden recruit deaths over a 25-year period. The study concluded that, "Cardiac abnormalities are the leading identifiable cause of sudden death among military recruits; however, more than one third of sudden deaths remain unexplained after detailed medical investigation." While the authors acknowledged that military recruit mortality rates are lower than the same-age civilian population in the U.S., preventative measures can still be taken to lessen the risk of in-training deaths and increase the ability to identify emerging threats during basic training.
A 2006 study published in the American Journal of Cardiology found that over the course of two decades, there were 15 sudden deaths of female recruits who entered basic military training — the leading cause of which was sudden death despite a structurally normal heart. The rate of death was also significantly higher for African-American female recruits compared with everyone else.
Pfaff, the army public affairs officer, emphasized that the Navy's position is the primary caretaker of hundreds of thousands of sailors who have committed themselves to a career in the branch.
"The Navy and Recruit Training Command take the welfare of our recruits and sailors very seriously and are investigating the cause of this tragic loss," he said.
View Comments (1)