Brotherhood helps solidify Blue Demons' defense
Oftentimes, a team loves to advertise its brotherhood. Their closeness on and off the field is instrumental to any success they want to have. Now, an actual, biological brotherhood? That tends to be rarefied air at the collegiate level. The men's soccer team has exactly that.
Timmy and Dan Iscra are running a two man punch for the Blue Demons. Despite never playing together in high school at Glenbrook North in their hometown of Northbrook, Illinois, the two bring great chemistry to the team. Timmy, a junior, has been able to show his freshman brother the reigns. Dan has been able to provide a familiar face, and both are able to keep each other in check.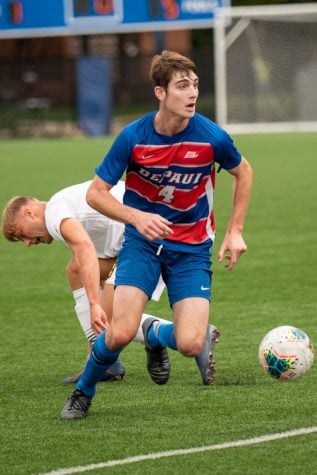 "Their competitiveness and their drive plus the personality is awesome to have on the team," Blue Demons head coach Mark Plotkin said of the brothers.
The two grew up playing soccer, but due to the age gap, they never really played on the same team. That didn't stop the two from plenty of backyard training and support through each other's youth careers.
"We push each other to become better whether it's in the backyard or out on the field," Dan Iscra said. "We always just use each other to base how good we are off of each other."
Now together at DePaul, they are reaping the benefits.
"I feel like we have a different connection from everyone else on the field from playing with each other for so many years," Timmy said. Both players start and have played all 10 games of this season together. Timmy plays midfielder and forward and Dan is a defender.
The two have wanted to play together and never got the chance before DePaul.
"Since he's two years younger than me, we haven't played on the same team together," Timmy said. "But we've always dreamed about playing together, so it's definitely a great experience."
Coming in as the younger brother, Dan has had a unique experience for a freshman joining a team. For something that can feel daunting or mysterious, the help that having an older brother in the program brings can't be understated.
"He's just been a role model for me all my life," Dan said. "My bigger brother has been someone to learn from every day."
There is a level of ease that comes with the insight Dan can receive from his older brother, Timmy. And it has shown in his play and his demeanor, leaving an impression on the rest of his team and his coach.
"I think it's helped Danny come along and feel a lot more comfortable," Plotkin said.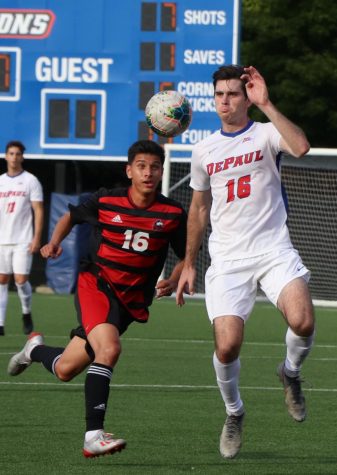 During his college search and when he committed during his senior year of high school, Dan kept up constant communication with his older brother. Timmy was able to keep him up to date with the happenings of the team.
"Coming in, I knew a lot more about the team and the environment just because I always had a reference to talk to," Dan said. "Throughout the year I was committed, I would always ask him what was going on and it was definitely a step up for my confidence knowing what was coming and what to expect."
Their choice to come to DePaul is a lot about the camaraderie of a big program while being close to home. 
"A former coach had recruited [Timmy] and he wanted to stay local," Glenbrook North High School soccer coach Paul Vignocchi said. "He really just wanted to stay local and play for a nationally recognized division one program."
After Timmy committed to DePaul, Dan followed. Both remember a time at a DePaul camp during Dan's recruitment that their connection really shined.
"One moment comes to mind right away," Timmy said. "At the camp here, we had a really special play. I was playing forward and he was playing center back, I checked down and he hit one over the top. And we had a goal and that was kinda the thing that got him going to DePaul."
Now with both brothers playing for the Blue Demons, there are endless possibilities. And the two are looking to leave an impact on the program together.