DePaul women's soccer defeats No. 14 Georgetown
DePaul junior forward Morgan Turner scored two minutes into overtime to defeat No. 14 Georgetown at Wish Field on Thursday. 
The Blue Demons (7-6-3), who have won two consecutive Big East games, have knocked off two ranked team this season with wins against No. 11 Kansas on Sep. 6 and No. 14 Georgetown on Thursday. 
"It's down to the end of the conference portion of the season, so we know how important home games are and points in the conference standings," head coach Erin Chastain said. "So, I think for us it was about coming out, setting the tone, being physical and battling. I thought our girls stayed disciplined and did that."
For 90 minutes, there wasn't too much to separate both teams, as each side struggled to create chances throughout the game. After the end of 90 minutes, the two sides combined for nine shots and two shots on goal.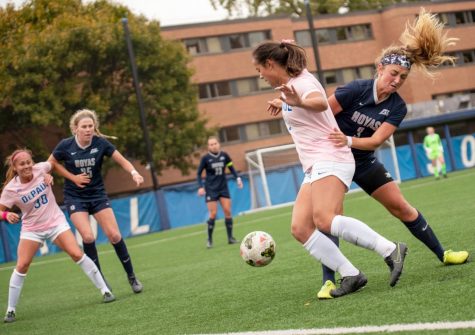 But all it took was just two minutes into overtime for the Blue Demons to carve open one chance to take down another ranked team. Freshman Kristin Boos played in a low cross into the box, where her fellow forward teammate Turner got in front of a defender, turned to goal and fired a shot past the goalie. 
"Kris played me a really great ball across the middle and I was able to get at the end of it," Turner said. "And I think that a win against this team is just huge for our team and our confidence going forward." 
While the offense helped give DePaul all three points, it was the play of their defense that helped extend this game into overtime. Coming into Thursday, Georgetown led the entire Big East with 36 goals, which also ranked 19th in the country. Against DePaul, however, that high-powered offense was stymied by an aggressive and fearless defense. The Hoyas only managed to get off five shots, and only one of those was on target.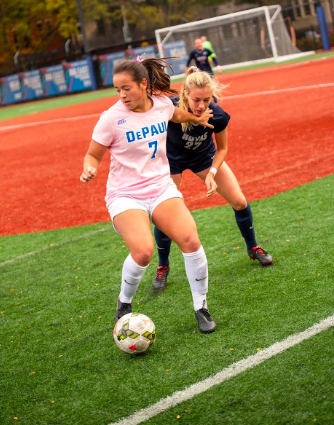 "It was incredible," Turner said on the team's defensive performance. "I think every single person on this team laid it all on the line, we are ready for a physical game. And, so, our defense played phenomenal, our goalkeeper played phenomenal."
While another win over a ranked team gives DePaul more confidence heading into an important part of their schedule, they have been building momentum to reach this point of the season. In their last five games, the Blue Demons have won three games, scoring eight goals and only conceding three goals.
The defense for DePaul has been their strong suit throughout this season, but recently their offense has come alive to help carry the load for the Blue Demons. In their last game prior to facing Georgetown, DePaul's attack obliterated a winless Seton Hall – scoring four goals in 23 minutes. 
"Hopefully it will continue to build and the momentum will keep going through Xaiver and then Marquette in the end," Boos said.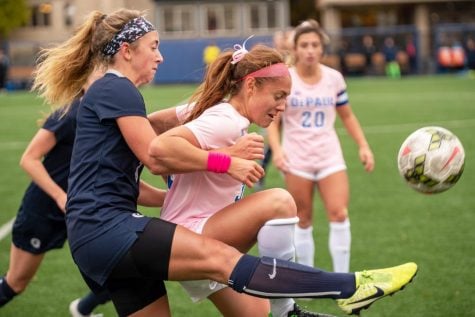 DePaul only has two games remaining in the regular season, at Xavier on Sunday and at home against Marquette on Oct. 31, so picking up these three points were crucial for multiple reasons. Before their win, DePaul sat in a four-way tie for fourth in the conference with 10 points, but due to tiebreakers, the Blue Demons were on the outside looking in for a playoff spot. 
After their victory and a couple teams ahead of them dropping points, DePaul heads into the final week of the season in a prime position to make their eighth-straight Big East Tournament appearance.