Illinois primary registration, early voting and polling places, explained
The primary election in Illinois will take place on March 17, the same day many Illinoisans will be celebrating St. Patrick's Day. Primary elections often have historically lower turnout than general elections. In 2018, turnout for all eligible voters was just 19.9 percent compared with the historic general election turnout of 53 percent of all eligible voters, according to the census. In Illinois for the general election, 51.4 percent of eligible voters cast a ballot, while under half of those people voted in the primary. 
Unlike the general election, primaries don't result in an election to office. They are used to narrow down who will appear on the ballot in November. Although it's the most spotlighted election, there's more at stake in the primary than just choosing a nominee for president. In Illinois there are contests in congressional, Statehouse, City Council and State's Attorney races, to name a few.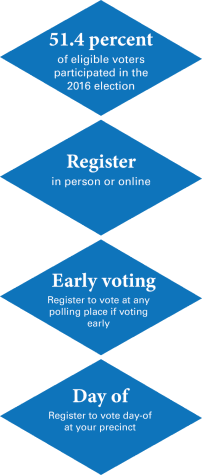 Before someone can take part in this consequential process, they need to register to vote. You can register to vote even on election day. If you're from out of state and have previously registered somewhere else, you can still register to vote in Chicago. If you're registered in suburban Illinois, you still must re-register with a Chicago address in order to vote in the city. 
Illinois is one of 25 states with an open primary, meaning you're not required to affiliate with a political party. But, you can only vote on one of the party's ballots. 
Where to register
We're past the online registration deadline, so with or without an Illinois ID, you must register in person. From today until March 16, there are locations in all 50 wards where you can register, and cast your ballot immediately after. 
Where to vote
There are 2,069 precincts in Chicago, more than the entire state of Iowa. On March 17, you must go to the polling site for the precinct you live in in order to vote. But you may want to take advantage of Chicago's early voting policy, which allows you to vote in any of the city's 52 sites before election day. The closest location to the Lincoln Park campus is just right down the street at 1150 W. Fullerton in the Lincoln Park Library. In the Loop, you can vote at the Loop Super Site at 191 N. Clark St.
On election day though, you must vote at the precinct polling place for the address you live at. To find your precinct polling site, visit Chicago Elections.gov and navigate to the "Your Voter Information" dropdown under the "Voting" menu. The site for students that live in DePaul's on-campus housing is the Sullivan Athletic Center. 
What to bring
You need two forms of identification to register to vote. One with proof of identity. This could be:
  – Passport or Military ID
  – Driver's License or State ID card
  – College/University/School/Work ID
  – Vehicle registration card
  – Lease, mortgage or deed to home
  – Credit or debit card
  – Social Security, Medicare or Medicaid card
  – Insurance card
  – Civic, union or professional membership card
  – LINK/Public Aid/Department of Human Services card
  – Illinois FOID card
Another, with proof of address. This could be:
  – Bill, Transcript or Report Card from School
  – Bank Statement, Pay Stub 
  – Utility, Medical or Insurance Bill
  – Official mail from any government agency
  – For students living on campus, you could use your housing contract with the school.