DePaul Theatre School's 'Phantom Tollbooth' not just child's play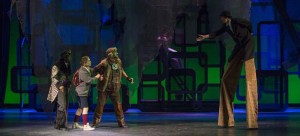 Amid midterm milestones, The Theatre School's production of "The Phantom Tollbooth" sparked a refreshing upturn of emotions. The play debuted Oct. 7 at the historic Merle Reskin Theatre and will run through Nov. 15.
Based on the 1961 children's book by Norton Juster, "The Phantom Tollbooth" is written by Susan Nanus and directed by Lookingglass Theatre Company's David Catlin. Milo (Erinn Fredin), a school-age boy, has busied himself being bored with all aspects of life — education, free time and the childish possessions in his bedroom — when a gift-wrapped tollbooth appears before his eyes. In a red convertible created by the tollbooth, Milo travels to the mystical Kingdom of Wisdom. He learnsedvaluable life lessons in this strange land.
He first ran into the Whether Man (Peter Varga) on the road of Expectations, where he quickly found that things aren't always what they seem, mistakenly subjecting himself to the detainment of the Doldrums — a lifeless lake of lazy loungers who have outlawed thought and laughter. Rescued by Tock (Brian Rife), a watchdog, the two continued the journey together. They stumble upon Dictionopolis, ruled by King Azaz (Awate Serequeberhan), where Milo meets the Spelling Bee (Maya Malan-Gonzalez) and Humbug (Dominique Watkins).
He is told of the kingdom's history: King Azaz and his brother the Mathemagician (Jason Goff), ruler of Digitopolis, banished their sisters Rhyme (Taylor Blim) and Reason (Vahishta Vafadari) after the princesses decided letters and numbers were of equal importance. King Azaz elects Milo and Tock, accompanied by Humbug, to venture to the second city to gain the approval of the Mathemagician on releasing Rhyme and Reason. After convincing the Mathemagician that the princesses should be saved, the trio ventures off to the Castle in the Air.
To reach the Castle in the Air, Milo and his friends must journey through the Mountains of Ignorance. In these mountains, the threesome are confronted by tempting demons: Terrible Trivium (Sam Krey), who makes you waste time on meaningless jobs; Senses Taker (Zivon Toplin), a thief of the senses by way of asking useless questions; and Demon of Insincerity (Sam Haines), who never says what he means or means what he says. Peace and happiness are restored to the kingdom after Rhyme and Reason are released, a mission that seemed impossible.
I absolutely adored this adaptation of "The Phantom Tollbooth." With only a handful of adults in the room, I and dozens of school-age students laughed childishly and uncontrollably throughout the duration of the play. And, I thought it was especially fun and entertaining during periods of immense cast-crowd interaction — demons ambushing the aisles, characters acting toward the audience the very edge of stage (close enough for kids to touch), and a series of impromptu calls, which prompted responses from the crowd — both helping to keep us all at the edges of our seats and proving itself a tale that transcends time and childhood.