Bonn-voyage: Bonn-Appetite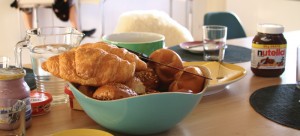 One of the great joys of travel is sampling the new food. Perusing the streets of Bonn, I was surprised by where my nose led me.
Schnitzel, sausage and sauerkraut were not the star attractions on every German menu. Although Germans haven't mastered deep dish pizza, they have intermingled plenty of foreign dishes with their traditional German cuisine.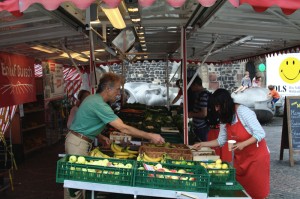 Peppered around train stations and city centers are Ibises serving Turkish döner. Shaved meat, mediterranean salad and white yogurt sauce makes a döner wrap look and taste just like a Greek gyro (but don't tell that to the Turks).
They are the cheapest meal around and will satisfy your hunger when everything else has closed after 8 p.m.
Most places also sell pommes (french fries), but in Germany the norm for condiments may startle most Americans: Pommes rot weiß means "french fries with red and white," or french fries served with ketchup and mayonaise.
Like the hot dog stands of New York, currywurst and crepe carts lure passersby with delightful aromas, and between these carts are "eis" shops by the dozens, sending streams of Germans licking Italian ice cream through the city. 
Even more populous than ice cream shops are the bakeries.
In Germany, there is a significant difference between a place for sweet baked goods, called a konditorei, and a bakerei, which sells breads, rolls and small sandwiches. When bakeries open at the break of dawn every day, except Sunday, there is already a line of Germans outside.
For lunch, I stop in for a sandwich: a fresh, wheat brötchen (bread roll) topped with pumpkin seeds and surrounding slices of creamy white cheese, butter, tomato, lettuce and cucumber. For a treat, I'll also snag a chocolate croissant or a chocolate and almond-covered pastry.
In reality, an exchange student is still a college student, so I can't afford to eat out every meal.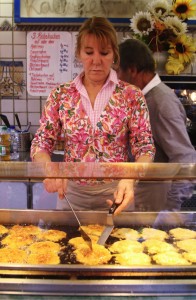 Before stopping at the popular grocery store Edeka, I'll wander through Marktplatz and pick out fresh fruits and vegetables from the year-round daily markets.
Germans love their markets, the most famous being the Weihnachtsmarkts, or Christmas markets that resemble Chicago's own Christkindlemarket in Daley Plaza.
At Weihnachtsmarkt you can buy seasonal goods like lebkuchen (heart-shaped gingerbread), roasted nuts, and glühwein (mulled wine).
A family I stayed with in Frankfurt made it very clear that each season has its special food or drink, and it is a cultural sin to consume it any other time.
During kaffee und kuchen (the midafternoon coffee and cake), the family served zwetschgenkuchen,"a tart made with crumbled dough and plums. I loved the tart of the plums, but my family warned it would vanish once the plum season ended.
Later that day we meandered through the small market in Frankfurt and my host insisted I try the red and white federweißer, a sparkling wine made of fermenting grape juice only available in the fall. 
I also burned my tongue on a piping hot "reibekuchen," a fried potato pancake dipped in a sauce like apfelmuss (applesauce).
Though some German favorites come and go, there are staples to the German dining table that include just what I was expecting: schnitzel, sausage, and sauerkraut.
Kartoffelsalat (potato salad), different kinds of würste (sausages) topped with mustard or served with sauerkraut,  schnitzel (fried, breaded, thin-cut pork), frikadelle  (German meatballs),  and bread will be on every traditional German menu.
For a typical "frühstück" (breakfast), Germans eat fruits, cheeses, cold sausage and buttered bread rolls and sipping on coffee, tea, or juice.
The big meal of the day is mittagessen (midday meal), and this may be where the traditional German foods find their way to your plate.
Like the Philly cheesesteak of Philadelphia, the Kansas City barbecue sauce, or the Chicago-style hot dogs, different German cities have their own specialty food. So far I have discovered Frankfurt's grüne soße (green sauce), and I have yet Berlin, Brussels, Paris, Vienna, and other German cuisine to try to compare.
View Comments (3)