Diving In: The Great Lake jumper Dan O'Conor
Lincoln Square resident Dan O'Conor was hungover on a Saturday morning when he decided to jump into Lake Michigan. He often rode his bike to the lake and jumped into the water to capture "a few moments of zen for the day." 
Now, 261 days later, he is still jumping into the Great Lake, even in one degree weather. 
Known on Twitter and social media as the Great Lake Jumper, O'Conor has posted videos of himself breaking up ice, walking through snow and diving into the water in order to raise money for the Chicago Independent Venue League (CIVL), an advocate group supporting Chicago's local independent performance venues. 
When his jumps started, he had no intentions of continuing them this far or expected them to gain this much traction. "When I started this — jumping in the lake — I had no allusions of going 100 days, 200 days, or 250 and I had no — it wasn't a charity I was raising money for," O'Conor said. "It became that when I started inviting musicians down."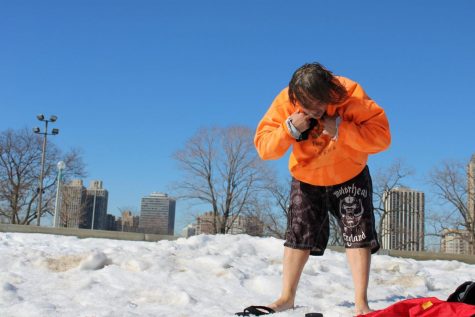 One of his most popular videos is from day 240 when O'Conor had Metal Mike Alwicker play his electric guitar next to him as he dove into the water. 
In his efforts to raise money for independent performance venues, O'Conor has invited atleast 10 musicians, ranging from electric and acoustic guitarists to a trumpet player and a harmonicist. He shared that with the musicians playing during his jump, it's a rush comparable to being at a concert again. "There's that direct connection and it's a symphony in your head and it really feels good and I think that's what a lot of people are dealing with," O'Conor said. "They haven't had that outlet for entertainment. That outlet — to have that rush." 
"My wife came up with the idea: 'Have some musicians come down and sing you in the water – serenade you in the water,'" O'Conor said. "I started getting a few people down for that and it really kind of gave me some more wind in my sails and I think the artists have told me it gave them an outlet to perform again." 
O'Conor was an avid concert goer prior to the pandemic with a background in the music industry. He worked in businesses for about 20 years, working for different publishing, digital, streaming, ticketing and promotion companies. 
He shared that what he's doing in the lake is to help provide a space for entertainers to entertain again and raise money for the industry. "They've been challenged by being the first ones closed and probably the last ones to open during the pandemic," O'Conor said. 
He uses one of the yellow ladders on the lake front to bring himself out, but on day 259, it was sheathed with ice. O'Conor spent at least 25 minutes breaking up ice with a hammer and shovel at Fullerton Beach to carve out an accessible path to jump and get out of the water with. With snow and ice under his feet, he shared that he's gotten used to the cold. 
 "I've got three hoodies, a t-shirt and a kind of heavy Carhartt sort of shirt and really I think I'm just used to it — going in 258 days in a row," O'Conor said.  "Once I get dry and get a towel and get all the water off, I don't feel that cold, even when it was one degree out. It wasn't that bad."
O'Conor shared that after he was featured on a short bit with WGN Radio before his jump, Chicago citizens apparently called the station saying they were 'encouraging bad behavior' –– shortly after, WGN supplied O'Conor with a rope and life preserver, he added.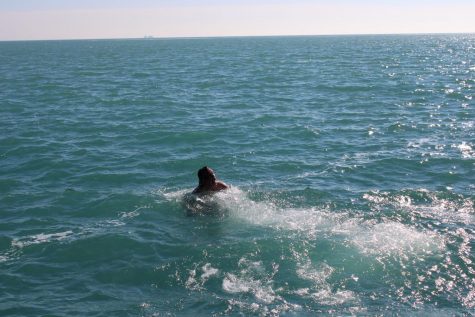 Jumping into Lake Michigan is well-known as a dangerous activity — especially in the cold. O'Conor shared that he never does it alone and has proper safety equipment just in case. 
"I don't want to go in by myself," he said. "I want to make sure I've got someone with me. I think that's another thing, just being completely there because it is a dangerous situation. The Great Lake is not going to — it's unrelenting at times. So I just try to be safe. I've got a life preserver, I've got a rope. I'm just trying to do it as cautious as I can." 
What started as a therapeutic dive into the lake has transformed to a local Chicago spectacle. Passersby on the lakefront on Feb. 26 turned their heads as they saw a camera-man and boom mic surrounding a snowy patch in front of the water where O'Conor was about to make his 259th jump. 
O'Conor shared that he doesn't know exactly how much money he has personally raised for CIVL but he intends to keep his jumps going. He plans on launching a "GreatLakeJumper.com" website where he will be counting down to day 365 of his infamous dives. 
"I'd like to keep on supporting the live music," he said. "That's a big part of my life. A big part of my entertainment, just going to shows. I'd love to see a band elevate their craft and I anticipate going to more rock shows — I can't wait for those to come back." 
View Comments (1)