Anti-Asian ideologies allow Asian hate in Chicago to persist
Hate crimes and discrimination against Asian Americans are rising at a high rate, largely due to harmful anti-Asian ideologies.
Chicago has the fifth-largest Asian American population in the U.S., while 9.4 percent of students at DePaul are Asian or Asian American. 
Although Asian American hate and discrimination has long been present in the U.S., the pandemic has amplified hate crimes towards the community by 150 percent in 16 U.S. cities from 2019 to 2020. 
While Chicago saw a drop in total hate crimes from 2019 to 2020, the Asian American community saw a zero percent change in hate crimes. 
On March 26, a Vietnamese American man was attacked in Uptown. Attacks in Atlanta and New York also occurred. 
A group of Asian and Asian American leaders in the DePaul community issued joint statements to The DePaulia about hate and discrimination and potential solutions. The group consisted of Maria J. Ferrera, a social work professor; Li Jin, director of Chinese Studies and a modern languages professor; Laura Kina, director of Critical Ethnic Studies; and Anne Saw, president of ELEVATE, DePaul's faculty and staff Asian American professional community, and psychology professor.
"We recognize that the racialized and gendered violence happening to our communities is not exceptional or new," the statement from the four individuals read.
Catherine Shieh, anti-hate training coordinator at Asian American Advancing Justice Chicago, said that "[society] should have always cared" about the hate and discrimination towards the Asian and Asian American community.
"We could say that there's a rise in [discrimination], even hate incidents, but I would also argue to what degree a lot of things [have] gone unreported," she said. 
DePaul's Critical Ethnic Studies also issued a statement to the university community recognizing "that this killing spree was driven by a range of societal factors in America, both historical and contemporary, which have shaped the views and treatment of Asian American women."
CES Statement to StopAsianHate.docx by DePaulia on Scribd
Anti-Asian sentiment began rising as the pandemic spread due to a number of politicians attributing the spread of the virus to the Asian community.
"Emerging research shows that political rhetoric and use of terms like 'China virus' by politicians such as Donald Trump have directly contributed to increases in anti-Asian racism and xenophobia," the group's statement read. 
In a study done by Saw with the Stop AAPI Hate Reporting Center, "more than 9 in 10 Asian Americans believe that political rhetoric has increased anti-Asian bias."
A study by Darling-Hammond also found that the increase in anti-Asian prejudice after March 2020 was largely due to government officials and right-wing news outlets using stigmatizing terms to discuss Covid-19.
Shieh also said that we should look to hold all legislators and politicians accountable for using harmful language and supporting anti-Asian legislation.
"I want to ensure that we're not only thinking about the previous president as the full conspirator in this, but really understanding there have been many public officials who have said anti-Asian rhetoric," she said. "We have many people in Congress who voted against having a resolution to condemn the anti ease and hate. There are many people at fault for this."
Important legislation like the The Teaching Equitable Asian American Community History (TEAACH Act) will support proper education about the Asian American community. Without the education, hateful ideologies can manifest which leads to more discrimination.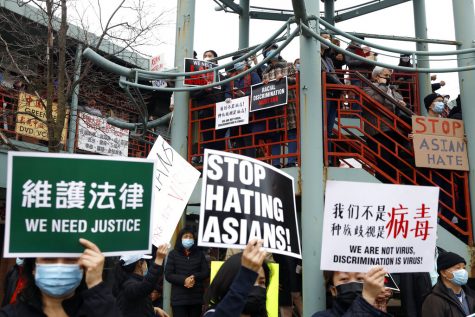 Hateful ideologies can also manifest through stereotypes. Harmful stereotypes about the Asian community, such as the model minority myth and the hypersexualization of Asian women, lead to violent outcomes, as seen in the Atlanta mass shooting that targeted Asian massage parlor employees.
"The issues surrounding this violence does not only involve anti-Asian racism, but also engages fetishization, racialized misogyny, exploitation, sexual violence, poverty, colonialism, imperialism, erasure and layers of complex, interconnected traumas experienced by Asian women, men, and gender non-conforming individuals," the group's statement read. "Beyond hate crimes and acts of terror, the Asian American community continues to experience the violence of being silenced as a group when they are ignored in public policies and when there is deliberate indifference to their experiences of racism."
Shieh said that the U.S. has seen what occurs when society does not prevent hate at the source. 
"We call [these outcomes] internment camps, we call it genocide, we call it a Muslim ban, we call it the Chinese Exclusion Act," she said. 
Educational institutions need to reflect and act on the hate manifesting in their communities, according to the group. 
"It is important that we hold our institutions accountable to communities that are under constant threat of racist acts and violence in all forms," they said. "Because each member of our community has the power to cause harm to others, it is critical for our institution to take a position that clearly articulates that there is no tolerance for hate and violence, and that those who cause harm must be held accountable." 
DePaul associate professor Laila Farrah also said that it is higher education's responsibility to combat racism. 
"If we, as institutions of higher learning, do not grapple with the violence against marginalized communities, then who will?" she said. "We must make public the ideological and active ways of combating this racism."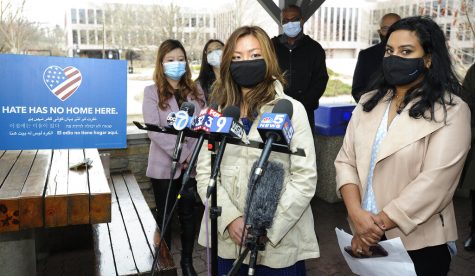 Elizabeth Ortiz, DePaul's vice president for Institutional Diversity and Equity, published a statement on Newsline about supporting DePaul's APIDA community writing, "DePaul University denounces anti-Asian and anti-Asian American bigotry.  We stand together as a Catholic, Vincentian community that values human dignity." 
Universities also fail their Asian American students and faculty if they do not attend to their needs, according to Shieh. 
"You don't get to accept a lot of international students from Asia and then not protect them," she said. "Let's also be real, lots of universities are very discriminatory when it comes to like college admissions, and so we also have to be very careful in making sure that if we — if universities claim to be as inclusive as they'd like to be, then we want to make sure that values and actions like align with their work."
Beyond education, the group said that the overall community needs to actively engage in antiracism against the Asian American community. "Silence and indifference perpetuates violence," they said. "This warrants actively engaging students, faculty, staff  and university administration in educating each other on Asian history in the context of the U.S. and the complexity that surrounds AA community violence. Universities are positioned to facilitate the level of education and increased awareness critical to preventing this violence."