Blue light districts: Burglaries, thefts lead all crimes on Chicago-area college campuses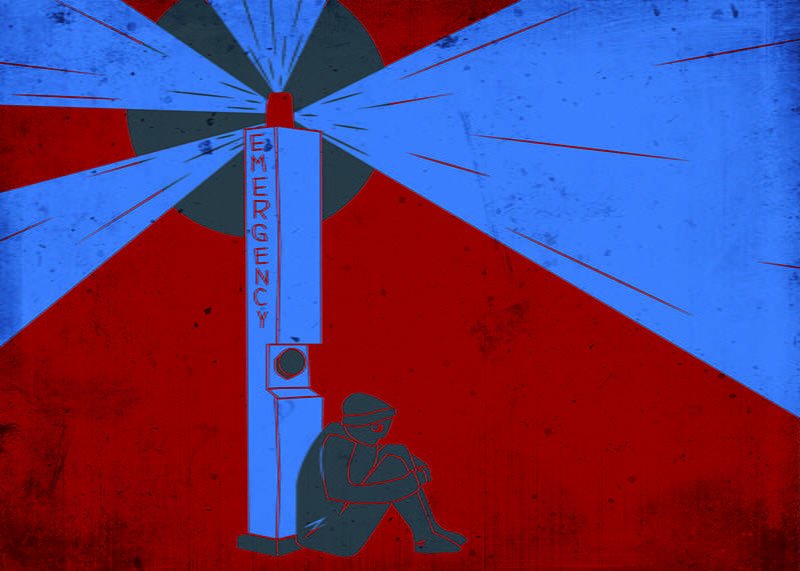 [dropcap]F[/dropcap]or a 22-year-old DePaul senior, coming home from the gym to her Lincoln Park apartment on a late afternoon in September, the first sign of trouble was the furniture, normally neatly in place, scattered helter skelter around her bedroom. Then she checked for her engagement ring, left in a box on her bed.
"I moved the clothes off my bed and realized the ring was gone. I covered my mouth and screamed a bit," said Kristin, who did not want her last name used. "Then I realized I needed to be safe first."
Burglars had taken her engagement ring, a laptop and a new television set. One of her roommates, a 21-year-old DePaul senior named Danielle, said the experience left her badly shaken. "It's such a violating feeling," she said.
For all the recent attention about sex crimes on campus, students at DePaul and other Chicago-area universities are far more likely to be victims of burglary or theft, according to an analysis of campus crime reports and U.S. Department of Education data.
But crime also varies by school. Students at DePaul's Lincoln Park Campus and at Northwestern University in Evanston are more susceptible to burglary. At the University of Illinois at Chicago, aggravated assaults are more troublesome. Loyola University Chicago and the University of Chicago lead the college pack in motor vehicle thefts.
[quote]In 2013, DePaul's Lincoln Park campus reported 20 burglaries.[/quote]
In 2013, DePaul's Lincoln Park campus reported 20 burglaries. Eighteen of those were non-forced, meaning no one broke a window or pried open a door to steal.
DePaul's Public Safety Director Bob Wachowski called those crimes of opportunity in which laptops, cellphones and other items of value are left unattended. "What generally happens is somebody will set (their belongings) down for a few minutes in the library or cafeteria. Somebody is going to pick it up and take it from you, I guarantee it," Wachowski said.
Burglaries at DePaul have decreased by more than half since 2011, according to data submitted by the Public Safety Department. Wachowski credited the more than 800 security cameras his department has installed at the Lincoln Park and Loop campuses.
But the 31-year veteran acknowledged certain criminals target campuses throughout the Chicago area. "I call them college career criminals," Wachowski said. "They go from college to college because they know that students leave stuff lying around, so it's kind of easy to take it from them."
Other college police and security officials agreed that, contrary to Chicago's reputation as a violent city infested with gangs and guns, college students here have more to fear from carelessness.
[quote]"Students believe they're more likely to get robbed at chainsaw point on campus than their cellphone being taken by another student. But they're much more likely to be victims of a nonviolent, non-confrontational crime, such as theft."[/quote]
At Loyola's Department of Campus Safety, Special Projects Sergeant Tim Cunningham said, "Students believe they're more likely to get robbed at chainsaw point on campus than their cellphone being taken by another student. But they're much more likely to be victims of a nonviolent, non-confrontational crime, such as theft."
No major Chicago area campus reported more thefts than U of C in the Hyde Park. Already this year, the university's daily police log recorded 177 thefts, classified as non-violent crimes.
But violence against students does occur with some frequency on and around campuses in Chicago.
UIC, on the city's West Side, reported more aggravated assaults than any other major area university. In 2013, according to Department of Education data, 33 aggravated assaults took place at UIC. That's down from 49 in 2012. Nonetheless, UIC students are more likely to be victims of violence than most other Chicago college students.
UIC police officer Craig Moran blamed a surge in the number of bars on Roosevelt Road, which splits the campus.
"With the increase of bars and students, there is an increase of crime," Moran said. "Especially because the students like to walk home late at night, instead of taking a taxi. This makes them targets."
At Loyola and U of C, the targets are more likely to be cars and motorcycles parked on surrounding city streets. At U of C's Hyde Park Campus, about 25 vehicles are stolen from nearby streets each year, according to federal crime statistics. 
Already this year at Loyola, the college reported eight vehicles stolen from its North Side Campus. But not all are cars and motorcycles. Those numbers included college golf carts, scooters and even motorized wheelchairs. Cunningham blamed student pranksters: "All of them have been used in joy-ride situations, whether students took them and drove them to their apartment or to the beach or to the bar," Cunningham said.
At all Chicago campuses, students and security officials agreed that despite the surge of publicity about sexual assault, the crime is very likely underreported because many victims remain reluctant to come forward.
Consider the case of a 19-year-old Northwestern student attending a party on campus the night before the Oct. 3 home football game against Wisconsin. He said many students were drinking. The man, who did not want his name used, said he was raped by a Wisconsin student.
The victim's lips appeared scarred and bruised from when, he said, the alleged rapist bit his lip. "I bled all over his mouth and face." But the student did not report the incident because, he said, he did not have time for a lengthy police investigation and court case.
A former DePaul student Hailey, who also did not want her full name used, said she was pulled to the ground by a stranger in an alley near her dorm room one night on the Lincoln Park Campus in September 2013.
[quote]"He was a larger man and had rolled on top of me where I had put my purse in the hopes he would just take it." Instead, Hailey said the man, "started ripping my tights, so I began to scream." The man fled.[/quote]
"He was a larger man and had rolled on top of me where I had put my purse in the hopes he would just take it." Instead, Hailey said the man, "started ripping my tights, so I began to scream." The man fled.
The student said she filed reports with DePaul's public safety and the Chicago Police Department. Hailey said the DePaul security officer, "could not have been sweeter." But, she said, the Chicago police officer lectured her "about what I was wearing" and that "I was a girl walking alone." No charges were ever filed.
In 2013, the five major universities (DePaul, Northwestern, U of C, Loyola and UIC) reported only 38 sex offenses to the federal database. U of C reported the most, followed by Northwestern, Loyola, UIC and DePaul.
In 2013, after rising concern about sex crimes on campus, the Department of Education added stalking to crimes colleges must report. Among Chicago area campuses, Northwestern reported 16 stalking cases and DePaul, 13.
The crime data is mandated by the Clery Act, a 1990 federal law that requires all colleges and universities to track crime on and around their campuses if they want federal scholarship money. The law is named for Jeanne Clery, a Lehigh University student who was raped and murdered in 1986. 
In Chicago, where many college students live off campus, concerns about crime include buses, trains and transit stops.
The Jackson CTA Red Line stop has been ranked No. 1 overall for thefts in the last five years, according to data compiled by NBC Chicago in January. The stop has the most reported platform thefts in the entire CTA system, at 414 thefts.
"I'm not surprised," DePaul student Darian Duchan said.
Duchan has had his own experience with crime at the Jackson Red Line platform.
"Someone opened my girlfriend's backpack as she was going up the escalator and stole her pencil pouch, probably looking for something valuable," he said.
However, the CPD is working with CTA officials to reduce crime on the CTA.
In July, the CTA reported a 34 percent reduction in violent crime since 2013. Robberies and thefts also dropped, according to city officials. In a statement, they credited increased undercover operations and "the huge expansion of CTA's bus and rail surveillance camera network to more than 23,000 cameras."
Police and public safety officials at all the colleges agree students can do more to avoid being crime victims. 
On the CTA, DePaul's Wachowski advised, "Act confident all the time. Have eye contact with people. Criminals don't like to be identified."
Officer Moran, of the UIC police department, warned students to follow their gut feelings. "If you feel like something is wrong, then there probably is. Get out of the area, and go somewhere safe."
And Loyola's Cunningham echoed the recommendations of all: "Don't leave any of your belongings unattended, ever."
For students who have been victims, many said the crime doesn't end after the few minutes it takes to swipe a wallet, break open a door, or get dragged into an alley. Some talk about a loss of innocence or, at the very least, a newfound savviness about life in the big city.
A year after she was sexually assaulted, Hailey said, "I was pretty angry and disgusted, not with myself, but with the way someone could feel so entitled to my body."
Nearly a month after her apartment was burglarized, Kristin said, "I check Craigslist and eBay every night for my ring. It takes me 15 minutes, and I know it is a waste of time. I wonder when I will be able to stop checking for my ring and thinking I will find it somewhere."
Rachel Hinton, Jackson Thomas, Kyle Tyrrell, Hannah Ward, Ajay Raghuraman, Brittni Hubbard, Heather Ditchfield and Marc Meschnig, wrote and reported this story as part of Chris Bury's investigative reporting class.
View Comments (1)