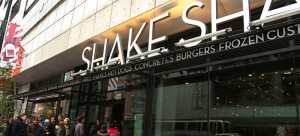 The recent 30-degree weather and eye-watering wind didn't keep Shake Shack customers from their first taste of the world-renowned burgers and fries on Nov. 4, at the first of two Chicago locations on corner of Rush and Ohio streets.
With a line of about 35 people gathering in front of the boutique burger joint about 25 minutes before it opened, you can't help but wonder what makes this place so special?
With origins dating back to 2001 in New York's Madison Square Park, Shake Shack was merely a hot dog cart that pitched American classics such as burgers, frozen custard and tasty fries.
It caught on like wildfire across New York, and has established an almost cult-like following across the eastern part of the country — and the numbers reflect it.
The small cart has evolved into a $1 billion company with 12 locations in seven states, in addition to two restaurants in the Middle East, according to foodandwine.com
With the company's steady growth, you may think their product has to be head and shoulders above the rest. And in some aspects, that's very true.
The french fries at this place aren't just good. They're likely to give food lovers the chills.
The crinkle cut potato is one of the crispiest little morsels you'll find anywhere. Even more impressive is the fact that they aren't greasy. Not sure how they manage to find this almost flawless combination, but they've got it down to a science.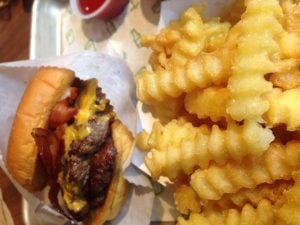 Customers may very well go to Shake Shack for the fries, but that's not what most people have in mind.
The burgers are the crown jewel here. Some customers are left searching for more.
"It's a quality burger, no doubt about it," Terrance Cote, a local Chicago businessman experiencing his first Shake Shack meal, said. "To be honest though, it's not the best burger I've had. Five Guys makes a better burger, and for a better price."
The cheapest burger on the menu is $6.95, a bit pricy for an 8-ounce single patty burger with the basic fixings. But it's not all about the fresh ground beef at Shake Shack.
The selection of designer wines, craft beers and frozen custard separate the restaurant from the rest of the pack. No longer is your average grease spoon burger spot the norm.
Shake Shack has set a standard in the way it approaches classic American food, and the company has created a different kind of environment. The hard wood furniture, trendy lighting and very simple menu dictate just that.
Don't expect to build your own sloppy burger here; you'll be disappointed.
You can, however, expect quality ingredients, above average service and a modern dining experience to go along with what may be the best fries in America.