Will Smith's Oscar slap incites controversy among viewers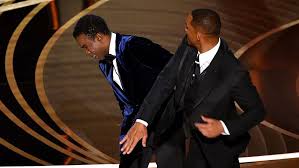 It was a moment that left viewers stunned and social media in a frenzy: actor Will Smith abandoned his front-row seat and slapped comedian Chris Rock across the face after making numerous jokes about actress Jada Pinkett Smith's hair loss at the 94th Academy Awards on March 27.
Leading up to this shocking gesture, Smith seemed amused by Rock's antics as the comedian expressed his excitement to see Pinkett Smith in "G.I. Jane 2," referencing the 1997 film "G.I. Jane," which follows actress Demi Moore, whose character shaves her head after joining the navy.
After the initial joke, Pinkett Smith could be seen rolling her eyes. Since 2018, she has suffered from alopecia, a condition that refers to any form of hair loss, according to the New York Times.
Once Smith returned to his seat, he shouted, "keep my wife's name out of your f***ing mouth."
The seemingly shocked Rock responded, "wow dude, it was a 'G.I. Jane' joke."
While Rock declined to press charges, it is evident that the incident has left mixed responses.
DePaul freshman Daniel Kennedy felt shock and confusion after seeing the incident.
"My initial reaction to the slap was that it was fake," Kennedy said. "I think most people's first instinct when they see something like that on live television is to assume it was staged."
Looking back on the history of the Oscars, it's easy to understand why viewers assumed the bizarre sequence could have been a ploy to raise the view count.
Over the 94 years since the award show commenced, coordinated acts range from Marlon Brando declining his Academy Award in 1973 in protest of Hollywood's depiction of Native Americans in film, according to History.com. Recently, Lady Gaga and Bradley Cooper's staged romance in 2019 had social media buzzing in anticipation of a possible romance, which ultimately turned out to be nothing more than a publicity stunt, according to Elle.
One-sided, non-consensual acts are not unheard of at award shows like the Oscars. In 2003, actor Adrien Brody kissed award presenter Halle Berry on the lips after winning Best Actor, despite Berry not sanctioning the gesture, according to She Knows.
As for the slap itself, Kennedy describes his feelings as mixed.
"While I was always taught that violence is wrong in any situation, and I think the slap may have been a step too far, I don't believe Smith was wrong for defending his wife," he said.
DePaul sophomore Maya Cochran believes that no matter the context leading up to the altercation, violence cannot be excused, especially on live television.
"I don't know the backstory between Rock and Smith but I'm assuming there is more than meets the eye," Cochran said. "However, I don't believe it justifies any act of violence, especially over a tasteless joke."
In response to the incident, the Academy came out with a statement through Twitter, announcing that "the Academy does not condone violence of any form."
Despite not explicitly mentioning the names of either Smith or Rock, the implications stood clear. However, this gesture has generated backlash. Many have criticized the Academy's acknowledgment of this incident while convicted sex offenders such as disgraced producer Harvey Weinstein — who personally won two Academy Awards, while his production company worked on films that racked up 81 — have faced no repercussions from the Academy.
"While I feel like there should be some sort of punishment for Smith's actions, they shouldn't take away his award while men like Weinstein haven't faced any penalties," Cochran said.
DePaul junior Jonathan Gardner, director of social events of the university's Black Student Union, explained how his perspective of the incident shifted.
"As both an actor and Black man, I have always held admiration for Smith," Gardner said. "Initially I was trying to play devil's advocate and write the situation off as Smith going through a lot and merely lashing out in defense of his wife,but now I feel anger, mostly at how this act of violence is being celebrated and encouraged within my community. How many kids are going to see this video and think this behavior is acceptable?"
Since the video's upload to YouTube by The Guardian, it has received over 84 million views.
"Honestly, I think the incident is a clear demonstration of toxic masculinity," Gardner said. "I don't think it had to do with his wife as it did with his pride; he felt humiliated by Rock and had to defend his manhood."
While Smith's future remains clouded, it is evident that the inherent controversy has rekindled the public's interest in the award show, whose viewership increased by over 56% from 2021, according to Variety.