Latinos for Sueños Festival this Memorial Day weekend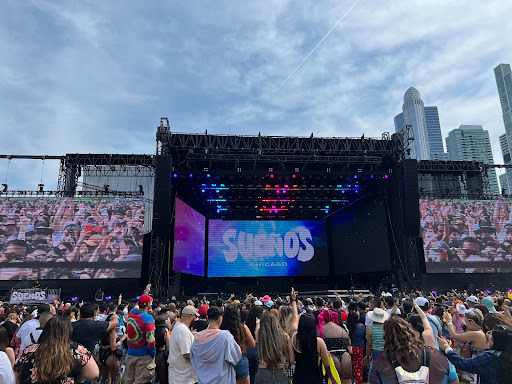 This Memorial Day weekend, Chicago hosted its first-ever outdoor Sueños Music Festival in Grant Park.
This is the largest outdoor reggaeton Latino festival ever held downtown. With music that mixes reggae rhythms with hip-hop elements, as well as Spanish rapping.
Thousands of festival-goers celebrated and danced at the one-stage venue to the music of artists Ozuna, El Alfa, and J Balvin. It was the first time Ozuna had performed in Chicago in four years. The festival was also J Balvin's only appearance planned in the city for this year, and his first time back since his 2019 Lollapalooza performance. Suenos was presented by the producers behind the Baja Beach Fest, Lollapalooza, and Reventon Promotions.
Many attendees expressed their enthusiasm for the festival and what it offers to the Latino community in Chicago.
"I came for the artists, but being here makes me feel like I'm a part of something special," said Jackie Zambrano, 24, from Chicago. "This is for Latinos, and I am Latino; this is for me, and I'm representing today."
Cynthia Ortiz, 26, came with a group of friends and was very excited to be at the first Sueños.
"It feels special because this is the first-ever festival that's just [Latinos], playing reggaeton, so it feels special to have everybody together," Ortiz, a Park Ridge resident, said. "I'm excited for tomorrow, too, because all the artists that will be there tomorrow, I know all of them. I love all their songs."
The festival aimed not just to bring top reggaeton stars to the Windy City, but also to continue to celebrate and uplift Latino culture, according to a press release. Latinos represent 28.6 percent of the city's population.
Mauricio Ramirez, 27, came alone to the festival but said he still felt connected to others.
"I'm proud to be here, I feel myself, and for the first time today, I've had genuine laughs… I definitely feel more at home at this festival compared to others, it's nice," he said.
Ramirez, like other attendees, was looking forward to the headliners.
"This weekend, I'm looking forward to listening to my favorite artists, especially J Balvin," he said.
There was a range of food options on-site, including Adobo Grill, Cabo's Tacos, Connie's Pizza, and the Vegan Side of Mexico. A Ferris wheel on the grounds gave attendees a look at the skyline — and at the long lines filling the park.
"We are so grateful. We are so grateful to be celebrating Suenos fest here in Grant Park," Mayor Lori Lightfoot said to the crowd, decked out in a summer-ready straw fedora.
Despite the good spirits, the festival's first day came with some glitches. Puerto Rican duo Jowell and Randy didn't make their set, and a last-minute VIP change switched around the layout. Originally, the VIP section would have taken the full front area — but a map alteration five days before the festival changed the layout so VIP ticket holders had just one side of the stage.
"This update has been made with the entire VIP experience in mind," Sueños staff said over Instagram. "All VIPs will have Front Stage Viewing with plenty of space to dance, drink, laugh, sing, you name it. The VIP area on the side is simply quick access to your exclusive VIP bars, food, bathrooms, water, and more."
Emily Garcia, 20, was a disappointed VIP ticket holder.
"I feel like the coordination could have been better," Garcia said. "Many artists arrived late and didn't show up and security is only handing out water to those at the front… I understand that this is their first festival, but I was expecting more."
Even though Garcia wasn't thrilled about the festival's organization, she was still glad it happened.
"I believe that for a long time, people have wanted to express themselves and their culture as Latinos. This feels like it was made particularly for us and to create an experience that brings us all together," Garcia said.
Rosa Franco, 31, is a Chicago resident, who was attending her first festival, was proud to be dancing with people from her culture.
"I love it," Franco said. "I am happy to be here, I am looking forward to the experience this weekend because I have never done anything like this before."
Isabella Rivera, 24, Carmen Bena, 23, and Aislinn Trujillo, 24, are old friends from high school in Elgin. They came to Suenos with one mission.
"We came to shake our asses," Rivera said. "That's basically it."
Her group is going on both days of the festival.
"I want to see El Alfa, El Alfa is… fire," Rivera said. "It's just a whole vibe, it's a positive vibe, it's all Latinos, we're all together."