Dragging with the fishes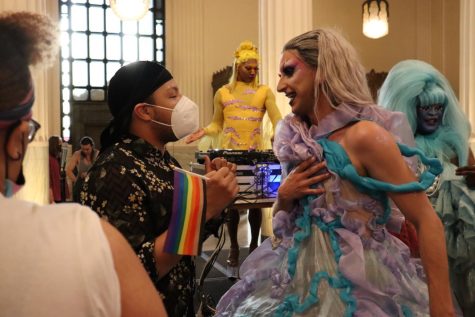 Pride is in the air — and in the deep blue sea. Chicago's Shedd Aquarium hosted its first ever Pride kickoff on June 1 to celebrate Chicago's queer community. With local DJs and drag artists, the Shedd came together to create an open and fun environment to start the month.
While this was the first Shedd Pride kickoff, the aquarium has done Pride nights before that were a little bit more calm. Johnny Ford, the director of public relations for the Shedd Aquarium, discussed with The DePaulia the previous events connected to LGBTQ inclusivity.
"Tonight is not our first Pride night, but our first Pride kickoff and so we've been very lucky and happy to host a couple of Pride nights in the past, then we experienced the pandemic of course, so this is our resurgence back to celebrating Pride and welcoming our community and to honor the month of June," Ford said. "In the years past we've brought people in for scientific discussions about the spectrum of gender and the spectrum of sex in the aquatic animal world."
For a fresh start, the Shedd wanted to mix it up from previous years and connect to the local art scene.
"We're featuring a lot of really fantastic local drag to showcase," Ford said. "We've got a couple of local DJs here who are going to be spinning the music all night, so it's really a celebration of the year of dance and the celebration of queer art, as opposed to some of the previous years that have been more just get-togethers."
Chicago-based drag performer Abhijeet is one of the organizers for the event and helped bring in the local drag scene and host the kickoff.
"Just the idea of drag with this museum as the background is very gorgeous," Abhijeet said. "I love finding spaces where we can integrate what we do with places we enjoy and I'm trying to find a happy medium for everyone."
Sporting a full aquatic attire, including seashell jewelry and turquoise ruffles around the dress, Abhijeet's costume was right on theme, drawing inspiration from the ocean blue herself.
"I am dressed up to look like the water, a lot of people were thinking how we do aquatic and marine and for me — I grew up next to an ocean so I wanted my dress and makeup to match," Abhijeet said.
Decked in full rainbow tulle, Sandra Williamson shared a drink with her friends before the show began.
"This is actually my first year of celebrating Pride month since I came out," Williamson said. "As a marine biologist, what better way to commemorate this than being gay with the fish?"
Amongst the fish and pride flags were tables set up for LGBTQ+ community groups of various hobbies to better connect everyone, not only through identity, but through interests as well.
"Shedd Aquarium is such a really welcoming place and we want to make sure that everyone feels like they should be here and they are seeing here and the aquatic animal world is such an incredibly diverse array of life," Ford said. "And so there's no better place, in my mind. To celebrate the diversity of the human experience in a place that showcases the diversity of what is."