Vice President Kamala Harris visits Chicago ahead of November Midterm
Vice President Kamala Harris made her way to the University of Illinois at Chicago in support of the Illinois Democrats Get Out The Vote campaign ahead of the November midterms 53 days ahead of the midterm.
In addition to Harris, prominent figures of the Illinois Democratic Party and other local activists took to the stage to discuss the importance of voting in the upcoming midterms and the impact this election will have on many hot-button issues.
The most discussed issue was reproductive healthcare. 
 "Roe-vember is coming," a reference to the landmark SCOTUS decision to overturn Roe v. Wade, Illinois House Speaker Chris Welch said at the rally.
 While the right to choose is enshrined in Illinois law, it is still an issue on a lot of voters' minds. Illinois is now one of few states remaining in the Midwest with protected abortion access. On the tail of Senate Republicans introducing legislation to effectively ban abortion, democratic voters are aware that the house and senate are not guaranteed this election.
One of these voters is UIC public policy student and activist Ellison Radek.
"I hope to get the promise of federal policy change to finally codify reproductive rights," Radek said when asked what she hoped to hear from Harris.
Radek's advice to other students who are interested in getting involved and protecting reproductive rights was this: get involved.
"Vote, work with your school's Planned Parenthood, protest, organize," she said.
This sentiment regarding the importance of voting is amplified by Harris. 
"This [Chicago] is the home of hope and change, and so we need you to get the vote out this November because truly, truly this election I do believe will determine the future of not only your home state but our home country," Harris said.
While this event focused on invigorating Democratic support, Illinois Attorney General Kwame Raoul also made a plea to Republican and Independent Voters.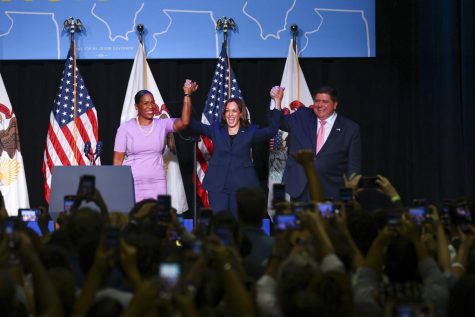 "I believe there are some sound-minded Republicans and Independents in our great state, and I want to appeal to them," Illinois Attorney General Kwame Raoul said at the rally. "And I want to see if they're willing to distance themselves from audacious and divisive extremists who want to undermine our democracy… I do think there are some Republicans and Independents who have a conscience. I just want them to vote their conscience this fall. I want them to vote for our Democrat candidates up and down the ballot to preserve our democracy."
State Treasurer Michael Frerich took aim at Republicans' policy positions, calling them "just plain mean" and called for constituents to "vote for love and not hate," at the rally.
Chicago Mayor Lori Lightfoot spoke about Governor JB Pritzker's gubernatorial opponent, Darren Bailey, specifically, Bailey's association with former President Donald Trump. 
"So make no mistake," Lightfoot said at the rally. "Trump is on the ballot. His name is Darren Bailey, and we need to send him back to the farm."
To close out the rally, Harris gave a final message of support to Illinois voters. 
"So from now until Nov. 8, it is up to all of us to build on the momentum, and over the next 53 days, if you believe in the promise of America, if you believe in freedom, equality, justice, vote for Democrats," Harris said. "Voting in Illinois starts in two weeks, and in 53 days, we will determine our future. Let's fight like we know how to because when we fight, we win."
View Comments(1)