Cate Blanchett rises to the occasion in 'Tár'
Writer and director Todd Field has not directed a film in 16 years. This is not due to lack of trying. Field has tried to produce multiple projects in this span but none came to fruition. "Tár" marks Field's return to the movies; it was worth the wait.
"Tár" stars the Oscar winning Cate Blanchett as the titular Lydia Tár, the most celebrated composer and conductor of the fictional world the movie presents. Despite being a woman with everything, Tár is incredibly self-destructive. As she prepares for her crowning achievement as a maestro, conducting her orchestra in a performance of a very important symphony, her world begins to crumble around her due to her own hubris.
The first thing that needs to be said about this movie is that Cate Blanchett absolutely kills as Tár. As I mentioned in a previous review, Brendan Fraser is my lock for Best Actor so far, and after watching "Tár" twice, I can say with confidence that Blanchett is my lock for Best Actress. Her character is undeniably an awful person with her arrogance and unfaithfulness to her partner just to name two things, but Blanchett plays her in such a way that I was absolutely engrossed. Despite her despicable actions, or maybe because of them, Tár is one of the most compelling protagonists I have seen this year. The combination of Field's masterful writing and Blanchett's incredible performance make for a character that I will not forget anytime soon.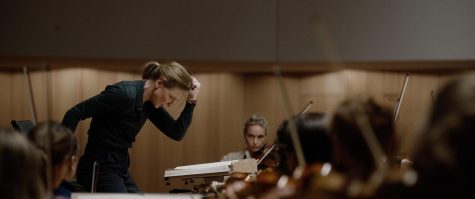 "Tár" is more than a show stopping performance from Blanchett. The technical aspects of this movie do not give the impression that the director just returned from a 16-year hiatus. Everything is meticulous and tight, from the muted color pallet to the sound design to the punchy dialogue. 
Being a movie about a conductor, I was looking forward to the music and sound of this movie. My excitement grew when I saw that Hildur Guðnadóttir, who won an Oscar for her score of 2019's "Joker," was the composer. Guðnadóttir's score does this subject matter justice, and her work combined with Tár conducting Mahler's 5th Symphony make for a powerful auditory experience. 
"Tár" thrusts the viewer into the story head on. The only exposition we are given is a New Yorker bio for the conductor before she gets interviewed. This might sound like it would detract from the movie, but on the contrary, it makes the world and story of this movie all the more believable. The lack of explanation and trust in the audience to figure it out is refreshing in a world where every movie is an origin story or a retelling of a story we all know word for word.
"Tár" is a showcase of every element of movie production firing on all cylinders. When watching, it is evident how much effort and talent went into creating it. From the performances, to the camerawork, to the editing, every aspect is handled with such skill and care that I became fully engrossed into the world of conductors and orchestras with little-to-no care about this niche before watching. When a movie is able to make me care so much about something I had never given a second thought about, that is the sign of a masterfully crafted production. 
I had no real expectations going into watching. I knew it did well at the festivals, but I have been bored by festival darlings before, so I tend to take the praise with a grain of salt. "Tár" blew me away. I thought about "Tár"so much that I went to see it again, which is rare for me. Thought-provoking, striking and incredibly unique, I urge you to see "Tár" in theaters. Waiting for streaming would be a disservice because of the amazing sound, and you will just make yourself wait longer to see one of the best performances of the year and my second favorite movie of 2022 so far.
I am giving "Tár" five out of five stars.