Israel's re-election of Benjamin Netanyahu has caused a ripple effect
Despite being under a cloud of corruption charges, in November Benjamin Netanyah won a tight race to become Israel's Prime Minister again. Sworn into office for an unprecedented sixth term on Dec. 29, Netanyahu leads the farthest-right government in Israel's history. He makes his return after 18 months of being out of office, having previously been Prime Minister from 1996-1999 and from 2009-2021. Many say that his new coalition, which includes the Religious Zionists Party, has its eyes set on drastic changes. 
"They are already pursuing plans to restrict the rights of minorities, alter the system of governmental checks and balances, hollow out the Israeli judiciary, exert influence over the army and security forces, and allow harsher treatment of Palestinians in Israel and the occupied territories," Shira Rubin wrote in an article in December for The Washington Post.
Netanyahu's reelection has led to mixed reactions, with many fearful of the damage his far-right coalition can cause. Thousands of Israelis have already taken to the streets to protest, as seen on Jan. 7 in Tel Aviv.
The protests led to streets being blocked by the massive crowds, angering the new coalition — specifically National Security Minister Itamar Ben Gvi. Gvi responded by authorizing the police to begin cracking down on the protestors and even accused them of using "kids gloves." 
But it's not just in Israel where people are vocally opposing the new government, with the United States worried about their long-time ally. Some of Netanyahu's far-right partners want to weaken the Israeli Supreme Court, putting the Biden administration on edge.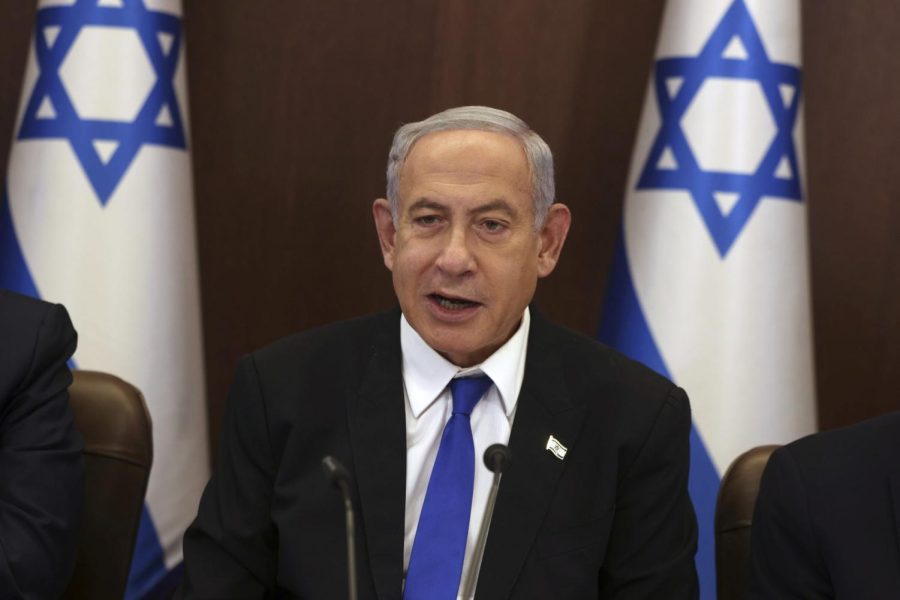 On Jan. 4, Yariv Levin, Israel's Justice Minister, released the government's plan for "judicial reform." Barak Ravid, a journalist for Axios, recently wrote about Levin's new plan and how it will weaken the Israeli Supreme Court. 
"The plan includes passing a law that will allow the governing coalition to override Supreme Court rulings by a simple majority of 61 votes in the 120-member Knesset," Ravid said. "According to Levin's plan, only a special chamber of all 15 Supreme Court judges will be able to review laws. It will need at least 12 judges to rule against a law in order to strike it down."
Jewish students on campus at DePaul have made their thoughts clear on the new coalition. Despite feeling a strong connection to the state of Israel, they are disheartened by where matters can potentially head. 
"I have to disagree with the majority of his policies," said Emily Fridland, president of DePaul Chabad Jewish Student Club. "Statistically, every time there is turmoil in the Israeli government or some of the more far-right religious groups are more in power, there is always more antisemitism being directed to the Jews in the diaspora which includes the U.S. This makes me worried." 
Fridland isn't the only student to voice her worries. 
"As Jewish students outside of Israel, all we want to see is peace between everyone there," said Justin Fisher, vice president of DePaul Chabad. "We don't want to see constant violence."
Some of the farther-right parties of the new coalition have been vocal about passing laws that would allow discrimination against LGBTQ people. However, Netanyahu has spoken out against those comments, rebuking his own party. 
"What you are seeing is an attempt to form a coalition to have a stable government," said Ezra Balser, the campus rabbi for Metro Chicago Hillel. "So, people are making trades and compromises. The Prime Minister said there will be no threat to LGBTQ rights in Israel. He even named Amir Ohana, the Speaker of the Knesset, who is the first openly gay speaker of the Knesset and a member of his Likud party."
Another main focus of Netanyahu's new coalition is to increase construction in the Western Bank, which is near the coast of the Mediterranean. This raises a major issue. Israel seized the Western Bank in 1967 during the Six Day War, and it is already home to over 500,000 Israelis. Yet, Palestine and its supporters still view that land as their own and vie for its return. Additional construction can potentially lead to more violent conflicts with Palestine. 
"Netanyahu's plan to expand tourism in the Western Bank is just a cry for violence for everyone living there," Fridland said. "The tourism minister recently referred to the Western Bank as their local Tuscany, which I think makes matters so much worse. There are more peaceful ways to go about this, and this is not one of them." 
Only back in office for two weeks, Netanyahu's new coalition is already encased in negative publicity. As more potential conflicts between Israel and the Palestinans loom, the effects will continue to be felt globally. 
"We aren't Israeli, so we don't get affected directly by what Netanyahu does in Israel since we live in the U.S.," Fisher said. "So, for us, it's about what we can do to help people in Israel as well as what we can do ourselves by advocating and speaking out about what's going on in Israel."
Leave a Comment